Cebuano

English

Filipino
How To Earn Passive Income With Cryptocurrency Philippines: With the ups and downs of the cryptocurrency market, it's no surprise that many Filipino investors have a firm interest in the world of cryptocurrency. One common question that investors and beginners often ask is, how to earn passive income with cryptocurrency in the Philippines?
Our full official guide on passive income ideas is recommended if you are looking for passive income ideas in the Philippines. However, today we will focus solely on earning passive income in the Philippines with cryptocurrency. So let's take a look at several opportunities in the world of cryptocurrency.
Earn Passive Income With Cryptocurrency Philippines
1. Lend Bitcoin With CakeDefi
CakeDefi is one of the best but one of the least well-known platforms if you are looking for passive income from cryptocurrency. For example, I have a small investment of only 100,000 Pesos. From this investment, I lend Bitcoin to others and get returns of 185 pesos a day on average. This may not seem like a lot of money, but this is 67K per year in returns!
Of course, this is my own experience, and many factors impact the returns, such as the current market. Nevertheless, these funds have been reinvested into other products on their platform. Cakedefi is a great option if you are looking to earn Bitcoin in the Philippines by lending it. Still, there are other options, such as earning passive income from liquidity mining and staking!
One disadvantage is their KYC policy, which stands for know your customer and is now practiced on many cryptocurrency marketplaces. CakeDefi requires your details, such as your passport and other information, which can take 10 – 15 minutes, and some find this process too long. However, if you don't mind the long signing-up process, CakeDefi is a great platform to use if you're looking for passive income from cryptocurrency in the Philippines.
2. Mine Bitcoin On Your Phone Or Laptop
One common question asked is, is it possible to mine cryptocurrency from your phone in the Philippines? Unfortunately, many scams have involved fake applications and websites that promise to mine cryptocurrency; however, legitimate services exist.
CrytoTabBrowser is a great option if you're looking to mine Bitcoin in the background of your PC, laptop, or mobile device. Essentially it is a browser, and while you are searching on the Internet for the best cake recipes or the best beaches in Cebu, it's mining Bitcoin in the background. CrytoTabBrowser is not designed to get its users rich, but it can be a great source of passive cryptocurrency income.
Additionally, they have recently launched an additional service where you can get paid for referrals. The platform also allows you to receive a small percentage of the rewards of other miners. For example, if you refer 100 people, you will earn a percentage of each of the mining rewards, resulting in a great cryptocurrency passive income source.
3. Join Cryptocurrency Referral Programs
One of the great things about the cryptocurrency world is cryptocurrency referral programs. A referral program is a simple way to earn passive income from cryptocurrency in the Philippines by referring other users.
Below are some of the most popular referral programs that are currently available. Referral programs are often used by bloggers and YouTubers, and they are a great way how to earn passive income from cryptocurrency in the Philippines.
Many cryptocurrency referral programs operate differently and include several terms and conditions. Therefore for your convenience, we have linked directly to the referral programs in the list above for more information.
4. Stake Cryptocurrency On Crypto.Com
Crypto.com Is one of the largest cryptocurrency mobile applications and is a leading cryptocurrency marketplace in general. So why should you stake cryptocurrency on this platform rather than other platforms?
One of the benefits of the Crypto.com mobile app is that you can earn passive income with cryptocurrency in the Philippines of up to 12.5%. This may not seem a great deal compared to some that offer 100% + however your earnings are credited within seven days, and you can also earn from leading cryptocurrencies such as Bitcoin with Crypto.com.  
Additionally, several credit card options and other cryptocurrency passive income options in the Philippines are available. As mentioned, Crypto.com also has an affiliate program to earn an additional stream of passive income with cryptocurrency in the Philippines.
5. Get Paid Cryptocurrency By Posting And Watching Videos 
This method is one of my favorites because it is completely legitimate and is a great source of passive income of cryptocurrency if you are a Youtuber! So, let me Introduce Odysee. This platform allows its users to earn cryptocurrency (LBRY) for watching videos and posting new content.
If you are a YouTuber, you most definitely need to sign up with Odysee! You can link your YouTube account, so your video automatically gets posted on the Odysee platform. In addition, video creators can earn passive income from cryptocurrency by receiving views, tips, and more.
You can then decide to withdraw your cryptocurrency passive income. Alternatively, you can leave LBRY on your account, which will increase the visibility of your content, increasing the opportunity to earn more cryptocurrency.
6. Earn Passive Cryptocurrency Through Liquidity
Previously we have explored a full guide on liquidity mining in the Philippines and how you can earn cryptocurrency passively through this investment; however, to summarise a few points… First, liquidity is a process where you offer your cryptocurrency for liquidity purposes. As a result, you have been awarded fees and tokens based on the share of the liquidity pool.
In other words, your cryptocurrency is working for you. At the start of this article, we spoke about CakeDefi, one platform that offers this service. Naturally, there are several pros and cons, and just like every type of cryptocurrency passive income stream, there are risks involved. Head over to our full guide on Liquidity and how you can earn passive income from Liquidity in the Philippines.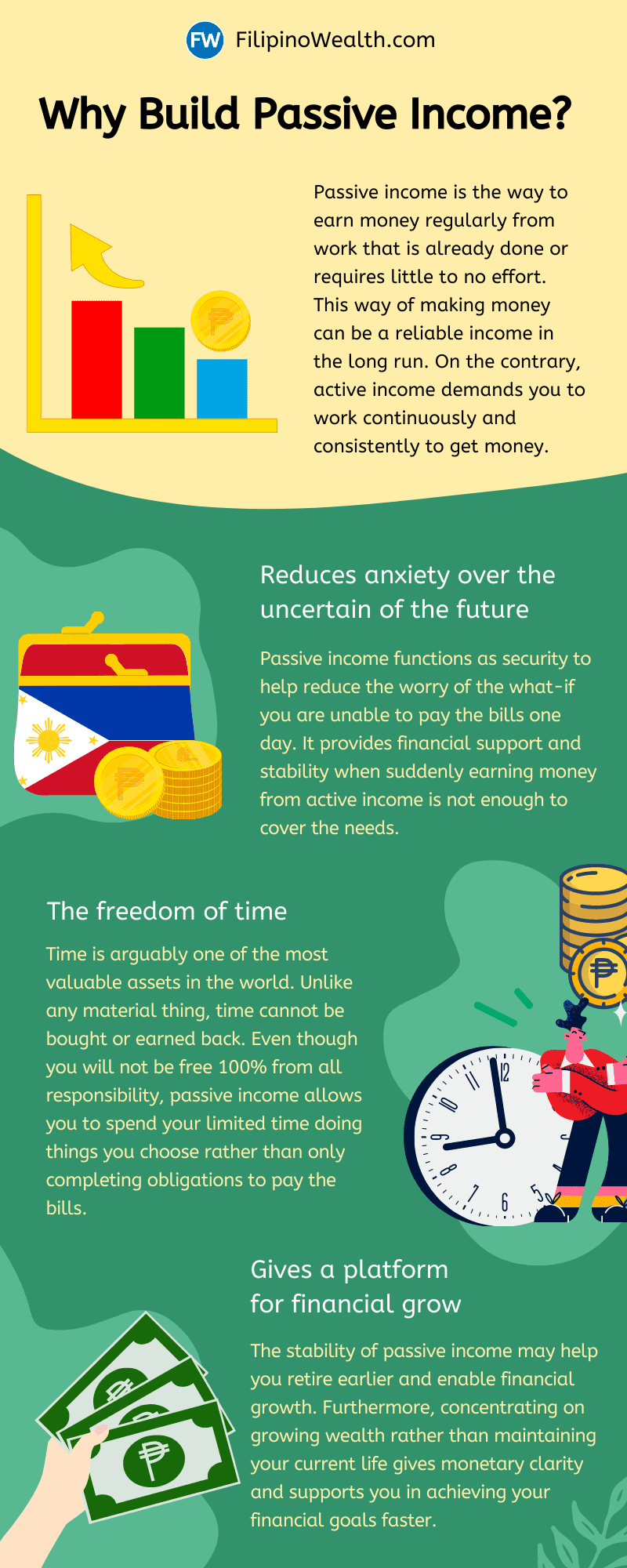 7. Find The Latest Airdrops Of Cryptocurrency
So what are airdrops, and how to earn passive income from cryptocurrency in the Philippines with airdrops? Airdrops are free tokens/cryptocurrencies given to investors, often in the early stages of a new cryptocurrency project. This has many pros and cons for the cryptocurrency but is often a good way to gain early investors.
Previously airdrops have been fairly mysterious. If you are a cryptocurrency investor in the Philippines, it is often hard to find airdrops; however, some cryptocurrency networks have promoted upcoming airdrops due to their increased popularity. To get involved in airdrops, you will need to become an investor in the chosen cryptocurrency.
Several platforms can be used to find ongoing airdrops and upcoming airdrops; however, my favorite for finding the best and legitimate airdrops opportunities is via https://coinmarketcap.com/airdrop. However, as mentioned, there are several airdrop campaigns… but a word of caution, some of these have been known to be scams.
How To Get Started Earning Passive Income With Cryptocurrency?
The first step in earning passive income from cryptocurrency in the Philippines is to obtain a cryptocurrency wallet. There are several cryptocurrency wallets to choose from, including local cryptocurrency wallets such as Coins.ph.
The second stage is to purchase the cryptocurrency. However, before doing so, you will need to know what you will do with your cryptocurrency. In other words, if you are looking for how to earn passive income from cryptocurrency in the Philippines, you will need to decide on your end goal. For example, will you be farming cryptocurrency? Will you be lending cryptocurrency? Additionally, what cryptocurrency will you be using?
Once you have these answers, you can purchase your cryptocurrency. For example, we will choose to lend bitcoin on the CakeDefi platform. So, we sign up to CakeDefi, then we buy bitcoin, and finally, we lend it using their platform. So, now we can start earning passive income from cryptocurrency in the Philippines.
Depending on what type of cryptocurrency you are interested in (and what type of passive income you are interested in) will determine the best option. It's not always about the percentage of the investment. For example, one cryptocurrency could offer 750% returns per year, but the cryptocurrency may not have a promising future….
…. on the other hand, you could decide to invest in earning passive income from Bitcoin, and you may only receive 7% a year, but as Bitcoin is the leading cryptocurrency, it offers a more promising future. So to summarise, it's not only about the high return of investment but also about what you are investing in. This is the same for any passive income in the Philippines.
How Much Investment Do You Need To Generate 30,000 Pesos Passive Income A Month?
30,000 pesos may seem like a random number, but this is around the average wage for the Philippines, depending on what location you are living in and your industry. For example, a typical call center manager position offers a salary of between 25K – 35K pesos per month. So you may be wondering how much you will need to generate 30K per month?
30K per month = 360,000 pesos per year. Based on the current market and looking through several platforms, I can see the average return of investment for cryptocurrency is around 20-30% per year. So to keep this simple, let's say the average return of cryptocurrency is 25% per year.
If you were to invest 1.1 million pesos and receive a return of 25%, this would generate a yearly passive income of 375,000, which is over our target of 360,000. Thus, in theory, we can assume that you would need to invest at least 1.1 million pesos to generate a monthly passive income of 30K pesos per month. Please note this is for example purposes only.
Is Cryptocurrency A Good Passive Income Philippines?
Whether the experts love or hate cryptocurrency, they cannot argue with the simple fact that cryptocurrency has been the best financial investment in recent years. Many years ago, investing a few thousand in Bitcoin could now be worth millions of pesos. This is unprecedented in the world of investment in the Philippines.
Cryptocurrencies possess one advantage, often seen as a disadvantage, but it is a very good opportunity in reality. This advantage is called volatility. The market swings extremely high and low, which involves extremely high risk and is extremely financially rewarding. This is one of the experts' main criticisms and loves of cryptocurrency.
Naturally, all types of investments must be fully investigated, and we always recommend speaking to financial experts as this website is for information purposes only. Nevertheless, with the development of nonfungible tokens, the metaverse, and other technological advancements, many investors see cryptocurrency as a fantastic passive income.
---
More Passive Income Guides
---