Cebuano

English

Filipino
Dropshipping in the Philippines is a very common business model. Still, some of the biggest questions asked are how to dropship in Lazada in the Philippines and how to dropship in Lazada using Aliexpress. In today's article, we will go through the process of how to dropship using Lazada in the Philippines and dive into the growing platform of Dropify PH.
How To Dropship In Lazada In The Philippines
1. Market Research The Products And The Market
One of the most important steps when drop shipping in Lazada in the Philippines is fully researching the market and wider markets. Market research includes the supply and demand of the products, competition analysis, and the market's future. The success of a dropshipping business in the Philippines heavily depends on the market, so research is critical.
When looking at how to dropship in Lazada, it is important to analyze the competition and areas for opportunity. You may find a high demand which has an opportunity for innovation. For example, if running sneakers perform very well, can you see an opportunity for weight lifting sneakers in Lazada?
2. Find Suitable Suppliers
Below we will discuss how to dropship Lazada using Aliexpress in the Philippines. However, if you are not choosing Aliexpress, this stage is where you find a suitable dropshipping supplier. Previously we released a full list of dropshipping suppliers for the Philippines, which I have attached above for your reference.
Suitability and trustworthiness are the most important factors when finding a good supplier. The relationship between the dropshiper and supplier can influence the sales and general business operations. Many wholesalers are open to the idea of a drop shipping relationship, making dropshipping in Lazada in the Philippines much easier.
3. Create Your Product And List
The next stage of dropshipping using Lazada in the Philippines is to list your products for sale. The advantage of dropshipping is that a lot of the information will already be copied. But to avoid copyright claims, it is best to write the description in your own words. The algorithm of Lazada can be complex, so it's best to fill in as much information as possible.
Additionally, using services such as Canva can help with product images and sales. There are many positive conversion rates associated with high-quality photography. For example, one study found that adding a 360 spin to the product image increased the conversion rates by 27%.
4. Expand Your Sales Channel And Grow Outside Of Lazada  
Today we are looking at how to dropship in Lazada for the Philippines; however, if you are looking to expand your dropshipping store, it is best to expand your general scope. Shopee and other platforms offer alternative business experiences.
Alternatively, when looking at how to start a dropshipping business, you may decide to create your own website where you have more control over the design and management of the dropshipping store. But the next question is … how to dropship in Lazada if you are using Aliexpress?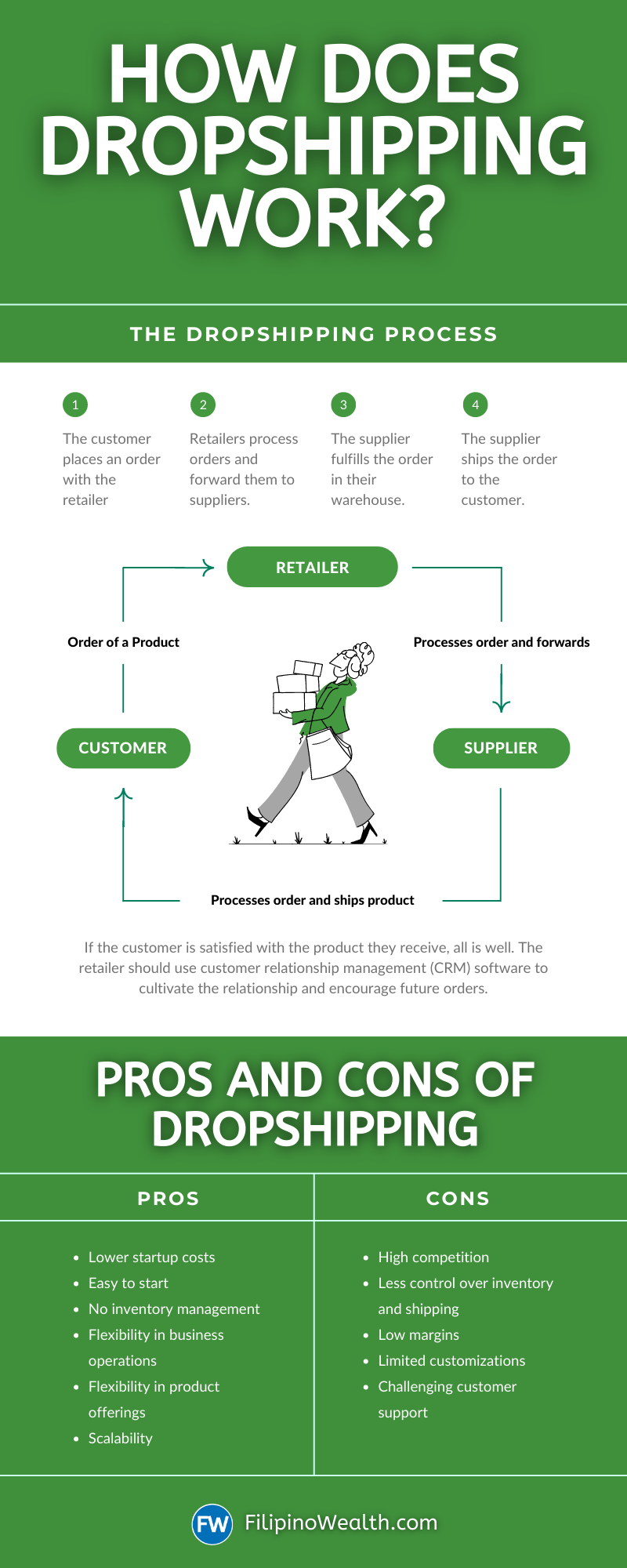 How To Dropship In Lazada Using Aliexpress
1. Research The Product Market
Whether you use Aliexpress for dropshipping in the Philippines or not, market research is critical to a successful dropshipping business. In addition, Aliexpress is a website that is increasingly popular in the Philippines. Therefore, if you plan to sell on Lazada, comprehensive research and careful planning are essential.
2. Use Dropify Or Other Similar Platforms
One of the great things about dropshipping in the Philippines is that technology has advanced considerably over the years. Now it's even easier to dropship from Aliexpress to Lazada or other platforms. You can decide to dropship manually or with a third-party platform so let's take a look at your options.
2.1 Dropify
Dropify is a Philippines-based company that aims to solve the difficult problem of dropshipping on platforms such as Lazada and Shopee in the Philippines. This platform allows its users to choose a category and start selling without a hassel.  
2.2 DSers
Dsers Is one of the most popular platforms used in association with Aliexpress. The two are cost-effective and have a bulk process, allowing you to import hundreds of projects within a few seconds. The information is gathered from Aliexpress effortlessly and can be run on several websites and platforms such as Shopify and WooCommerce.
2.3 Alidropship
Alidropship is a platform that aims to make dropshipping in the Philippines much easier. They have several options available. For example, you could outsource the hard work to them, and they create the store for you, create your store manually or add their plugin. Each option has pros and cons, and the prices fluctuate depending on the product.
3. Grow Your Online Dropshipping Business
The third and final stage is to grow your online dropshipping business. For example, if you are only focused on dropshipping on Lazada in the Philippines, then the growth of your dropshipping business could include diversification to different product types.
However, another option available is to grow the business on other sites and with other customers. For example, "dropshipping to Amazon from the Philippines" is becoming a popular key phrase that many drop shippers are now looking into. This expansion opens up the door to new customers and new potential.
Is Dropify Ph Good For Dropshipping In The Philippines
During the many hours of research regarding dropshipping in the Philippines, Dropify has come up from time to time as it is a Philippines-based business. The platform aims to make dropshipping accessible and hassle-free for its customers, and there are some financial benefits, including no overhead expenses.
Dropify is mainly for dropshippers who want to target Lazada & Shopee. However, they do not cover other platforms currently, so it may be slightly limiting depending on how big you wish your dropshipping business to be and how much control you are seeking.
---
More Dropshipping Guides
---