Cebuano

English

Filipino
Best Dropshipping Suppliers Philippines: If you own a dropshipping business in the Philippines, you need to find trustworthy suppliers to deliver high-quality products at affordable prices. This leads us to today's ultimate question – what are the best dropshipping suppliers in the Philippines?
Whether you sell locally to the domestic market or overseas, the good news is that you have several options for suppliers as a dropshipping business. Below is a full list of the best dropshipping suppliers that offer the best products, the lowest delivery, and the highest quality customer service.
Best Drop Shipping Suppliers In The Philippines
1. 1688 
1688 is part of the Alibaba Group and is registered in China. This website is very popular with dropshippers in the Philippines and is one of the best dropshipping suppliers. You can find a factory or search different industries to find opportunities and new products to sell on your dropshipping website.
2. Alibaba
Many dropshippers in the Philippines offer bulk orders and multiple products. This can work very well with websites such as Alibaba, as these suppliers focus on business-to-business relationships. Alibaba is not the best website if you are looking for single products, but it is one of the best suppliers for dropshippers in the Philippines if you are selling in bulk.
3. Alidropship
Alidropship is also part of the Alibaba Group but with a slight difference. You can have a ready-built dropshipping store made on their platform. You can also choose what products to sell, integrated with many other websites and companies, resulting in one of the best dropshipping suppliers in the Philippines.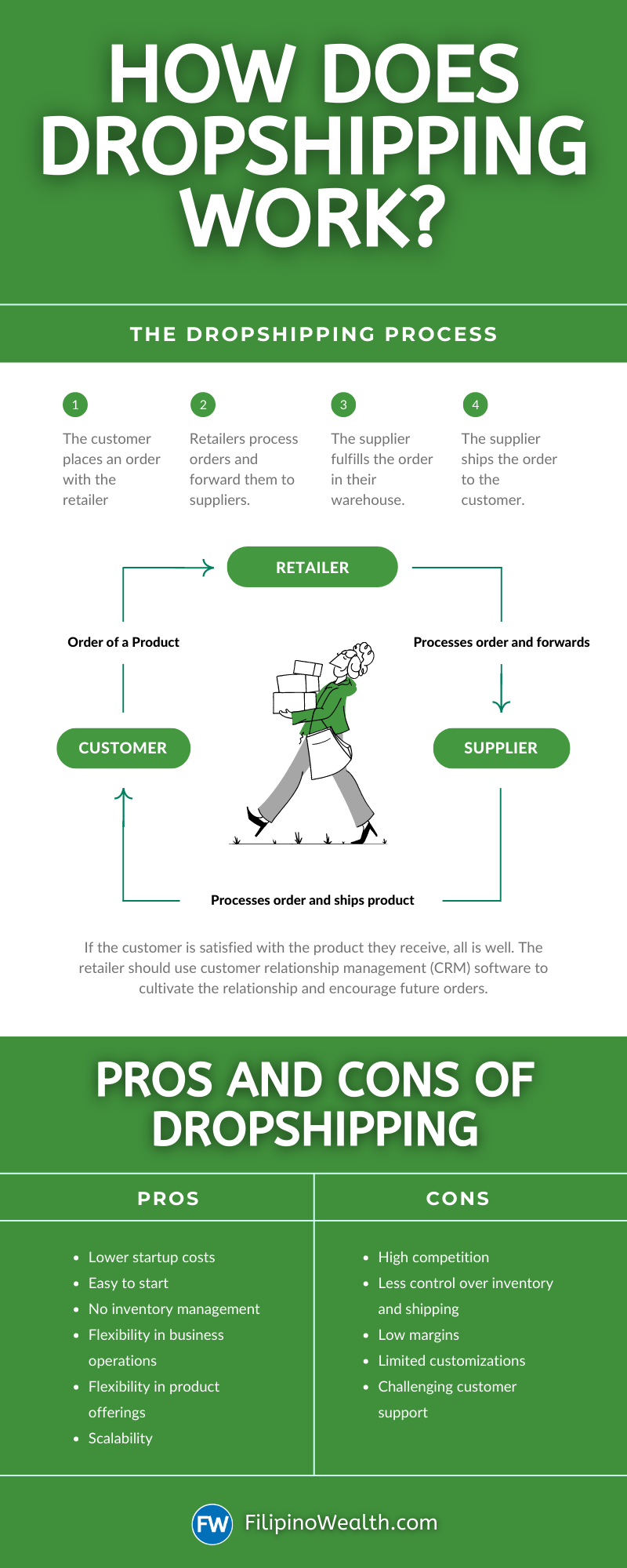 4. Aliexpress
If you prefer to go down the traditional route as a dropshipper, then Aliexpress is a fantastic option. These suppliers offer several products across many different industries. These include high ticket items as well as cheap one-use items. Therefore no matter what type of dropshipping business you manage, you will be able to find the products on the Aliexpress website.
5. All.Biz
All.Biz focuses on a business-to-business model with its customers and has products in over 42 separate categories. For example, Dropshipping products such as water, gas, and heating supplies have a high supply, but home and garden products and some clothing items are limited; thus, you may find other suppliers more suitable.
6. BangGood
When I've come across Bang Good and its products, I found several high-quality items with very affordable prices. BG can be the best dropshipping supplier in the Philippines, especially if you sell bulk orders, depending on what type of dropshipping business you manage.
7. Dhgate
This handy platform is very similar to Lazada in many ways. On the supplier's website, you will find singular and bulk items. There are quite literally thousands of listings for products under a dollar. You can also save when using this dropshipping supplier in the Philippines, as there are several promotions and discounts on selected items.
8. Dropify
Dropify is a Philippines-based business that aims to jump-start your online drop shipping career. Essentially they allow dropshippers to choose a category and start selling by offering a cash-on-delivery service. This is often a much more convenient option than purchasing supplies externally.
9. Eworldtrade
Eworldtrade is also another fantastic dropshipping supplier for the Philippines. They offer several products that are unavailable on other platforms, such as groceries, certain technologies, electrics, chemicals, and so on. So naturally, you may need to visit the terms and conditions of importing when choosing a dropshipping supplier in the Philippines.
10. GearBest 
This dropshipping supplier is perfect for those focusing on new and unheard-of brands. Many of their products are very similar to other well-known products but with a different brand name. However, they have some fantastic promotions, and sometimes they can be as high as a 50% discount on selected items.
11. Global Sources
Global Sources is a competitor of Alibaba and offers many similarities to other wholesale companies in China. GS is one of the best suppliers for dropshippers as you can find quality items without ordering a large amount, such as 50 or 100 units. However, this does depend on the product that you are dropshipping.
12. Lazada
You will find that many of the products sold on Lazada are actually purchased from other wholesalers such as Alibaba or global sources and then later sold in single units rather than bulk orders. Nevertheless, you could still use Lazada for drop shipping, especially if you are dropshipping overseas.
13. LightInTheBox
If you are dropshipping clothing in the Philippines, you will find LightInTheBox, the best supplier for your dropshipping store. They sell several types of items but focus on clothing items. For example, if you sell women's dresses, you will find dozens of listings on the LightInTheBox platform. This is the number one clothing supplier for clothing dropshippers in the Philippines.
14. Made In China
Made in China has several high ticket products, so if you are selling premium products, Made in China will be one of the best suppliers in the Philippines for dropshippers. These include hydraulic pumps, coffee tables, water purifiers, mobility scooters, and home furniture.
15. TradeIndia
Many dropshipping suppliers for Filipino entrepreneurs are based in China, but Trade India is one of the largest marketplaces for Indian suppliers. India has some unique products and services, and you will find over 88,000 product categories stretched across 40 industries resulting in one of the best dropshipping suppliers for the Philippines marketplace.
What Is The Delivery Cost When Using Dropshipping Suppliers In The Philippines
Whether a dropshipper uses a national or international dropshipping supplier, delivery costs will depend on the mode of transport, the product, the quantity, and the business agreement. Some suppliers cover expenses such as import tax while others do not.
However, the good news is that the price being advertised on most occasions covers the full price, including the delivery; however, this will need to be checked by dropshippers before placing to avoid any financial mistakes.
What's The Best Dropshipping Supplier For Shopee In The Philippines
Today we explored several dropshipping supplying options for Shopee in the Philippines. The suppliers mentioned all delivered to the Philippines, and therefore any one of those could be used as your dropshipping supplier for Shopee. Nevertheless, the product you offer and your business strategy impact which supplier is best for your dropshipping business.
For example, you could purchase items in bulk from Alibaba and dropship to the Philippines on Shopee. This option would likely be the more profitable long-term; however, there are more risks compared to ordering single items.
When looking for dropshipping suppliers in the Philippines for Shopee, remember that wholesalers and local suppliers also use these platforms. However, Burket.ph has a list of Shopee and Lazada suppliers in the Philippines if you are only looking for local dropshipping suppliers.
---
More Dropshipping Guides
---