Cebuano

English

Filipino
If you like me, you have at one time or another considered buying a condominium in the Philippines. Condos are an excellent business and family investment in this ever-growing market. Still, there are always some considerations a smart investor should be aware of. Therefore, today, we will be exploring 12 tips on buying a condo in the Philippines
Tips On Buying A Condo In The Philippines For Beginners
When Buying A Condo In The Philippines, Consider The Future
One of the most important things to consider when purchasing a condominium in the Philippines is to consider the future.
This consideration of the future stretches far beyond the condominium project itself and stretches across the local neighborhoods and facilities within the area.
As we know, our life can change at any moment. Perhaps we find a new job, or our family grows; therefore, it's essential to consider the future when buying a condo in the Philippines.
When Buying A Condo In The Philippines always Obtaining Legal Documents
Sometimes an overlooked tip when buying a condominium in the Philippines is obtaining verbal agreements in physical writing.
If you are an experienced investor, you may be aware that some things cannot be guaranteed. For example, the building may change slightly compared to the plans at the initial construction stage…
…But there are some things that condominium developers promise, and it's always essential to obtain this in writing.
For example, you may wish to install a type of equipment or a different layout, the developer may guarantee this, but it's always best to receive this in the written confirmation.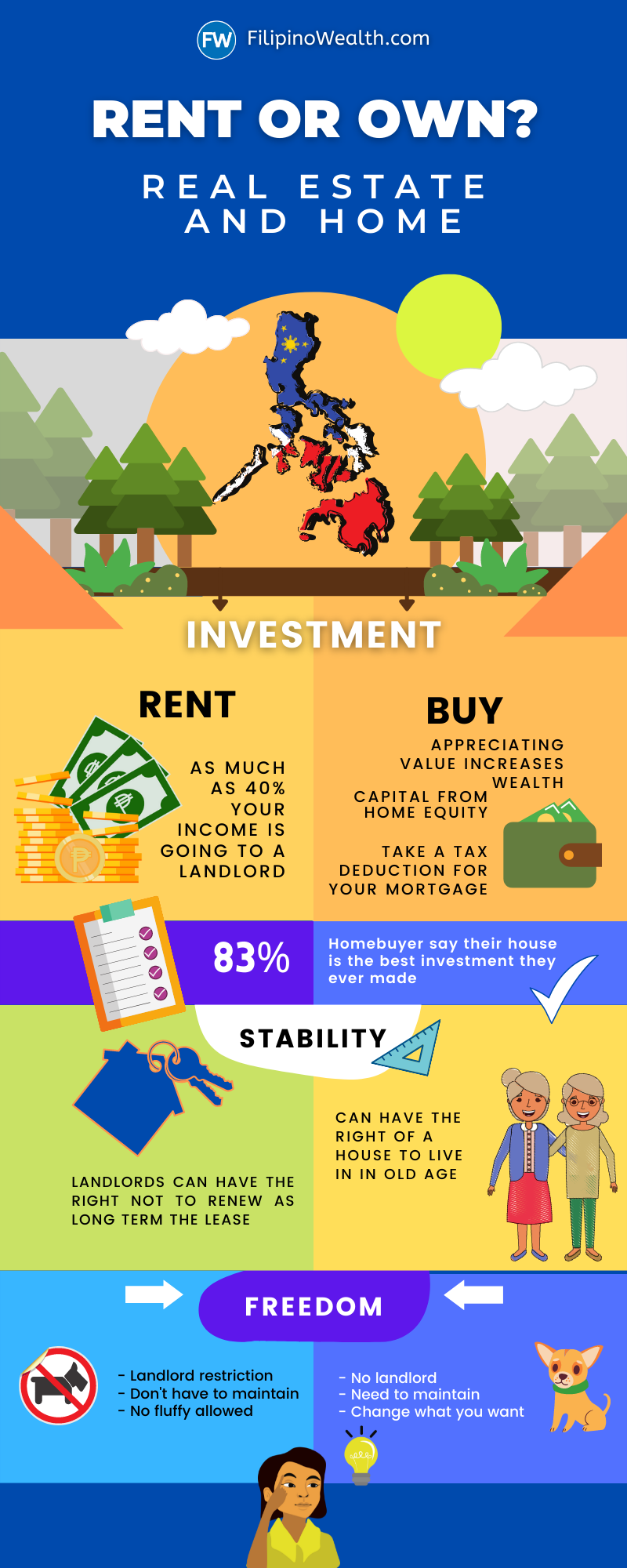 Always Investigate The Taxes When Buying A Condo In The Philippines
The tax applies to the majority of income. Real estate is no different. Understanding and remembering the tax will help investors and buyers consider buying a condominium in the Philippines.
Associations can sue over violations, but neighbors can make your life miserable even without getting lawyers involved. The bottom line? Read the condo documents (which include association rules) carefully before purchasing a unit – Tips for buying a condo in the Philippines

MoneyUnder30.com
For those of you who are foreign investors, it's always recommended to check the taxation rules in your home country as you might be required to pay tax in your home country if you are still a resident.
Aim To Buy A Condo In The Philippines At The Best Time
When it comes to the time of the year, there is no specific best time. What investors and buyers should look into is what type of market it currently is. In other words, in this present time, is this a buyers market or a seller's market? This is a big tip for buying a condo in the Philippines, as I could save you many pesos.
More specifically, when we focus on condominium projects and ask the same question of "when is the best time to buy a condominium," the answer typically is as soon as you can.
This is because real estate in the Philippines tends to increase as time passes. For increasingly popular projects and developers that have a significant replication, a condominium can likely increase in value hundreds of thousands of pesos within a few days of being listed for sale.
An Essential Tip For All Condo Buyers Is To Check & Recheck The Maths
When purchasing condominium projects in the Philippines, it's always important to check the maths. Even though this tip seems simple to many, it is often a task that is overlooked.
When we see a fantastic opportunity, we often focus on all the positives and the profitability destined to come our way. This can sometimes leave us forgetting the essential tasks such as the maths of the investment.
It's always a wise move to work out your investment return, gross profit, and how much money you would need for expenses and maintenance costs. These are a few necessary calculations but will help any buyer when buying a condo in the Philippines.
When Purchasing A Condo In The Philippines, Seek The Trustworthy Realtor
Finding a trustworthy retailer is critical when purchasing a condominium in the Philippines. This is an essential tip when buying condos in the Philippines. This is because the wrong real estate agent or corporation could bring about unnecessary stress.
A great real estate agent In the Philippines will advise you on the situation and give you different options that will be suitable for your budget and wish.
Investigate The Added Extras Such As Insurance
When purchasing a condominium in the Philippines, it is not a legal requirement to purchase insurance; however, it is strongly recommended in many cases. Luckily there are many different types of insurance companies on the market available at some very competitive prices.
When buying furniture for your condo, buy in bulk, online, or import.
One big selling tip for buying condos in the Philippines is to buy furniture in bulk. Many resellers and suppliers on sites such as Lazada offer great promotions for buying furniture in bulk. This can even be broken down into daily household items such as cutlery and plates.
However, importing may be an option too. However, import tax applies, so it may only be cost-effective if you need to buy many items.
Choose The Right Floor For Your Investment Goal
If you are an investor, then choosing the right floor for your investment is critical. For instance, if there is a condominium project overlooking a city, visitors to the city might be more interested in choosing a high floor to have a better view of the area.  This is also a big selling point on sites such as Airbnb.com
Choosing the right floor also stretches to the location of your condominium. For example, if you are at the back of a condo with a poor landscape, this may impact how much custom you receive compared to units that are in a better position.
When buying a condo in the Philippines, Visit The Neighbor and pick up the vibe.
Visiting the neighborhood of any condominium project is an excellent tip when buying a condo in the Philippines. This is because the neighborhood is an area in which you will spend the majority of your time.
If this is for investment reasons, then your tenants will be the ones spending time in the neighborhood. For instance, does the local area benefit from a mall, a gym, or a laundry service? These are a few of the things that individuals look for when choosing a good location.
If You Need The Internet, Check The Wi-Fi Zones
Unfortunately, Wi–Fi in the Philippines has been known to be one of the worst globally; however, there have been certain developments in technology in recent times that have advanced the signal and strength of wireless Internet.
When looking at buy tips for buying a condo in the Philippines, Wi-Fi has to be in the top 3.
Many condo buildings don't have assigned parking, so you might have to travel farther to get to your door. Storage is often limited to a small closet or two, and there could be no outdoor storage space at all. – Tips For Buying A Condo In The Philippines

BankRate.com
Nevertheless, some areas in the Philippines still struggle to get continuously reliable service. It's therefore critical to check the area with local Internet providers to see the potential Internet strength. This is also very important if a condominium unit is used for investment purposes.
Always Look At The Accessibility When Buying A New Condo In The Philippines
Our last tip on buying condos in the Philippines is to look at the accessibility of the condominium.
The level of accessibility you will need will depend upon your lifestyle or goal. For instance, if you are an entrepreneur who often flys to multiple parts of the Philippines, accessibility to the airport may be vital to you. If, however, you are an individual who is looking to become fitter, accessibility to a local gym may be paramount.
Tips On Buying A Condo In The Philippines – Keypoints
When Buying A Condo In The Philippines, Consider The Future
The 2nd Most Vital Tip For Buying A Condo In The Philippines Is Obtaining Legal Docs
Always Investigate The Taxes When Buying A Condo In The Philippines
Aim To Buy A Condo In The Philippines At The Best Time (For You And The Market)
An Essential Tip For All Condo Buyers Is To Check & Recheck The Maths
When Purchasing A Condo In The Philippines, Seek The Trustworthy Realtor
Investigate The Added Extras Such As Insurance
When buying furniture for your condo, buy in bulk, online, or import.
Choose The Right Floor For Your Investment Goal
When buying a condo in the Philippines, Visit The Neighbor and pick up the vibe.
If You Need The Internet For Your Job/Lifestyle,  Check The Wi-Fi Zones
Always Look At The Accessibility When Buying A New Condo In The Philippines
---
More Real Estate Guides
---