Cebuano

English

Filipino
How To Market Real Estate In The Philippines: Buying and selling real estate in the Philippines is a trend that has boomed over the last several years, but with the advancements of technology, it's now even easier to sell and rent real estate. However, due to the advancement, this has made the role of real estate selling more challenging as just about anyone can advertise a real estate property.
So if you are a seller or a real estate agent selling property in the Philippines, you will need to market and network to be on top of your game and successfully sell properties which brings us back to our main question. How to market real estate in the Philippines?
If you are a real estate agent, I strongly recommend looking at our real estate guide on some handy tips and tricks to become a more successful agent. Nevertheless, let's take a look at some powerful ways on how to market real estate in the Philippines.
How To Market Real Estate In The Philippines
1. Affiliate Market With The Community
The common question is, what is affiliate marketing, and how can this be used to market real estate? Affiliate marketing is known under many different names (commonly called a referral agent). This is because you agreed to pay somebody a percentage or a set fee once they find a customer for your product.
The reason affiliate marketing works so well in the Philippines, especially with real estate, is that word of mouth is incredibly important in general. This is not just in the real estate world but also in most industries across the Philippines.
There are several ways to start working with affiliate marketers in the Philippines. The easiest and most convenient is to use the power of Facebook and find referral agents who are willing to receive a commission for generating sales. If you are a business, you can also recruit an ambassador that can work on commission or a salary depending on what direction you wish to take your business.
The current reality for real estate selling in the Philippines is that it's not always about having the biggest budget, but instead, it's about having the biggest brain. With modern technology, the online world is essentially free. Of course, not every part of marketing is free, but there are several things you can do to market real estate for free in the Philippines so let's take a look at some other options.
2. Utilize The Power Of Social Media
It may be surprising, but Filipinos are the world leaders in using social media. Over the years (prior pandemic), the Philippines spent on average 8 hours a day using social media. Because social media is free and there is a lot of traffic, sellers and real estate agents have a perfect opportunity to market real estate in the Philippines.
There are several approaches when selling real estate in the Philippines. Some choose to post their advertisement everywhere, which sometimes works, but you need to build credibility with your audience, especially if you are part of a group. So the question is, how do you do this?
Essentially the best method is to provide value. From there, you can start to build credibility and trustworthiness with your audience, and they will likely visit your profile or reach out to you. You can then start advertising, but it's always best not to overdo it as you could be labeled a spammer.
As we know, Facebook is not the only social media platform in the Philippines. There are several other platforms that are incredibly popular, such as Reddit, Tiktok, etc. Therefore, you may need to apply different strategies depending on your targeted audience's social media platform.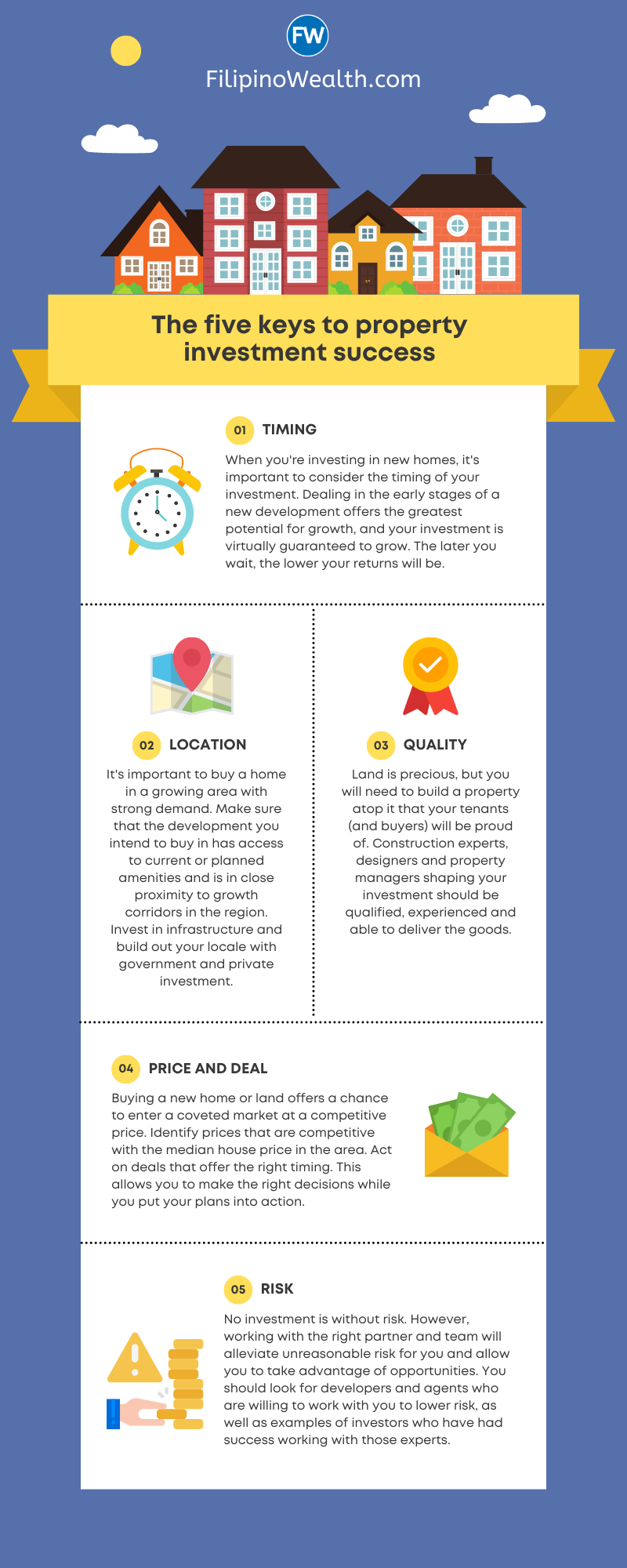 3. Work With Other Businesses
Working with other businesses in your network and other industries can work especially well when looking to market real estate in the Philippines. The type of real estate can also impact your strategy when working with other businesses.
For example, if you sell commercial real estate in the Philippines, it would be good to network with businesses that need a commercial space (such as a BPO business) or network with businesses that have direct links with your targeted audience.
Filipino wealth is a website that has thousands of views every single day. Many of our real estate articles rank number 1 on Google and several other search engines; however, we have never been approached by a real estate business for collaboration, which is insane! We have a lot of emails from other industries, but we have not received any real estate collaboration offers.
I mentioned this not to try and get you to make me an offer (wink wink) instead I say this to highlight that many businesses will be willing to collaborate with you to sell your property or properties. From doing this, you generate a win-win-win scenario.
4. Create A Real Estate Blog In The Philippines
There are many subcategories in the finance world, and real estate in the Philippines is one. There is a very large and significant portion of the real estate world that remains untapped by bloggers. Are you looking to earn money from a real estate blog in the Philippines?
Back when blogging first started to become well-known around 15 years ago, you could write a post, and it would be on Google within a few days or even a few hours. It could take anywhere from a few weeks up to a year to be ranked on Google in today's modern world.
Therefore even though marketing real estate in the Philippines using a blog is a very powerful way of marketing (and is free), unfortunately, it is a long-term strategy. However, once you have built your traffic, there are several ways to monetize your effort.
5. Do The Opposite To The Competition
I'm a firm believer in being different… Naturally, we as human beings want to be the same as everybody else.. to "fit in" and be part of the crowd. There are psychological reasons behind this which I will not go into today, but in general, we are naturally encouraged to fit in.
However, when marketing real estate in the Philippines, marketing a condo or any other type of product, it is best to go against the crowd and do things other businesses are not doing. This is the only way to stand out. But the key is to do something that does not draw negative attention as this is the opposite of the goal.
A classic example is Red Bull. When Red Bull was new, they had a hard time as there were so many energy drinks similar to theirs. Therefore they decided to be different and agreed with store owners to place their energy drinks in a different part of the store (not next to other energy drinks). As a result, their sales grew, and their business took off.
This is only a small example, but thousands of different examples of businesses and sellers have successfully differentiated themselves and their products.
As crazy as it sounds, marketing on a billboard with a simple design in a unique area for 5000 Pesos a month could outperform paid advertisement on a social media platform that costs 10,000 pesos a month. This, of course, is in theory, and there are many components at work that need to be investigated fully before making any decision.
6. Start A Real Estate Youtube Channel
Similar to starting a blogging website, you may also wish to venture into a real estate channel. Previously we spoke about how much YouTubers make in the Philippines; however, what is often not spoken about is the amazing opportunity for marketing using the YouTube platform.
You may think that a YouTube is with 100,000 subscribers gets paid less than somebody with 700,000 subscribers (assuming both channels have high view counts); even though this may be true with Adsence, some smaller YouTubers are making more money than larger YouTubers because they are marketing a product or service outside of YouTube.
This works especially well if you can create virtual tours. For example, virtual tours work very well when selling real estate in the Philippines, and if you have several properties, it may be a great idea to start to create virtual tours and list them on your channel and website.
7. List Your Property Of Real Estate Websites
An important stage on how to market real estate in the Philippines is listing your property on websites with highly targeted traffic, including property websites in the Philippines. Below is a small list of the most common and popular property websites used by sellers and real estate agents in the Philippines.
Cpmi.com.ph
Dmcihomes.com
Dotproperty.com.ph
Homes.trovit.ph
Lamudi.com.ph
Myproperty.ph
Philippinesproperties.com
Point2homes.com/PH
Property24.com.ph
Zillow.com
If you are a real estate agent, you could partner up with some of the leading websites in the Philippines. Some property websites allow you to post for free while others are at a cost, and each has its advantages and disadvantages; however, as a whole, these websites are a great way to market your real estate properties in the Philippines.
8. Create An Email List For Buyers & Sellers
For many businesses creating an email list is not a priority; however, it is a form of marketing that is perhaps one of the strongest in today's modern world. As a whole, we are bombarded with different types of marketing and many of which we acknowledge subconsciously.
Email marketing is slightly different as emails are something that we consciously care about, and most of us tend only to give our email address to important companies or people. In other words, we do not expect spam in any inbox, which is why we concentrate more on emails and are more likely to purchase through email marketing.
This is not the only reason, as there is a lot of psychology behind email marketing. Nonetheless, building an email list of buyers and sellers is a great way to network and market your real estate properties in the Philippines for free.
---
More Real Estate Guides
---