Cebuano

English

Filipino
Why invest in Davao city real estate? When you are looking to invest in real estate, you may often ask one of the most frequently asked questions for your real estate entrepreneurs out there. Presently, Davao is the best place to buy real estate in the Philippines.
In today's article, we are going to go through why Davao city is so unique. We will also go through a few other FAQs and go over how you can start investing today.  
Should I Invest In Davao City Real Estate?
Why Invest In Davao City Real Estate?
Let's start with the most obvious question, Why invest in Davao city real estate? When we look at real estate over the last 10 to 20 years, we can see that there has been a push across the majority of cities around the Philippines. This push to summarise is development.
Developments in technology, in transport, in health and overall a development in the local economy. The two of the biggest and possibly most well-known cities regarding real estate are the capital Manila and the city of Cebu.
Both Manila & Cebu offer a different type of living compared to Davao city. There are many reasons for the difference in living, but one of these is due to developments. Arguably many cities are overdeveloped and jam-packed with too many real estate projects and too many people resulting in crowded areas and traffic jams that last hours.
Davao is slightly different, even though we have seen many new real estate projects built in house form and condominiums. There are still lots of potential areas for real estate. Corporations are starting to see this and build more and more projects in the South of the Philippines. This is an excellent time for investors to buy real estate in Davao city.
It is projected that another increase in the real estate market will soon be upon us, further adding to Davao real estate's desire.
Let's not forget the obvious, and that is the safety of this city. Davao city is starting to get more well known to the world. With neighboring islands such as Samal island, more locals and foreigners are visiting Davao. It is expected that this will also increase over the next few years. As a result, Davao city has also been getting more and more public notice and even winning awards for its safety.
It's only a matter of time until bloggers and influencers start recommending this area to travelers who want to experience a different way of living than the rest of the Philippines.
What Type Of Real Estate In Davao City?
This ultimately depends on the area and what you are looking to invest in. For instance, a few well-known investors have recently opened a hostel on a stunning beach in Davao's east. This is because they have a great business plan and a great location. If they didn't have these things, the business might not be as successful. In other words, they decided on this real estate investment due to the location and their business projection.
Personally, if you're looking to rent out your real estate to foreigners, I would focus on investing in condominium projects. This is great for short-term rent. If, however, you are looking for Filipino families for an extended period, perhaps 5 or 10 years, you might be more successful with a house. However, this is not always the case, but it is something that you will have to think about when deciding what type of real estate to invest in.
Lastly, through research, we can see that Davao city has increased its number of registered businesses. Therefore, commercial properties might be another line of investments you may want to investigate, especially those rented to a call center business.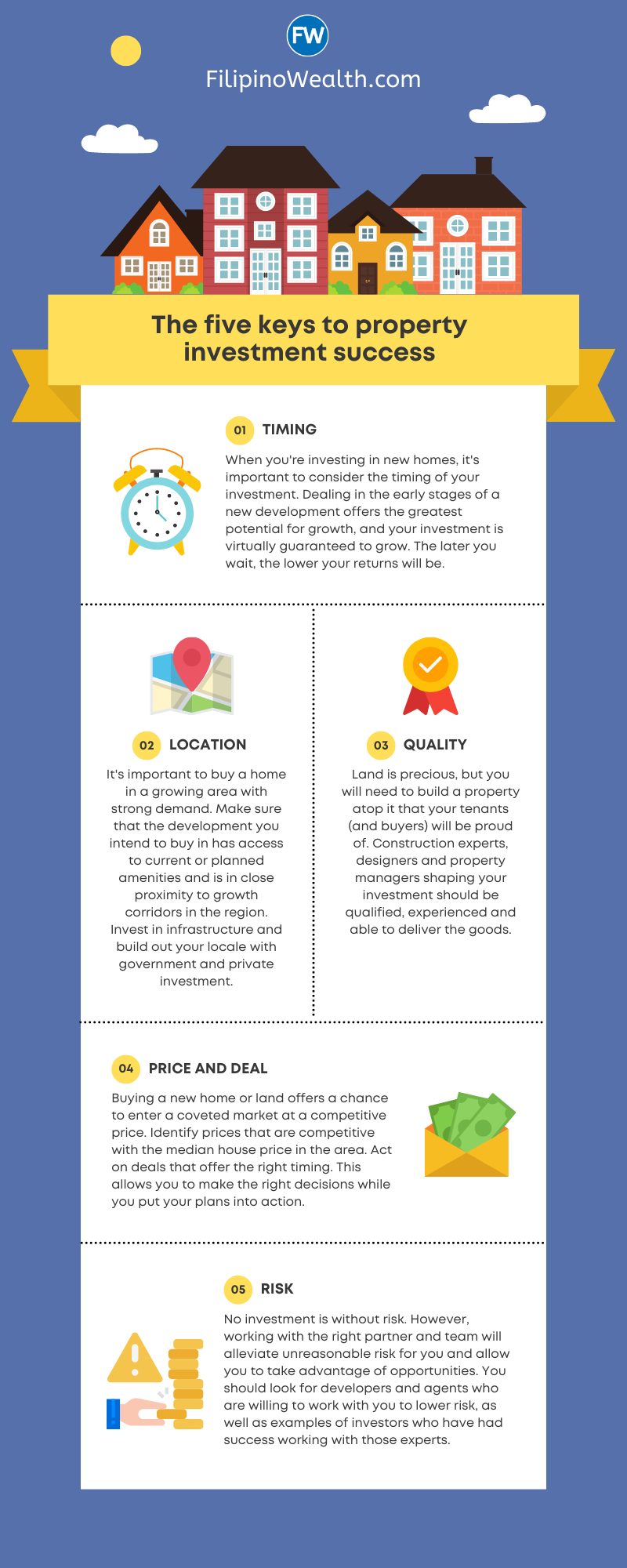 Real Estate Tips For Davao City?
If you are going to Invest in Davao city real estate, you may need a little handy time, so are there any? Yes, many tips we have spoken about in our recent full guide on real estate investment. For this article, however, we will break these down into small, easily readable chunks.
Time is critical. Always register your interest, which is also known as a letter of intent, as soon as possible. This does not lock you in but gives you first privileges.
Always negotiate if you're buying a second or third-hand unit. Market research will come in handy when trying to determine the market value for this real estate.
When doing external research, focus on large corporations to set up their business in growing and promising areas.
If you are buying for investment only, then think about your ideal customer. In other words, what would he/she need from this property?
There are many ways you can maximize your profits when it comes to real estate, especially in Davao, due to its growing economy. For example, if this real estate investment is for tourists, perhaps you can offer an additional service to increase revenue.
It's nearly impossible to predict the future of real estate; however, having a basic plan can help you in the present decisions.
How To Start Investing In Davao City Real Estate.
The most straightforward way to start with real estate is to contact real estate providers. There are many local real estate providers and national ones. The good news is that websites such as Lamudi and My property show some of the latest developments happening here in Davao city.
When we initially looked into new investments in Davao city, these websites did not always show the latest projects. So, even though these websites are great, speaking to an agent may put you ahead of the game when it comes to purchasing real estate.
---
More Real Estate Guides
---