Cebuano

English

Filipino
One of the first questions commonly asked in the real estate world is, how I can be a successful real estate agent in the Philippines? So today, we will be going over what makes a successful real estate agent in the Philippines by providing some exclusive tricks & tips.
When real estate agents are looking to sell, whether a second-hand house or a brand-new condo, their personality, skill, and trustworthiness can make or break a deal.
The great thing about real estate is this "deal" could be worth millions of pesos, which in turn could bring you thousands in commission or more. So, the question you may find yourself asking is, "why are some estate agents more successful than others?"
Some agents have applied the skills and hacks that we will be talking about today. If you are wondering, "how can I be an effective real estate agent in the Philippines?" then this article is for you.
How Can I Be A Successful Real Estate Agent In The Philippines
Treat Their Money As If It's Your Money
It is no surprise that tip #7 is to treat your client's money as if it was your money. So why has this made our list of real estate in the Philippines? Firstly, this has made our #7 spot because frequently agents fail to do this task.
Some agents sell properties they would not buy themselves. Even though this may be a great short-term strategy, this will ultimately fail long term, and you will fail to build a network of trustable buyers and investors.
If you cannot get excited about a property and you do not see a positive vision in this real estate, how can we expect our clients to? This is an important step when asking how I can be a successful real estate agent in the Philippines.
When I first looked to invest, I spoke to so many agents who just had those peso signs in their eyes. In other words, they were looking to make a quick commission from my sale and were not interested in my situation (this behavior is so obvious to would-be buyers).
Later, I met someone who told me not to invest in certain areas and advised me on areas I should invest in. She was genuinely honest and trustworthy. This agent even said to me, "I would only recommend a property if I would buy it myself."
Every single investment I made was only through this agent. Why? Because of the service, she gave me and the transparency other agents were unable to offer.
For those wondering how I can be a successful real estate agent in the Philippines, being open with your clients is a surefire way to build trust.
Always Find The Best Deal For The Client
Imagine your client is sitting in front of you. You have two options for your client. Option one is a fantastic deal, but low commission, the other opportunity for your client is a poor deal but has a very high commission rate. So the question is, which property would you be more likely to sell?
I understand if you choose the latter (especially if you are a freelance real estate agent in the Philippines). The downside is this is a short time. After you have the commission, do you believe the customer will use your service again? If the answer is no, do you believe they would use your service if you offered them the best deal?
Most clients agree that they would use an estate agent again if they were honest from the start and could find them a good deal.
When I had the opportunity to interview some very successful real estate agents in the Philippines, it was clear instantly that a lot of their commission and salary came from repeat customers.
Perhaps you have heard of the 80/20 law, also known as the Pareto principle. If this law is correct, which in most cases it is, it suggests that 80% of your profits will come from 20% of your customers.
In other words, finding a great opportunity for your client and building a long-term business relationship will be more profitable than a quick commission on high-end property. Understanding this will help you answer today's question of how I can be a successful real estate agent in the Philippines.
Fully Communicate With The Client At All Stages
Let's check out number 5 of our real estate tips for agents in the Philippines. I must be honest. Most people do not realize how hard real estate agents work and how difficult the job is.
For many reasons, I take my hats off to you out of respect because this is not an easy career to be in, especially with the rapid growth of property in the Philippines over the last ten years.
One thing that will make your job a lot easier and will take you from being an average real estate agent in the Philippines to a well-known and respected agent is a strong communication game. Communication is very important, from the early Facebook message up to signing the official contract.
Most clients will understand if you are busy. But you may be surprised just how a simple, friendly message could take a lot of weight off your shoulders.
Some agents I have worked with are extremely busy people. As long as I know, they have received my message. I can rest at ease knowing that they will look into this at their earliest convenience.
Some agents, however, are "too busy" to respond. The downside is that if left too long, you may lose your clients to another agent with this approach.
As previously mentioned, what clients respect the most is honesty. Investors and buyers looking to buy property will understand and accept that a real estate agent will not know everything, but they would expect you to find out that information for them. This is another reason why communication is so important and powerful when selling real estate in the Philippines.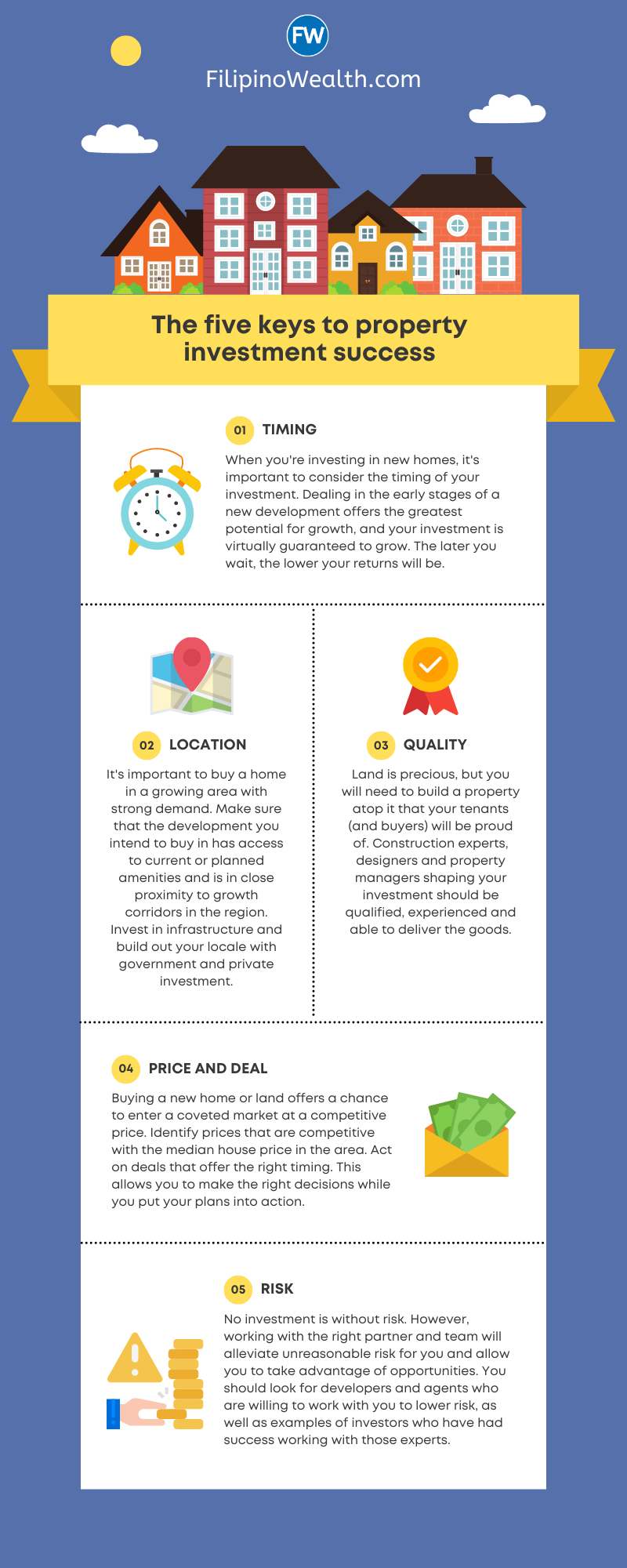 Learn About Real Estate Law And Local Tax
Are you wondering how can I be an effective real estate agent in the Philippines? Then learning about tax and the rules is a huge step forward. There is nothing more off-putting for a client when he/she approaches you, and they acquire so much more knowledge about property law and tax than an agent.
I completely understand that tax may not be a common area for most, but it will be a question that will be asked to you (especially from foreign investors). So, taking the time to research these topics or push them in the right direction will help you in future scenarios. But, unfortunately, this is often overlooked when looking at How can I be an effective real estate agent in the Philippines?
Example: A friend of mine who is a foreigner was looking to buy several units. He was told he was unable to do so. He was very disappointed with this news and started to look into investing in Thailand and Singapore…
Until an agent approached him and advised him that he could put the property in the company's name because he has a company in the Philippines. Because of this information, he agreed, and he purchased five units. The agent received a very high commission rate for the units he purchased because she had this knowledge.
Never Pressure A Client Into Making A Quick Decision
We all hate pressure, especially when it involves millions of pesos. You may be wondering, well, why do people pressure clients into buying? Simply because it works. (sometimes).
However, it never works for long. When people look to invest, they take their time, look at different options, and typically make a logical decision. However, (if you have been in the real estate game for some time, you will realize that not all their decisions are logical. Some are emotional decisions).
Why am I talking about emotions? Aren't we talking about How can I be an effective real estate agent in the Philippines?? Because emotions impact whether we buy. (Up to 90% of buyers buy due to emotional reasons), This is something that is learned about in business psychology.
Business psychology goes into the feelings we experience and the reaction to those feelings. For example, if you are angry at the national bank such as B.D.O. or Security Bank, E.T.C. You will be more likely to open a community bank.
If you are envious of a person, you will be more likely to buy something to better yourself against that person. And so on.
When someone pressures somebody, they don't always know how they will react. For me, I can see it clearly due to my experience with agents, so I walk away. However, other clients will be afraid.
Fear can sometimes manipulate clients to buy, but fear can also motivate clients to walk away. You may have heard of the fear of missing out (F.O.M.O). You should never use this tactic to sell a property because the client will ultimately realize their mistake, and some may use this as ammunition two trash your reputation.
Sadly, I say this because I've seen this happen more than once. Therefore, when pondering how I can be an effective real estate agent in the Philippines, it's wise to look at the full situation.
Offer Adds On (Cross Sell) When Necessary
Up / Cross-selling is a great way for an agent to earn extra money. As some examples, some agents are selling insurance products, and some are selling services such as a cleaning service to their clientele.
In many situations, up and cross-selling are great ways for an agent to earn a little extra income on the side while and provide additional services to their clients. This is another way agents stand themselves apart from the competition.
If you are in a position to team up with a local business or service offering a special promotion, you may be able to turn this opening into a small business hustle.
Looking back, I remember the time I was dating a successful real estate agent in Cebu.
She was promoting office equipment to clients who were buying and renting offices for call centers… To cut a long story short, she made more money through selling additional services than she made from the commission from selling commercial properties!
This tip is potentially a very profitable one in our list of real estate tips for agents in the Philippines. However, if you are working for a business, always check the rules as some real estate companies will only want agents sellers their products and services.
Get Everything Is Writing
Our number one tip on How can I be an effective real estate agent in the Philippines involved writing!
This is very important not only from you to your client but also from you to the developers. There have been times when developers have changed their rules without notice and negatively affected relationships with clients and real estate agents. The benefit of writing is that you may reclaim this as a count of law if any financial loss occurs.
A real case happened just last year. A developer changed their terms on a project they were building in Cebu city. Why? Because too many people were selling their units after a few years of construction, the developers were not happy.
So the new rules were that buyers could only sell their unit if they had a valid reason, for example, terminal illness, bereavement, etc. I'm not sure how far the developer took this as there were several complaints. In addition, many investors were using this project to flip to gain profit from the current market, so as you can imagine, there was confusion for the whole matter.
In the above situation, obtaining a document in writing may not have stopped the action but could have helped reclaim some paternal cash for the clients if it came to it.
How Can I Be An Effective Real Estate Agent In The Philippines Bonus:Differentiate Yourself
Bonus tip: In today's article on how can I be a successful real estate agent in the Philippines, we need further independent advice, which will help agents in all parts of their careers, and that is to …differentiate.
Here at Filipino, wealth regularly talks about business. When we look deep into this topic, we see that far too many businesses (and agents) are failing because they cannot differentiate themselves.
When we look at some of the most successful entrepreneurs and the most successful businesses, they all have something in common. Ironically, they all have been able to differentiate themselves in their market and industry.
How can I differentiate myself as a real estate agent in the Philippines?
Do I need to sell a particular type of property?
Do I need to use a particular marketing campaign?
How can I be a successful real estate agent in the Philippines?
This will depend on you and your clientele. Remember, people get hit by the same kind of marketing every day, with the same kind of promises and pitches. So don't be fearful of stepping out of the box because you will struggle to get ahead unless you step outside of the box.
Ultimately what will differentiate you from your competition is to provide unquestionable and priceless value to your clients. However, before we reach the level at which we offer this value, we need to gain their attention and trust.
The best agents I have ever met have gone well over expectations providing me with quotes, research, statistics, and even driving to the mall to go over different pricing strategies for my investment.
Why Do These Tips Make A Successful Real Estate Agent In The Philippines?
When I decided to invest in condominiums in the Philippines, I spoke to many agents ( Honestly, over 100 agents, I went a bit crazy!). I also went through several years of research in the economy and investigated numerous different real estate opportunities.
Why? Because through this exchange, I had a good share of positive and negative experiences, which has allowed me an insight into what clients are met with every single day when they are looking to buy or rent real estate in the Philippines.
A common error I saw with agents is that they failed to put themselves into the customer's shoes. As a foreigner, I was always offered the most expensive and luxurious condos in the Philippines, as any smart investor will tell you.
There is more profit, typically four mid-range units, than one luxurious unit, but most agents didn't understand that I was investing for financial reasons only.
Speaking to many buyers and investors, they also ran into similar problems of agents that didn't put themselves in their client's shoes. If you can do this, you are already one step ahead!
If you ever get a chance to learn about business psychology, I would recommend you do so because when it comes to selling, business psychology will help real estate agents in the Philippines sell more effectively.
Some clients are very alert and aware. So even though they may consciously not admit it subconsciously, they may have a feeling that something is not right, so if you try to use any immoral tricks or manipulation, this will often blow up.
Conclusion: How Can I Be A Successful Real Estate Agent In The Philippines?
There are many tricks and tips that real estate agents are using here in the Philippines ' real estate world. This is perfectly normal, but with the age of technology and new businesses springing up, individuals can find deals and property without the need of an agent, so being an average agent will not be enough as we look into the next few years.
This is said not to strike fear into you, so please do not worry. It is just an observation of the movements of the Philippines property industry. The focus should now be on providing real value to the customers and going the extra mile every day to help the clients find the best deal at the best time for their needs.
Fear of missing out is used massively in real estate globally. This is because, for most people, it is a strong trigger. To see this in action, you only need to look upon the recent events of Bitcoin.
A few years ago, Bitcoin hit record levels. Fear Of Missing Outset in, and many people brought bitcoins and started mining also. Why may you ask?  Because they felt that they would miss the opportunity to turn a few pesos into a few thousand pesos.
If a property will soon be sold and there is a real chance of missing out, then this will help you seal the deal, but people are very wise on fake fear of missing out tactics, so it's best to always be honest and truthful with your clients.
We hope that we have been able to cover many areas on today's question of "how can I be a successful real estate agent in the Philippines?" These tips and methods can help you reach new heights and be an effective real estate agent in the Philippines in no time! Good luck from the Filipino Wealth team & happy selling!
---
More Real Estate Guides
---