Cebuano

English

Filipino
How To Buy NFT In The Philippines And Make Money: Have you ever wondered how to buy NFT's in the Philippines or if you can make money from NFT games? Welcome to the wonderful world of NFT opportunities in the Philippines; today, we will be discussing these questions and some of the most common questions asked about NFT's in the Philippines  
Where & How To Buy NFT Philippines
There are two main places where you can buy NFT's in the Philippines. The first is on an NFT marketplace such as Opensea, Axie Infinity Marketplace, etc. The second place to buy an NFT is direct from the artist/programmer/designer on platforms such as Fiverr. Most sellers sell NFT's on NFT marketplaces such as Opensea, but some sell on their own websites.
Buying NFT's in the Philippines is similar to buying other online assets. However, instead of fiat currency, purchases are often made via cryptocurrency such as Ethereum. In addition, most NFT platforms allow users to link to popular digital wallets such as MetaMask, TrustWallet, etc.
Users can pay for the NFT using cryptocurrency. Once payments have been made and terms agreed upon, you will be the only owner of your chosen NFT. The process will be slightly different depending on what platform you are using and what NFT you purchase, but most marketplaces follow a similar process to the one outlined above.
In summary, to buy an NFT in the Philippines, you need to connect your cryptocurrency wallet to the NFT marketplace, make your deposit for your chosen NFT and finally agree on the terms of service. You will then be the verified owner of the NFT.
How To Sell NFT Philippines
To sell an NFT in the Philippines, sellers will need to connect their wallet to the NFT marketplace (commonly ETH wallets), create your NFT profile including price, description, etc., and finally, list your NFT for sale. Most NFT marketplaces will take a cut of the profits per sale.
If you are an NFT programmer, you can also sell your NFT's on different types of marketplaces, such as Fiverr. This is a great side income idea in the Philippines for those who understand coding or have a creative side.
Is An NFT Legal In The Philippines
Similar to cryptocurrency, ownership of NFT's in the Philippines is completely legal. However, as the cryptocurrency and NFT world develops, new regulations and laws will likely be drafted. Technically and legally speaking, as some NFT's possess value and profit can be made, taxation will apply, but the rate may differ depending on the value of a transaction.
Unfortunately, there is very limited information in terms of tax and regulations at the time of writing. However, legal professionals such as Law.Asia mentioned the following; The taxability of a transaction dealing with NFTs would highly depend on the activity performed. For players, it may be considered as income subject to the graduated income tax table. Hence, if the annual income of the player does not exceed PHP250,000 (USD4,950), no income would be due.
So even though ownership of NFT's is legal, taxation may apply. So it is recommended to speak to an independent financial advisor or your local tax department for future information. This is not financial advice but research on the latest information. Nevertheless, this post will be updated if there are any further updates regarding this subject.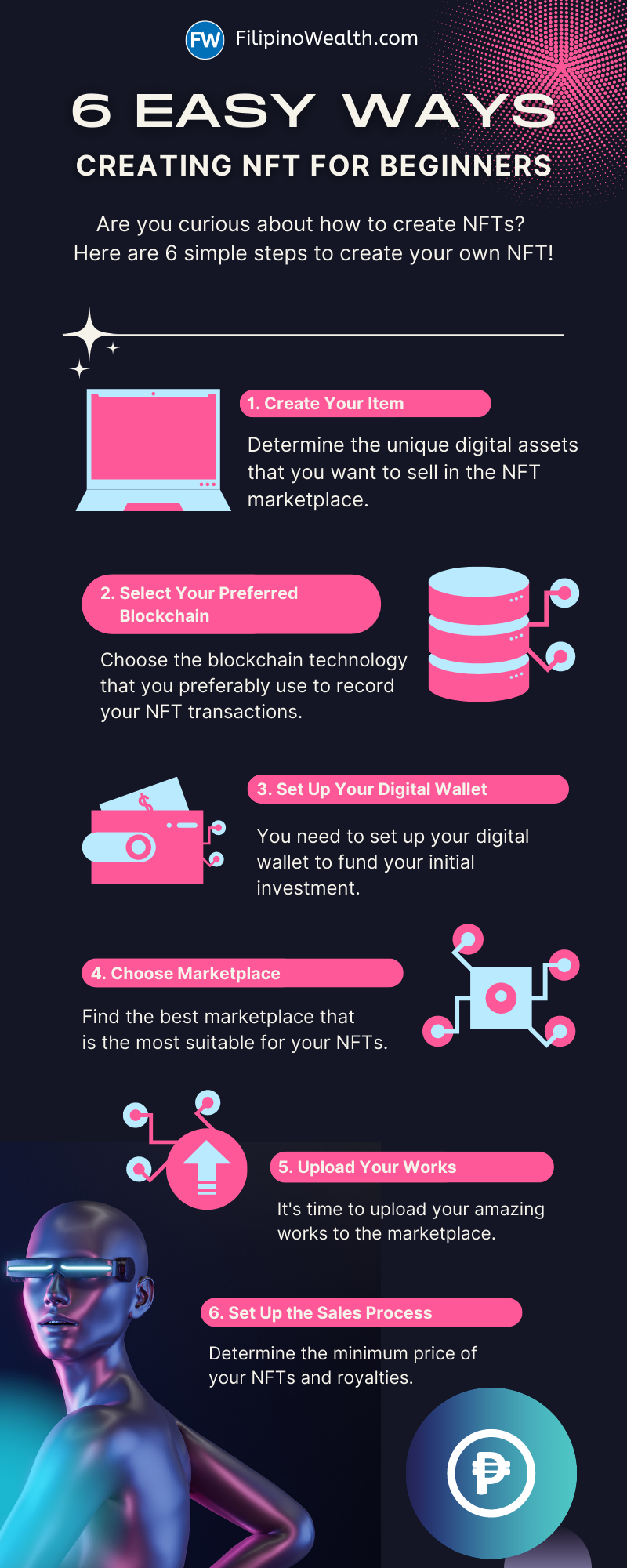 How To Make Money From NFT In The Philippines
To understand how to make money from NFT's in the Philippines, we need to fundamentally understand how to make money. To make money, we need to provide something of value. Value can take many forms, so where is the value in NFT's?
The value in NFT's is financial (meaning that buyers will buy NFT's due to their perceived financial opportunity). Or value in terms of usefulness. For example, purchasing a weapon in an NFT game can result in a better experience, resulting in high scores, more NFT's unlocked, or some other reward.
These are only basic examples based on human purchasing psychology, and there are many other examples. Still, you need to understand why people buy NFT's if you are looking to make money from selling NFT's in the Philippines.
Here are 3 popular options to make money from NFT's in the Philippines. The first option is selling in-game NFTs on the marketplace. The second option is to sell NFT's on an open marketplace, such as NFT art on OpenSea. Finally, the third option is to produce and develop 100's & 1000's NFTs and sell them to buyers who will resell them.
To make money from NFT's sellers, we need to sell NFT's at a profit. This can be completed by earning free NFT by playing games, reselling NFT's, or producing NFT from scratch and selling them on open NFT marketplaces.
Remember that the most challenging part for any seller is creating value. Value can come in many different forms depending on the individual. But fundamentally, buyers will need to believe there is value before purchasing. The criticism of the NFT world is that the perceived value of NFT is floored. In other words, some investors see NFT's as useless.
How Much Money Can You Make From NFT's
It's very difficult to calculate the value of NFT's. Not only is the NFT world still in its infancy stage, but several factors impact the price an investor is willing to pay.
The highest NFT ever sold was back in 2021 and reached a total of $91.8 million (USD). On the other end of the scale, some NFT's sell for $5.
Essentially how much money you can make from NFT's in the Philippines will depend on the demand. For instance, Axie Infinity is an increasingly popular game in the Philippines and worldwide, and because of this, rare items have a higher perceived value. In other words, because there is a demand for these products, NFT's are more valuable.
What Are NFT Games
NFT games can be played, which often involves a reward of an NFT. Rewards are often given by completing missions or battling other players. However, you can also purchase an NFT on the in-game marketplace.  
NFT's Have become popular in the Philippines and worldwide because they allow players to profit from playing. On a non-NFT game, you play for pleasure, but with an NFT game, you can play for pleasure and earn money simultaneously. This option is a simple decision for professional and amateur gamers.
What Is The Future Of NFT's In The Philippines And Worldwide
This is a fantastic question that many entrepreneurs and visionaries have discussed in recent times. Nonfungible tokens produce a digital signature that cannot be replicated. So if you buy an NFT, you are the only owner of that NFT, which can be proven and verified. This opens up the door to many opportunities across several industries.
Metaverse is a buzzword that has been exploding across the web in recent years, and now with Facebook changing its group name to Meta, the world is opening its eyes to NFT's. Facebook sees a world where NFT's have a place in the Metaverse.
The digital world is a place where you can create an avatar of yourself. This avatar of you can drive a car, wear luxury clothing items or have a unique look; all of these can be NFT's.
However, NFT is more. NFT's maybe an opportunity for jobs and careers. For example, imagine a YouTuber deciding to mint their videos. They produce a small GIF of each video based on blockchain technology, which becomes an NFT. There is only 1 (or more) of each video, resulting in a limited supply. However, if the Youtuber is a popular creator, demand may soon follow, and the basics of supply and demand can result in profit.
Currently, we do not know how NFT's will impact the Philippines and the world. Ultimately the future depends on the demand of the people. However, NFT's in gaming are popular. Therefore, it is highly likely NFT's have a future in the gaming industry, but whether it has a future in other industries is still open for discussion.
---
More Cryptocurrency & NFT Guides
---