Cebuano

English

Filipino
Are you looking for the best business to start with 20K in the Philippines?
If so, you have come to the right place!
Today we will be diving into the best businesses to start with 20K capital in the Philippines.
It is an exciting time for Filipino entrepreneurs as the Philippines economy is developing fast.
The good news is that many new opportunities are opening up every day.
This included many new businesses starting with 20K pesos.
Let us take a closer look at five of these business ideas.  
---
Best Business To Start With 20k In The Philippines
1. Start A Freelance Writing Business For 20K pesos
Due to the easy access to the Internet, many income opportunities for freelancers appear all across the Philippines.
The freelance writing business is one of these opportunities.
This could be a great business for some because you may have the option to work anywhere in the world and, at the same time, build your wealth.
A freelance writer may need to work on several projects at once and have deadlines.
However…
Some clients will be flexible in the workload, which can be an advantage. So how can you start?
How To Set Up A Freelance Writing Business?
Online Profile:
Your profile describes who you are as a freelance writer and how your skills can be an advantage for your future client. Most often, these online profiles take the form of social media pages.
Below are some ways to improve your online profile:
Being Free From Grammatical Errors
Have A Call To Action / Contact Details
Online Portfolio:
An online portfolio usually takes the form of a website.
This is an incredibly powerful tool for a freelance writer or anyone who is looking for the best business to start with 20K in the Philippines.
This is where clients often base their first impression.
So first, it is always wise to determine your niche.
This will allow you to focus on your ideal clients and even market to them if your budget allows it.
A simple WordPress or Wix website is best.
Keeping the design clean and easily readable often works well.
This step is optional..
However, this will give you and your freelance writing business that professional edge (which can make all the difference against your competition.
Follow-up (Optional):
After networking and building connections, there may be a period of rest while you wait to hear back from your clients.
Therefore, it is often good to send a friendly message to the client as a follow-up.
This will show interest, but it is best not to overdo it, as it can appear unprofessional and desperate.
What Skills Are Needed To Start this 20K business?
Writing skills
Computer skills
Research skills
Content management skills
Negotiation skills
Costs And Equipment
The price of setting up a freelancing writing business in the Philippines depends on the equipment and location.
Below is a small breakdown of estimated costs.
Laptop- P15,000
Smartphone For Contacting Clients- P2,000-P3,000
Internet Connection-P700- P1,500
ESTIMATED TOTAL: P19,500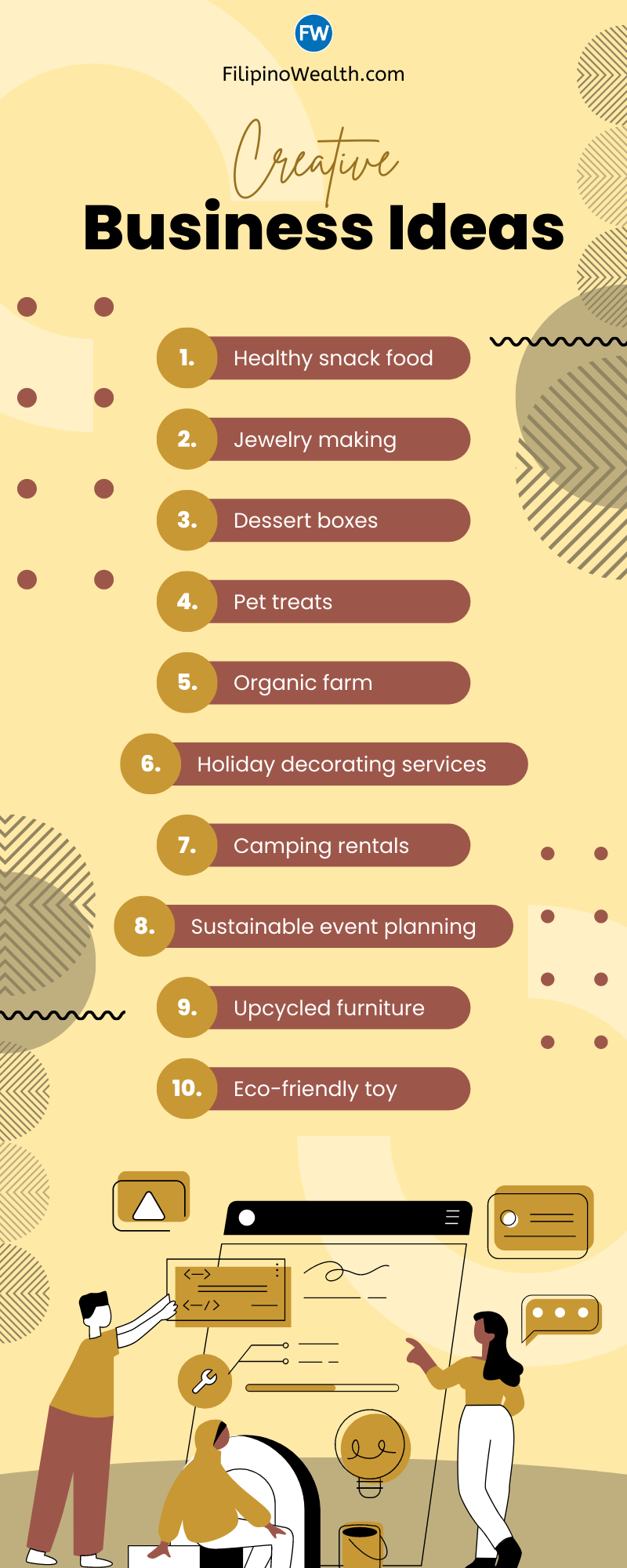 2. Become A Vlogger In the Philippines
This is another great business to start with 20K in the Philippines.
Vlogging lets you take advantage of the Internet and the compounding law.
Although fame and success on the Internet do not typically happen overnight, this business has many advantages.
One is that YouTube and other Vlogging platforms have an increasing amount of traffic each day.  
From the statistics of YouTube, we can see that 62 million hours are spent watching youtube videos in a month.
The key takeaway from this is where there is traffic; there is also an opportunity to earn wealth.
A vlog could make you more relatable and trustworthy to your viewers.
This is needed as a loyal audience is more likely to purchase your products or buy your recommendations.
Lastly, from the information provided by Backlinko.com, you could get a higher search result by becoming a vlogger and linking your channels to your website.
How To Set Up A Vlogging Business?
Branding:
After familiarizing yourself with video platforms, you can start asking, "What do I want to be known for?"
It is wise for vloggers to determine the category they want in this business and strategize how best to market themselves.
Commitment:
Commitment is highly important when you decide to vlog, similar to other kinds of businesses.
You can do this by being consistent with your schedule and/or setting time apart each week for your videos.
After uploading a couple of videos, you could study statistics from your target audience.
Most platforms will give their creators statics about the viewers, watch time, and average drops.
This Is very useful as you could change your commitment schedule to match when your audience is most active to reach maximum views.  
Equipment:
Your equipment does not need to be expensive or the best, but it does need to be clear (Including clear video, clear audio, no feedback, etc.).
Often a simple iPhone / Andriod and a phone stand work wonders.
An option will be to invest in a reliable microphone, which can often be purchased from Shopee or Lazada for 500-1500+ pesos.
What Skills Are Needed To Start this 20K business?
Marketing Skills
Video Editing Skills
Research Skills
Overall Digital Skills
Social Media Skills
Costs And Equipment
As mentioned, the vlogging equipment must meet the production needs.
Therefore, it can often seem a little pricey, but it can be a good investment as per statics; it appears that Vlogging Is one of the best businesses to start with 20K in the Philippines.
Camera- P6,000-P14,000
Microphone- P800-P1,500
Support- P1,000
Lighting-P500-P1,000
Editing Software- P2,000
ESTIMATED TOTAL = P10,300 – P19,500
3. start A Small Food Kiosk Business
20K capital, really?
Well, normally, 100K capital is needed at least for a food cart business, but a Kiosk is slightly cheaper, and franchising options are available!
Food cart businesses thrive in the Philippines because it is often easier to set up than other businesses.
Small capital is often needed, and there is a possibility to start earning pesos from day one.
Many young and aspiring Filipino entrepreneurs are looking to set up a food cart business in the Philippines.
Are you looking to start your own food cart business in the Philippines?
Then, check our complete full guide, including the essential steps and requirements!
This business can be expanded, and many franchising companies across the Philippines are doing this right now.
Many companies are also offering this business model; therefore, it is quickly becoming the hottest best business to start with 20K in the Philippines.
How To Set Up A Small Food Kiosk Business?
Good Concept And Product:
The concept should always match the products sold.
Customers will often be curious to try it (especially if it's a new concept), but they may not return if the product is below par.
Therefore, ensuring that you have consistent quality products will ensure that your business will succeed.
Location:
Your food cart should be visibly located where there is a lot of foot traffic.
Even if you plan to put it up in front of your house, it will be great to assess the number of people passing by and check if these people fit your target market. 
Operations:
Installing an efficient operating system is more crucial in this kind of business because there is limited space.
You can strategize how to store your products and prepare them adequately with the space available. 
Check out our full guide for more information.
Suppliers And Employees:
Trustworthy & reliable Suppliers are key to business success.
Therefore, it will help to organize and set aside time to work with your suppliers.
It is important to note that the supplier may be fixed if this business is set up via franchising….
…Employees are equally as crucial to a food cart business in the Philippines as suppliers.
Therefore, carefulness is needed in selection.
Practical training will help your team and your business overall.
Now that we have covered a few key points, what skills are required for this business?  
What Skills Are Needed To Start this 20K business?
Management Skills
Customer Service Skills
Food Sanitation And Storage
Knowledge Of Strategic Pricing
Costs And Equipment
When setting up a food cart business in the Philippines, you have two options.
You could either franchise or set up your own food cart business.
Setting up your own food cart business could cost over the maximum capital of today's article of 20K.
However, if you decide to franchise, you could find food cart companies offering this business for less than 20K.
You can check out Levy's Food Cart for one.
They offer a food cart franchise for as low as P17,500. 
It is always best to think carefully about this option and see if these options are profitable for your location.
There may also be extra fees and costs, so it is critical to obtain all information before diving into this business.
Small Collapsible food cart (36x17x72)- P8,000
Cooking equipment- P8,000 – P12,000
Products- P4,000-P10,000
Financing – Various
ESTIMATED TOTAL= P 19,000 +
4. Start An Online Lazada Selling Business Philippines
If you want to sell a product that you think will make it big online, you could head over to Lazada because this online marketplace is booming.
Selling on Lazada could be a good business opening, as this is currently the leading online shopping platform in the Philippines.
Lazada has thousands of online customers daily, which is continuously growing.
Lazada often has special events and deals that attract more customers to its platform.
As we mentioned earlier, there is an opportunity to build wealth where there is traffic.
Lazada is a great business to start with 20K pesos in the Philippines because there is no registration fee for those who keep an eye on their capital.
But how can you start and become a Lazada seller?
How To Be A Lazada Seller?
Register:
After all the needed documents for registration are prepared, you can register for an account at Lazada Seller Center by filling out the form from the website or app.
Take clear photos of the documents that need to be submitted, and the bank information for payments is next.
A week is needed for the application to be processed.
Lazada will send an email or call when the account is verified.
Products:
For new online sellers, Lazada requires at least five products to be sold.
There are also restrictions on the items.
Some items that cannot be sold are gambling items, pirated software, and weapons. 
To upload products, sellers go to the Lazada Seller Center website and log in.
Then, they click "Add Products" and type in the details.
There is an option to upload individually or by batch.
Managing:
On the Seller Center, you can manage your store.
You can see the performance and make some adjustments using the seller tools feature.
Click "Business Advisor" to access your dashboard. 
Shipping:
When you have an order, the item has to be packed, scheduled for pick up by Lazada, and the seller waits for the parcel to be delivered.
To check if there are any pending orders, sellers can click "Orders" then "Forward Orders" and tap "Pending."
Payments:
Payments for your products will be paid weekly to your registered bank account.
You can access your account statement from the website or app.
What Skills Are Needed To Start this 20K business?
E-Commerce Experience Or Training
Familiarization Of Lazada And Your Market
Branding / Marketing Skills
Customer Service Skills
Costs And Equipment
Lazada is excellent for first-time store owners since sellers can start a business for as low as 10K pesos (needed for products and equipment).
In addition, Lazada is essentially free as they make their money through a commission once your items sell.
Smartphone / Camera – P10,000 +
Internet connection- P700-P1,500
Products- P5,000 +
ESTIMATED TOTAL= P16,500 +
5. Open A Small Cleaning Business For 20K Captial
On our list of businesses to start with 20K in the Philippines comes the accessible cleaning business.
This is recommended for those who would like a part-time business (side hustle) or those who are looking to hire and grow this business.
This is mentioned because this is often viewed as a business that can not be expanded, but in reality, there is room for growth in this industry.
This service is often in-demand.
There are also lots of possibilities to speak to business customers and offer special B2B (business to business) agreements.
This can include; call centers, small hotels, cafes, etc.
How To Set Up A Cleaning Business?
Starting Small:
You can start building this business gradually.
The good thing about starting up your own cleaning business in the Philippines is that you do not need an office.
Most often, transportation and equipment are needed at the start, which are mentioned below.   
Business Name:
For your business to stand out, choosing a different name from other cleaning businesses in your area is important.
Aside from being unique, you can avoid conflict with other cleaning businesses. 
Cleaning Tools, Supplies, And Vehicles:
Owning a vehicle is essential when starting a cleaning business in the Philippines.
Rental options can keep costs down short term but maybe more experience long-term.
Suppliers can also be purchased cheaper from sites such as Lazada or China (there is often import tax on these items).
It is best to buy industrial equipment, especially for long-term cleaning use, and equipment purchased from malls/stores may break within a few months.
Rates And Marketing:
You can decide on your rates by comparing them with other cleaning businesses.
Charging per hour or for the cleaning you do is also an option.
The service advertisement can be done by giving out cards in stores, or creating a social media presence is enough for starters.
Outsourcing is recommended if your budget allows for this.
Often the marketing costs are cheaper locally than nationally.
Therefore you may find a valuable marketing agent/business that brings in high returns and essential pays for itself.  
Employees:
Employees or helpers are not mandatory when your business is just getting set up.
Instead,  you could make a list of people to contact when you need extra hands.
Getting assistance only when you need it may help you manage your expenses early on.
What Skills Are Needed To Start this 20K business?
Knowledge Of Necessary Cleaning And Cleaning Technology
Marketing Skills
Communication Skills
Brand Establishment
Social Media Use
Local knowledge
Costs And Supplies
You could save a lot with a cleaning business since renting an office is not necessary.
Therefore, this could speed up the waiting time to establish the business.
Below we have a list of some necessary equipment needed.
Please note this breakdown does not include costs for transport and gasoline as this may be various…
Therefore, adding 5-10K onto the estimate may be appropriate.
Smartphone For Contacting Clients- P2,000-P3,000
Big Cleaning Sponges (Set Of 4)- P126
Glass Wiper- P104
Hair/Lint/Dust Remover- P129
Dustpan And Broom Set- P280
Microfiber Duster- P164
Microfiber Cleaning Cloth- P25 Each
Glass Cleaning Cloth- P100 Each
Cleaning Brush With Handle- P200
Mop With Bucket- P500
Cleaning Gloves-P120
Heavy-Duty Cleaning Caddy- P850
Multi-Purpose Cleaner (For Appliances, Counters, Desks, Floors, And Walls)- P167 Per Bottle
Disinfectant (For Kitchen Surfaces And Bathrooms)- P630 Per Spray Can
Glass And Window Cleaner (For Mirrors, Glass, And Windows)- P130 Per Spray Bottle
Air Freshener- P200 
Heavy-Duty Detergent- P570
Toilet Cleaner- P240
Dishwashing Liquid (For Stovetops, And Refrigerator)- P150
Wood Cleaner- P200
Cleaning Uniform- P500
ESTIMATED TOTAL= P7,310 +
---
Business Tips For 20K business Ideas Philippines
When looking at the best business to start with 20K in the Philippines, it is always wise to do the maths.
Of course, it is an exciting time when you have found that perfect idea!
But making sure you go entirely over the maths will help you build your 20K business in the Philippines.
Secondly…
Many of the costs today can be higher or lower.
This depends ultimately on the quality.
In modern times customers want the best.
For example, they would rather watch a video with excellent sound quality than poor quality.
If the conditions affect your business, it should be a priority to investigate, as low quality could eat away at your profits.
Lastly, it's important always to have an income no matter what.
Therefore, many entrepreneurs work two jobs and pump their additional revenue into the new business.
However, it is also essential not to become a workaholic because it can damage your health and damage your wealth and business.
In other words, you are an essential part of your business.
Taking a break and spending time with your loved ones can prevent much pressure on yourself. 
You are the V.I.P.
---
Other Business Ideas In The Philippines
Administrative Service Business
Advertising Agency Business
Agriculture Farm Business
Agriculture Fruit Farm Business
Airport Taxi Business
Art School Business
Art Supply Store Business
Artificial Flowers Import Business
Astrology Tarot Card Business
Attorney Agency Business
Auditing Business
Auto Parts Business
Automobile Restoration Business
Baseball Batting Cages Business
Beverage Machine Business
Bicycle Store Business
Bowling Entertainment Centre Business
Brewery Business
Bridal Store Business
Business Analysis Business
Business Consulting / Development Business
Butcher Store Business
Car Wash Business 5-10K
Carpet And Upholstery Cleaning Business
Cell Phones Repair Business
Children's / Adult Education Website Business
Children's Play Business
Cleaning Service Business  (General Cleaning)
Clothing E-commerce Site Business
Coffee Export Business
Commercial Photography Business
Computer Consulting Business
Computer Hardware Reseller Business
Computer Programming Business
Computer Repair Business
Construction Repair Business
Convenience Business
Cosmetics Manufacturing Business
Custom Jewellery Business
Custom Printed T-Shirts Business
Dance Studio Business
Data Recovery Business
Day Spa Business Plan
Deli Restaurant Business
Dessert Bakery Business
Document Shredding Business
Document Storage Business
Dog Kennel Business
Driving School Business
Ecommerce Fabric Store Business
Educational Research Business
Electronics Repair Shop Business
Employment Agency Business
Equipment Rental Business
Event Planning Business
Family Clothing Business
Farm Machinery Manufacturer Business
Fast Food Restaurant Business
Financial Planning Business
Fine Dining Restaurant Business
Fishing Shop Business
Fitness Equipment Business
Florist Business
Franchise Sandwich Shop Business
General Trucking Business
Gift Basket Business
Gift Novelty Souvenir Business
Golf Course Business
Golf Driving Range Business
Graphic Design Business
Hair Removal Business
Handyman Maintenance Business
Hardware Retail Franchise Business
Health Club Business
Healthy Restaurant Business
Home Accessories And Gifts Business
Home Interior Design Business
Import / Export Business
Independent Store Business
Indoor Soccer Facility Business
Insurance Agency Business
International Travel Agency Business
Internet Cafe Business
Investment Company Business
Karaoke Bar Business
Kid's Clothing Store Business
Lawn And Garden Services Business
Limousine Taxi Business
Locksmith Business
Magazine Journalist Business
Massage Products Business
Maternity Clothing Business
Mexican Restaurant Business
Miniature Golf Course Business
Mopeds Rental Business
Multi-Sport Complex Business
Musical Instrument Store Business
Newsletter Publishing Business
Nightclub / Dance Classes Business
Office Equipment Rental Business
Office Supplies Retail Business
Online Booking Business
Organic Food Store Business
Paintball Products Retail Business
Pet Photography Business
Pharmacy Business
Pizza Delivery Business
Pizzeria Business
Pottery Studio Business
Recycling Waste Materials Business
Religious Coffeeshop Business
Rock Climbing Wall Business
Roller Skate Rink Business
Security Guard Business
Self-Storage Business
Singles Bar Business
Soap Manufacturer Business
Software Business
Sports Clothing Business
Sports Medical Equipment Business
Tattoo Parlour Business
Taxi Business
Tourism Website Business
Truck Stop Business
Tutoring Service Business
Used Sales Business
Video Editing Business
Weight Loss Seminars Business
Wholesale Business
Wi-Fi Kiosks Business
Yoga Centre Business
---
Businesses To Start For 20K Philippines: Conclusion
What is the best business to start with 20K in the Philippines?
We can see five great businesses to start in the Philippines for 20K pesos or less from our list.
The good news is there are many which we have spoken about previously.
Many businesses in the Philippines can be set up with very little capital, thanks to the type of tasks involved and technologies such as the Internet.
However, any business will always have fees and maintenance costs, so keeping a set amount of capital back for a rainy day is wise.
---
More Philippines Business Ideas Guides
---