Cebuano

English

Filipino
How to save money as a student in the Philippines? As a student, there are two things that you need. The first one is time, and the second one is money. In today's article, we will be focusing on the latter and look at six hacks to save money as a student in the Philippines.
If you're reading this, then chances are you are in a place where you need to save money. This is entirely understandable in your situation. In today's article, we will go through our six hacks and throw in a bonus hack on how you can earn additional income.
When we are looking to save money, we are saying that we are looking to increase the amount of disposable money we have after paying all the bills. If we are looking to increase our pocket money, there are two things we need to do.
First – You Need To Lower Your Expenses.
Secondly – You Need To Increase Your Income.
There's an old saying that goes, "the secret to your problems is found in your daily actions." Many of the reasons people struggle with money (not just students) are their habits, which will drain their savings & income. Some habits are entirely regular, but most are wealth-destroying.
For example, A friend of mine always liked to smoke a cigarette when they went out clubbing. This is because of the social experience as well as alcohol making them crave a cigarette. The alcohol was costly, and the additional cigarettes they would not have smoked were sober. Some of our habits are deep in our subconscious, and we don't even realize we're doing them.
How To Save Money As A Student In Philippines
Always Negotiate On Everything
Let's kick off our first hack to save money as a student in the Philippines by speaking at negotiation. Of course, some things in the Philippines are non-negotiable, but you'll be surprised just how many things you can negotiate for a lower price.
Typically, you will not negotiate if you're buying things such as food or clothing from the mall. However, there are specific industries and certain items that you can always negotiate.
The next question you may be asking is, "how do I negotiate?"
Always Let The Other Person Suggest The Price First
Carry Out Research On Current Prices For This Item Or Service
Don't Be In A Hurry
Don't Seem To Kean On This Item Or Service
Always Have A Counteroffer
You can potentially save thousands of pesos each year just by negotiating. I did a little experiment when I was in Cebu city for one week. I negotiated everything, and it was the cheapest week that I had all summer by nearly 65%. This was a considerable saving. So give this a go and see just how much you can save.
As A Student In The Philippines, Aim To Cut Out Unnecessary Spending
One of the most important hacks to save money as a student in the Philippines is to cut unnecessary spending. You may be wondering why this is so important. Most simply, we are drawn to pleasures in life. However, not all pleasures are necessary.
For instance, Netflix is something many people pay for each month. However, most people don't need Netflix, which would be classed as an unessential spending expense.
As well as individual services, there may be things that you are subconsciously buying due to habits. For example, if you always go to the gym in the morning and stop by 7/11 to buy some energy drinks, this purchase would be classed as a non-essential spending habit.
This is a simple example. However, there are quite literally hundreds of different things we humans spend our money on, which are entirely unnecessary. If your goal is to save money or get out of debt, one of the most important is cutting unnecessary spending. Potentially you can save thousands of pesos each month through this simple but effective method
I.f you're unable to cut out any unnecessary spending, then perhaps look into changing this with an alternative product or service which is cheaper put provides the same value.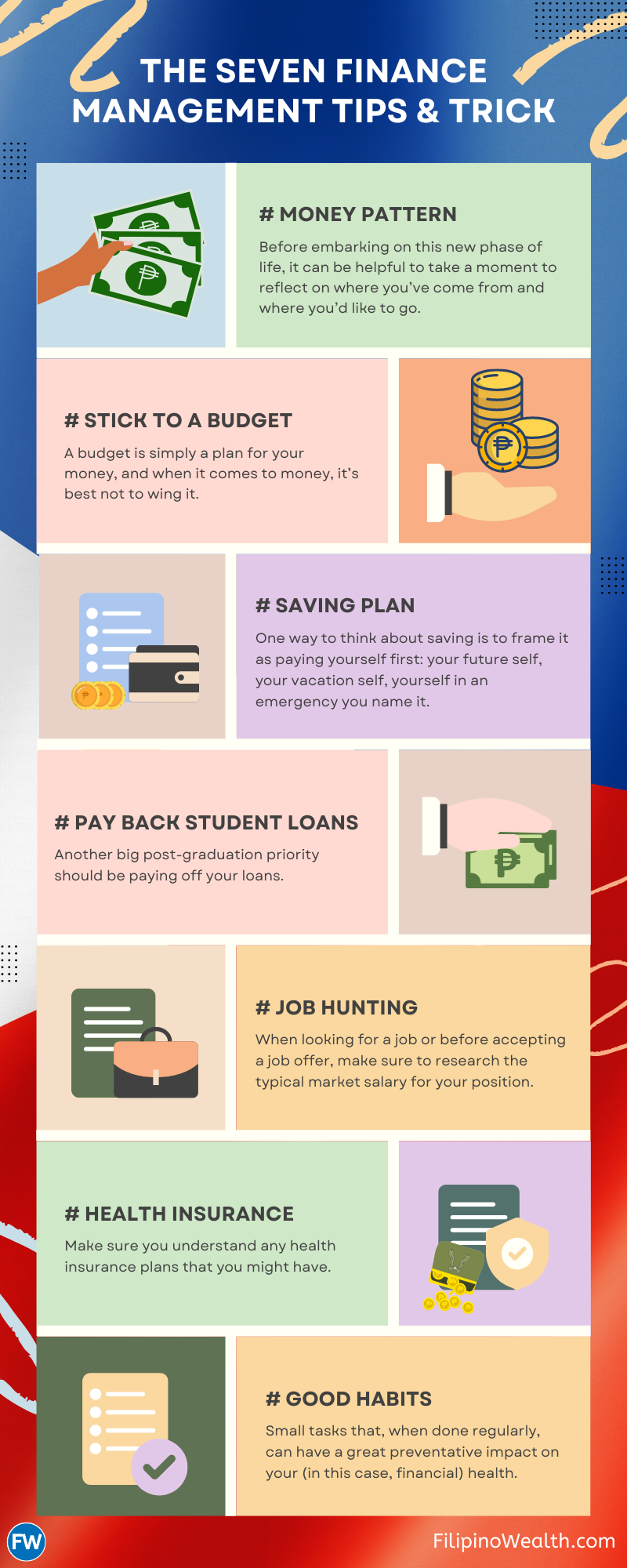 Avoid Expensive Spending By Eating At Home
Filipino food is delicious. It's tasty, and most of the time, it's convenient. It is not always cheap; however, you can also save thousands of pesos each year by changing the places you eat. It's important to note that eating out also involves any visits to the local cafes or Starbucks. Coffee once a day may not seem like a lot, but it will soon add up over time.
If eating out is not a big problem, then perhaps one thing you could do is decide on only one or two external food visits a month.
To Save Extra Money As A Student, Cut Out Luxury Items
One of the next methods you can save some serious money as a student in the Philippines is to cut out any luxury items. This is slightly different from cutting out unnecessary spending. When we think of unnecessary spending, we think about alcohol, cigarettes, and subscriptions. When we focus on luxury items, we will purchase things that we believe are essential, but they are not reality.
A classic example is the new iPhone. If you are looking for a Phone, then most phones can be brought for a very low price, and with that Phone, you will be able to do most things that an iPhone can do.
However, if you are a student looking to save money in the Philippines, the brand-new iPhone 11 or even a newer model would be classed as a luxury item and would eat away at your savings.
Sometimes we must make a sacrifice financially for us to reap the rewards at a later time. For example, if you are a student and need specific equipment for your studies, then there might be a way to find this equipment cheaper. For example, how about looking at a website such as Aliexpress.com instead of malls.
Sell Any Unnecessary Items To Raise Extra Capital
When we look at selling items in our list of hacks to save money as a student in the Philippines, you may notice that this is not exactly saving money but generating more money. Generating more money is just as important as this will allow us to increase our savings each month.
You may be wondering what items you can sell? First, I would not suggest you sell anything that you will need in the future or something truly personal. Instead, you could sell items alternatively you no longer desire and believe will fetch a good profit. Here is a list of items you could sell to earn some extra income.
There are many sites you can use to sell your items. But in my experience, the quickest way is through Facebook pages and Facebook selling groups. Be honest about your product, and always remember to negotiate with your potential buyer to improve margin.
Order Online Or From China To save Extra Money As A student
As our last hack to save money as a student in the Philippines, we will look at online ordering. As you will know, more and more Filipinos are warming up to the idea of online shopping. However, the Philippines is still behind slightly regarding its popularity of online orders compared to other counties.
However, some sites have built great trust with the community and deliver items exceptionally quickly across the Philippines.
For example, www.lazada.com.ph. The great thing about websites like this is you are protected as a buyer through their terms and conditions. Also, as well, you have potentially hundreds if not thousands of different sellers.
Online ordering is also incredibly beneficial when it comes to the price. If you stay in a remote area or have a particular hobby or interest in low supply in your town, you can find this item cheaper on an online marketplace. Try it for yourself and see just how much money you could save.
Bonus Money-Saving Hack: Increase Income Via A Side Business
How we have gone over six hacks to save money as a student in the Philippines. We are now going to go over our bonus hack. This hack will help you to build your income. That hack to a side hustle.
A side hustle is not usually a common term so allow me to explain quickly. A side hustle is a small business or income generator run on the side of your typical day-to-day life. As an example, A YouTube channel, a blog, an online store, etc.
There are quite literally thousands of different side hustles you can choose from. When you think about a business, I would recommend something you're passionate about and something profitable.
An insider tip would be to do perhaps something related to your University course. For example, if you study fashion, you can start a fashion line and sell your items online or in stores. There are many ways you could start this even with very little money.
We have spoken about many side businesses and full-time businesses here at Filipinowealth. From my experience, I can tell you that the cheaper the costs to set up a business, the more competition you will have. For example, a blog and a YouTube channel are excellent sources of income; however, many do this because these are very low costs to set up.
How To Save Money As A Student In Philippines: TakeAway
In today's article on our hacks to save money as a student in the Philippines, we looked at many ways you can reduce your outgoings or improve your income.
Student life is not always the easiest, especially when it comes to financial matters. However, it is possible to live comfortably and save money.
If you are in a position to start some side hustle while also studying, you have the potential to increase your income dramatically. Nevertheless, not everybody has the means to do so. But looking on the bright side, there is always a solution to every problem, and with the vast number of money-making opportunities, you can start to earn money with very little capital.
If you think about some business ideas for students, I recommend reading an online business for students in the Philippines. This article spoke about many online businesses students can start comfortably in their room's comfort. Online businesses give us a great advantage, especially with aggressive improvements in technology and communication.
---
More Banking & Saving Guides
---