Cebuano

English

Filipino
Are you looking for side business ideas in the Philippines? The Philippines is a country full of business and money-making opportunities. In fact, in recent years, the Philippines has been in the top countries in the world for investment and business prospects.
When looking at sideline income in the Philippines, we have seen many changes over the years, especially in the business sector. Today we are going to go through 11 epic side business ideas in the Philippines. Additionally, we have put together some handy hints and tips on how to help you start a side line business in the Philippines.
11 Side Business Ideas Philippines
Blogging, Vlogging & YouTubing
We have spoken about blogging many times here at Filipino wealth. But why?, Blogging is one of the most enjoyable and flexible ways how to earn money online.
It's always recommended to start a blog on a sub-niche. Some topics are challenging to rank for, and you stand much more of a chance of ranking for long towel keywords if you are a new blog.
Perhaps you are interested in animals. A sub-niche would be a blog about dogs…
…However, you may find this is too challenging to rank for, so you can decide to go one step further and start a blog around golden retrievers. This way you can potentially rank for more niche keywords and grow your traffic.
How much can you earn as a content creator? This depends on your streams of income & audience. Some content creators earn around 30-50K full-time. On the other hand, very successful content creators could earn over one million pesos every month.
Start Online Tutoring & Teaching
Online tutoring is becoming more popular than ever, with more and more people wanting to learn an additional language.
Commonly English has been the most popular language to learn, and this continues to lead. However, a few different routes open for tutors through teaching languages such as Tagalog rather than English.
A few language schools are set up in tourism areas and the larger cities of the Philippines, such as Manila and Cebu. In addition, there are also many language schools set up online. This setup is excellent if you are aiming to keep your startup costs low.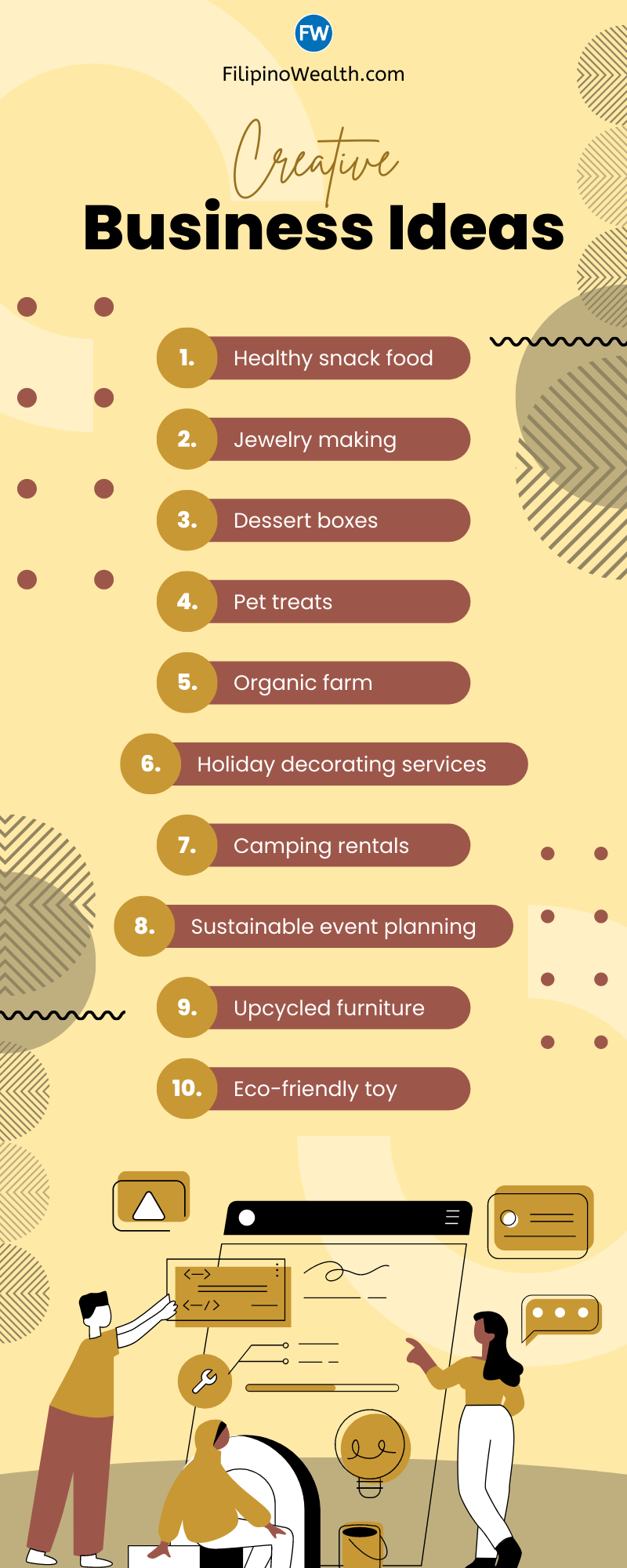 Start A Podcasting
Podcasting is a popular and profitable business if you can find the right niche and grow your audience.
It's one of the best side business ideas in the Philippines. For many people because it allows flexibility and allows the podcaster to discuss enjoyable topics. A growing trend for podcasting is for podcasters to interview celebrities each week and ask them questions about their lives and opinions.
Some podcasts offer a free service where they stream online and receive money from sponsorship or advertisement. In contrast, other podcasts show video highlights and offer a premium service for full-length conversation.
Become a Shopee / Lazada Seller
Shopee and Lazada are slightly different, but they both have one thing in common: a massive amount of traffic. You could even try Esty! Esty works best with customers who sell handmade items, while Lazada and Shopee work best for branded items on everyday products.
There were a few surveys carried out over the years around Lazada. As a result, it was revealed that the most common items sold were those that were electrical such as phone accessories, hair straighteners, Etc.
Become A Domain Flipping Investor
Domain flipping is an excellent business for those who can spot a bargain! In its most straightforward way, domain flipping is the process of buying a domain name for a low cost (in some cases $10 or $20) and selling it for a much higher price.
Some people can sell domain names within a few hours, while others hold on to domains for several years before selling to maximize their profit. Therefore, when starting this kind of Business, it's vital that you thoroughly research the industry. Also, its recommended to have a strategy for your process.
Always, always, always check the domain name. For example, has the domain been used as a spam website previously? Is it blacklisted? Is this domain name appealing to an individual or a business? Finding out this information will help you with your financial predictions and whether or not it's a profitable purchase.
Typically domain names that are short and feature a popular keyword rate higher than though long and use uncommon words or phrases.
You can make 10,000 pesos in a few hours or 200 pesos in a month. It's challenging to place an actual figure on this Business as too many plates are spinning to give an accurate number. Still, if you have some startup cash, you will potentially buy more expensive domains to later flip for a higher profit.
Open A Small Hostel Or Hostel
Starting a hostel or hotel in the Philippines is a dream for many people. This dream is entirely understandable when looking at the profit and potentially multiple income streams people can make from opening a hostel or a hotel in the Philippines!
STEP 1: PLAN
STEP 2: LAW & REQUIRMENTS
STEP 3: CAPTIAL
STEP 4: LOCATION
STEP 5: REVENUE OF INCOME
STEP 6: STAFF
STEP 7: MARKETING
STEP 8: GO LIVE
Depending on your location, clientele, and business strategy, one or two small steps are not included in the leading guide. However, for most business models, these eight steps will be more than enough to help you thoroughly plan your Business. So, let's have a look at these eight steps in more detail.
Offer Your Personal Training Services
The next side business idea in the Philippines revolves around fitness. Therefore, personal training and nutritional management are a great side business idea in the Philippines to find loyal and long-term customers.
Many fitness experts are making good money from selling additional services, such as personalized nutritional plans.
You also have the option to expand this side business idea in the Philippines to cover classes or specifically target a particular type of fitness, for example, weight management or yoga.
Being A Tour Guide
If you live in a tourist area or near a local attraction, then a tour guiding business can be a great side business idea!
Often tour operators make their money through added extras and additional services. You can also package together many different tours and experiences and sell them for a higher price.
When starting this kind of business, it's best to market through word of mouth and social media such as Facebook. After speaking to many tour guide operators, it seems much of their business comes from these streams.
Opening A Food Cart
A food cart business in the Philippines is a growing business opportunity for those people who have a passion for cooking! So we did a whole article about food cart businesses in the Philippines and spoke about how to differentiate your Business for maximin profits!
A food cart business is an excellent business for beginners in the Philippines because it can be managed with a relatively low startup and maintenance cost. There are a few threats to the Business. However, these tend to be situated around competition and the location itself.
Become A Book Flipping Investor
Book flipping is a great side business idea for the Philippines as there are many places where you can purchase popular but cheap second-hand books. In addition, some people are known to set up Facebook pages and physical locations to distribute books.
Profit margins can be quite low in some cases; however, as you will always be making a profit on the books you sell, there is little chance of losing money unless you cannot sell the stock you have bought.
What usually sells well is special promotions or deals. For example, one store in Davao sold five books packed together in a particular niche, for example, personal finance or cooking.
Start A Private Label Business In The Philippines
You may have come across the term dropshipping, as it has been a popular business model in recent years. Private labeling is very similar but not as well known. A private labeling business is a business that buys its stock from a supplier. Often the business then adds their own and resells the product for a higher amount. There are many large private label corporations across the world today.  
A private label business must have a strong brand as people pay extra for the brand. This is one of the strongest side business ideas in the Philippines and can be profitable. However, this kind of business idea in the Philippines is that it can often be costly to start.
If you can buy the products inside the country, then your cost will be much lower. However, if you buy from countries such as India or China, you will need to pay shipping fees and import tax.
4 tips for sideline income in the Philippines
1. Focus On The Small Wins When Start A Sideline Income
When starting a business, it's very common to worry about big companies and competition. But, instead of doing this, an excellent idea for a small business in the Philippines is to focus on the small wins that are easily achievable. As you start to progress your Business, the small wins will become bigger and bigger and bring you more opportunities and more profit. But while you are still growing, it's best to focus on the small wins every day.
2. Always Do The Math On Every Pinoy Small Business Idea
As we know, the math side of Business is not always the most enjoyable. Because of this, we often neglect specific tasks that need to be completed. If you have ever been excited about a new opportunity, you know that excitement can sometimes overwhelm logic. Doing the maths involves working through your product cost, any advertisements, and services that may be required from you, and making sure that you can make a profit.
3. Focus On The Customers When Building Your Side Line Business In The Philippines
As everybody knows, customers are the business's sole; without customers, we have no business; therefore, they are all are V.I.P.s. What do your customers want from your product or service? Are they looking to gain something educational? Are they looking to achieve a particular image? Do they want to stop a specific pain point? Once we have the answers, then we can deliver the business straight to the customers.
4. Seek Help And Assistance When Starting A Pinoy Small Business Idea
When we look at a business for beginners in the Philippines, we see lots of different opportunities. But one thing that is not seen very often is asking for assistance. I understand this completely. There is sometimes a feeling that you SHOULD know it all, but in reality, we often need to seek assistance to help us overcome trouble and hurdles in Business. I know that people can be challenging at times, especially when it comes to business, but many people can help you and are willing to do so.
---
More Philippines Business Ideas Guides
---