Cebuano

English

Filipino
Earning money online or starting a successful online business always seems complicated and challenging, especially in the Philippines. However, as we are in the age of technology, making money has become easier than ever. We will show you how in today's article – business for students in the Philippines.
Some students are to this day earning millions of pesos from just a laptop! So whether you are a full-time student or just working from home, you are in luck because today, we will share with you the ultimate online businesses for students in the Philippines.
It's always essential to write a solid business plan and understand that some businesses take time to build, especially online. However, if you require more information, check out some of the hidden tips for success in the Philippines.
Online Businesses For Students In The Philippines
1. Become A Domain Flipper
There are many different forms of domain flipping. Why is this a great online business for students? Because domain flipping is very accessible for anybody who has a small start-up. All you will essentially need is a laptop and an Internet connection. It is often said that domains are the real estate of the Internet. However, unlike real estate, the older and the more authority that domain has, the more valuable it is. As we know, the more value there is potential, the more money you can make.
Domain flipping in its simplest terms is buying a domain name that can be a new or old domain and then selling the domain name for a higher price. So, for example, if you had a website called NewYorkFitness.com or NyExercise.com, you could sell this to somebody In New York who owns a gym or is a personal trainer to make a profit.
The question now is, how do you start? First, you can head over to Godaddy.com, where you can sign up to become a member. This is where you can buy domains in an auction (or as a buy now price). The current membership cost is $3.99 per month. (201 pesos).
Once you are a member, you will then have access to thousands of new, old, and expiring domains. Once you buy a domain, you can then sell it. You have a few different options. You can either sell your domain on the domain website itself by using advertisements or sell it on a third-party site such as flippa.com.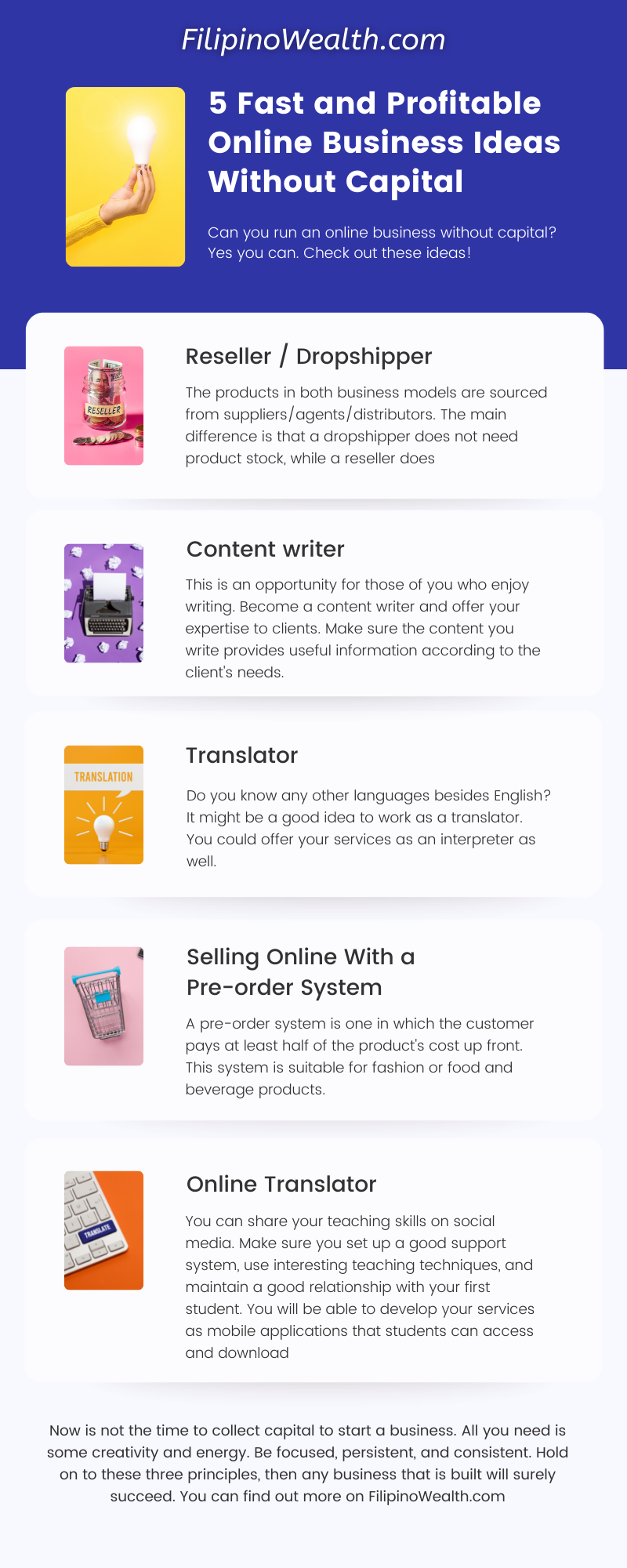 2. Start A Blogging Business In The Philippines
Can a student earn money from blogging in the Philippines? Absolutely yes! Take this blog. For example, this is an online business where I can earn money by providing people with valuable information. The more views and readers I get, the more advertisements will be seen by viewers, increasing my income.
Many bloggers are covering many different subjects, but I believe there is something everyone can share. We all have a story; some people are knowledgeable about fitness while others have experience with pets and animals. If you can provide valuable information that people want to read, you can earn money from it.
There are a few different ways you can start blogging in the Philippines, and there are also many ways you can earn money from a blog. We recently spoke about adding money from blogging in the Philippines, where we went over a step-by-step guide from start to finish.
3. Build A lead Generation Business
When we think of online businesses for students in the Philippines, we may not initially think of a lead generation business. However, this business is very hot, and it can have an incredible payoff if you have chosen the right industry.
In its simplest terms, a lead generation business is a business that finds customers for other businesses. For example, if a real estate business is looking for new buyers, your lead generation business can act as a bridge from customer to business. For this role, you can be paid a set fee or a commission.
Which one will ultimately depend on your business and how well you can negotiate with the businesses you are working with.
4. Start A Dropshipping Company
Dropshipping is the process of selling products to people which you can buy at a lower price. Most often, dropshipping is done from China, where Labour and products are often very cheap compared to the countries where dropshipping businesses are selling (USA, UK, EUROPE, ETC).
However, your customers can be from anywhere globally as you are not shipping the Philippines' orders. Instead, the orders are coming from China; all you need to do once a customer has purchased an item on your website is to input the customer's details to the dropshipping supplier. There are many suppliers, but one typical supplier for dropping is Alixexpress.com.
Dropshipping has changed a lot in the last ten years and is now a very popular business idea with an entrepreneur as one of the leading online businesses for students In the Philippines. This is because it is so simple to set up.
Data from Shopify.com (a service/site host that people use for dropshipping) recently revealed that the average store on their site makes around $11,000 a year. I have met people working 30 hours a week in their stores, earning only $200 a month, and others working 2 to 3 hours a week and are earning $3000 or more a month.
Some people believe that dropshipping is dead. This is often claimed by people who have been unsuccessful in dropshipping or have just heard some rant online and recycled this information in their terms. Dropshipping is not dead; please trust me on this. Indeed, it's not easy.
First, you will need to find the right market, supplier, and product or products to sell. Only then will you be on the right path to success.
5. Become An Official Online Seller
In our online businesses for students, we included the online seller's business in the Philippines list. So the question is, what is an online seller? An online seller is very similar to dropshipping. The real difference is that you will have to pay for the products upfront. These can be products that you buy from a supplier or can be products that you make.
For example, let's say we wanted to create a brand called "Beautiful Filipino smile," and this brand sold activated charcoal toothpaste to people across the Philippines. We could then approach a supplier (the suppliers usually are based in China) And purchase 500 tins of activated charcoal toothpaste with our brand on it.
Once we have our branded products, the next step is to start building the brand itself. As an online seller, you will have the products, and you will know the inventory. These things will help you better plan your business. This is initially the difference between this business and the dropshipping business.
6. Start A Youtube Channel
YouTube is massive, as we all know, and is only getting bigger by the day. There are Filipino YouTubers who have spoken about how much money they are making from YouTube. Some of these YouTubers are making a full-time living while others are earning a part-time income.
Just like blogging, Making YouTube videos is something that anyone can do. We can always share with the world, and YouTube allows us to do this while also monetizing our content. This can be from views or even by selling products from your videos. Therefore, it has made our list of online businesses for students in the Philippines.
7. Provide A Unique Service
There are many ways you can make money in this world, but the two main ones are known under the categories of products and services, and in this section, we are going to look into the latter.
A service-based business can be anything you choose it to be; for instance, five years ago, I ran a service business where I sold fitness and nutritional plans online and gave 1-2-1 motivational talks with my clients. This was a service I was delivering to them.
One of the great things about services is that there is a potential to expand. This has happened many times. I have witnessed online workers and remote assistants becoming very successful and hiring additional staff to keep up with the workload.
Another benefit to services as a student is that you can offer these services to customers worldwide. These can be through such sites as Fiverr.com or upwork.com, as well as many others. These are an ever-increasing platform people are using to help build their business around a particular service.
Online Businesses For Students In The Philippines: TakeAway
Earning regular money online as a student in the Philippines is entirely possible whether you participate for a few hours a week or invest more time.
Students across the world don't always have access to funds to invest in individual businesses. Therefore, in today's list, we have written mostly about online businesses for students in the Philippines that can be started with very little capital. Remember, however. It may require you to spend a lot of your free time, especially in the early days.
It's not always the hard work that gets you ahead in business sometimes. Instead, it's seeing opportunities and fully exploring those opportunities.
When setting up a business for students In the Philippines, think about your customers, readers, and viewers. Ask yourself…
What Do My Customers Like?
What Do People Want To See?
How Do They Want To Be Treated?
Would They Spend Money On This?
How Can I Make Extra Profit?
How Can I Reduce My Costs?
Can I Work With Other People To Expand My Reach?
---
More Philippines Business Ideas Guides
---