Cebuano

English

Filipino
Investors must ensure that the market is suitable for their investment goals when finding the best location to invest in real estate in the Philippines. In other words, when looking at where to invest in real estate in the Philippines, the type of real estate you are investing in will impact which area is more suitable. Next, we will explore this consideration in more detail.
Where To Invest In Real Estate In The Philippines
It's important to note that the current market does not determine future outcomes. Therefore as real estate is often a long-term investment, it is often seen as unwise to make decisions largely on the current market. Nevertheless, the current market in the Philippines will still need to be considered when investing in real estate.
Additionally, the best location to invest in real estate in the Philippines may differ from person to person, depending on your individual goal. For example, if you decide to invest in commercial real estate, land, or flip condominiums, you will find that your strategies and the best location for your investment may be different from another investor.
For instance, let's say you decide to invest in offices in the Philippines. If you want to rent out your investment, cities such as Manila and Cebu offer the best opportunity. However, suppose you are purchasing an office to resell in the near future. In that case, Davao has some great opportunities as the market is still growing, and there is less competition compared to the busier cities.
Best Locations To Invest In Real Estate In The Philippines
1. Real Estate in The Davao Region
As mentioned above, Davao is a developing area in terms of real estate. Samal island has been very popular with investors, especially with investors who invest in land. However, the main cities are where many opportunities are in the real estate world. This includes Davao City, Tagum City and Digos City.
Many large businesses are looking to expand their business outside big cities into smaller and cheaper cities. This common business behavior gives an opportunity to commercial real estate investors in the Philippines. Moreover, according to the latest statistics from the Department of Trade and Industries, there is also a large population of small businesses located in this area, such as repair businesses and food cart businesses (many of which are seeking real estate of some kind).
Additionally, the Davao region is getting attention from international travelers. Over the years we have seen an increase in tourism to this area. Unfortunately, the pandemic affected the way of life in the Philippines, including the real estate market. However, as things get back to normal, some believe the Davao region will become more popular, offering investors opportunities.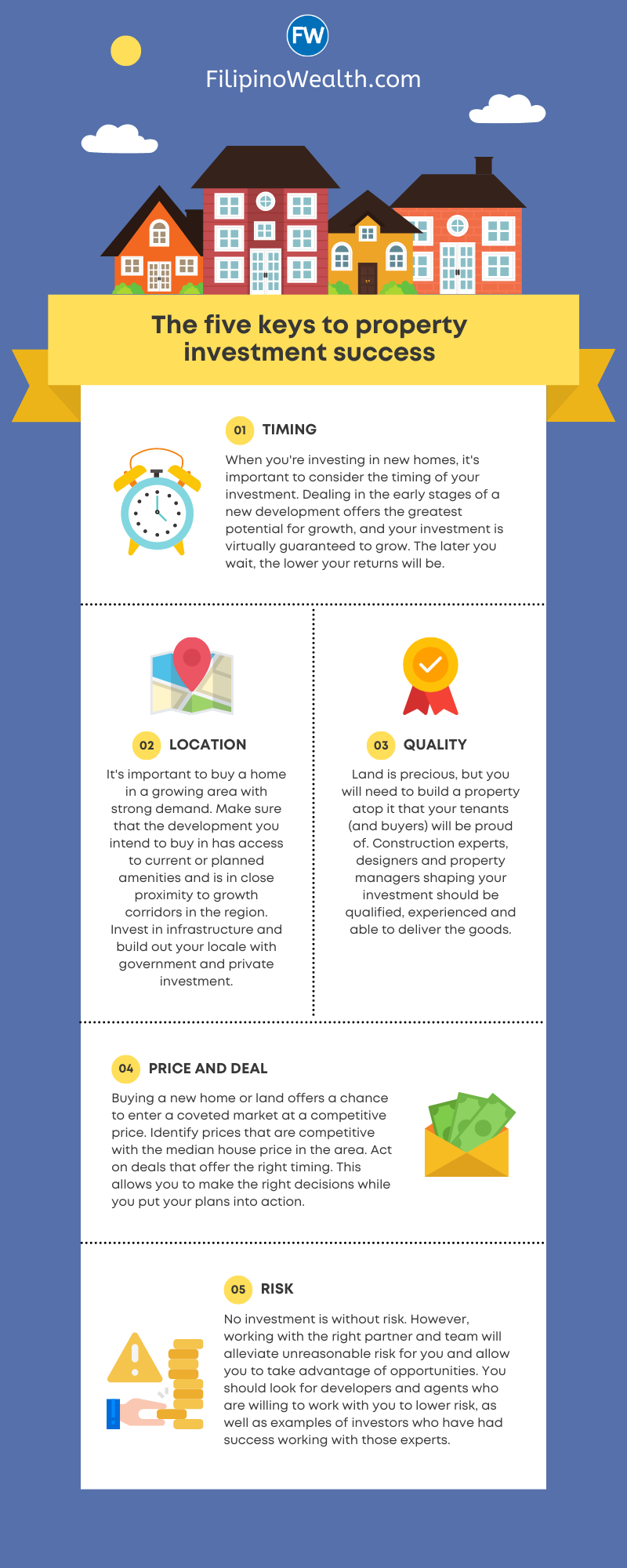 2. Investing In Metro Manila
Metropolitan Manila is, of course, one of the leading and best places to invest in real estate in the Philippines. If you are thinking about investing in land Philippines, Metropolitan Manila offers some very large profits, but unfortunately, costs for land can be high. Also, there are several things to consider when buying land in the Philippines, as we explored in our full buyer's guide.
But this is not the only reason metropolitan Manila is a fantastic place to invest in real estate in the Philippines. The reality is that visitors and tenants are continuously seeking more. This includes facilities to work at home effectively, amenities, and accessible locations. Also, Manila has plenty of secondary benefits for tenants, such as transport, nightlife, business links, and so on.
Because of the high demand and expectations from tenants (and the growing population of Manila), real estate investors may find more opportunities in metropolitan Manila that are more suitable to their tenants, leading to greater sales and longer contracts.
3. Makati Real Estate Investment
Eton Properties Philippines has announced that they plan to increase their portfolio with commercial real estate, including offices in the Makati Central Business District. This is big news; historically, Makati has seen some impressive returns. But the fact that such a large corporation is investing a large amount of capital in this area says a lot about their expectations.
Even though Makati has been a lucrative location for real estate investors in the Philippines, there are still several opportunities as the economy changes. Investors and corporations have seen this, and apartments and condominiums are still in high demand across the city.
4. Iloilo Investing
Iloilo may not be your first thought when thinking about where to invest in real estate in the Philippines, but over the years growth of the city has led to developments. One thing to always consider when looking at the best location for real estate in the Philippines is the current success of developers. One corporation that has seen tremendous growth in this area is Global-Estate.
Global-Estate (Megaworld) has several developments across the Philippines, including Iloilo. They released that their net income rose by P1.5 billion earlier this month. A spokesperson stated that this was due to strong demand and sales growth. Additionally, other corporations and entrepreneurs have successfully invested in the Iloilo area.
5. Real Estate Of Mandaue & Lapu-Lapu City
Over the years, Cebu city has expanded, and investors are now seeking alternative cities for real estate investments in the Philippines. So naturally, prices for tenants and investors are slightly lower in Mandaue & Lapu-Lapu City than in Cebu City. This price difference opens up the door of opportunity for tenants to save more and investors to earn more.
Unfortunately, due to the ongoing pandemic, many projects were paused and delayed; however, as we are slowly getting back to normal, the demand for land and real estate in these two cities is increasing. As a result, some believe that we will see much more developers and investors in this area in the next five years.
---
More Business Growth & Info Guides
---