Cebuano

English

Filipino
Have you ever thought about starting your own car rental business? If so, now is a great time to do it! The Philippines is a rapidly growing market for car rentals, and there is plenty of room for new businesses to get in on the action. The car rental market in the Philippines is expected to grow by $500 million to $790 million from 2022 to 2027. That's a very respectable 7.6% growth rate !!
Excited yet? But not sure where to start? Don't worry, we've got you covered. In this blog post, we'll give you all the information you need to get your car rental business up and running in no time. Keep reading to learn more!
1. Choose Your car rental Niche
The first step in starting any business is to choose your niche. When it comes to car rentals, there are a few different niches you could choose from.
More specifically, it's important to consider your target market. For example, are you catering to budget-conscious travelers? Then you'll want to focus on economy and compact cars. Are you aiming for the luxury market? Then you might want to consider SUV's and sports cars.
No matter what niche you choose, it's important that you have a clear understanding of your target market. This will help you make decisions about everything from pricing to marketing down the road.
2. Get the Right Insurance for you car rental company
Once you've chosen your niche, it's time to get insurance for your business. This is an important step because it will protect you financially in case of any accidents or damages that occur while your cars are being rented out.
There are a few different types of car rental insurance that you should consider: liability, collision, and comprehensive. Liability insurance will protect you if someone sues you after an accident. Collision coverage will pay for damage to your rental car if it's in an accident. And comprehensive coverage will protect you from things like fire, theft, and vandalism.
Make sure to shop around and compare rates before choosing an insurance policy. And remember, the amount of coverage you need will depend on the value of your rental fleet. The last thing you want is to be under-insured and end up having to pay out of pocket for repairs or replacements.
We compiled a list of some popular car insurance companies in the Philippines:
Malayan Insurance Company Inc.;
Prudential Guarantee & Assurance, Inc.;
Pioneer Insurance & Surety Corporation;
Charter Ping An Ins. Corp;
BPI/MS lnsurance Corporation;
Mercantile Insurance Company, Inc;
Commonwealth Insurance Company;
Standard Insurance Company Inc.;
FPG Insurance Co., Inc.; and
Stronghold Insurance Company, Inc.
3. Invest in Marketing
Marketing a car rental business in the Philippines can be a bit of a challenge, as there is a lot of competition. However, there are a few things that you can do to help get your business noticed.
First, make sure that you have a strong online presence. Make sure your website is up to date and easy to navigate, and that your social media accounts are active and engaging.
Secondly, consider partnering with other businesses in the Philippines, such as hotels or travel agencies. This can help to attract new customers and boost your visibility.
Finally, don't forget the power of word-of-mouth marketing. Be sure to provide excellent customer service so that your customers will be happy to recommend you to their friends and family. By following these tips, you can ensure that your car rental business will be a success in the Philippines.
4. Set Competitive car rental Prices
Once you've got all the logistics sorted out, it's time to start thinking about pricing. When setting your rates, it's important to be competitive with other businesses in your area while still making a profit. You'll also want to take into account the cost of maintaining and operating your fleet of vehicles. With all of these factors in mind, you should be able to set prices that will attract customers and generate profits for your business.
For example, to provide you with a rough idea of rental prices (at the time of writing) that AVIS charges for car rentals in the Philippines is shown below.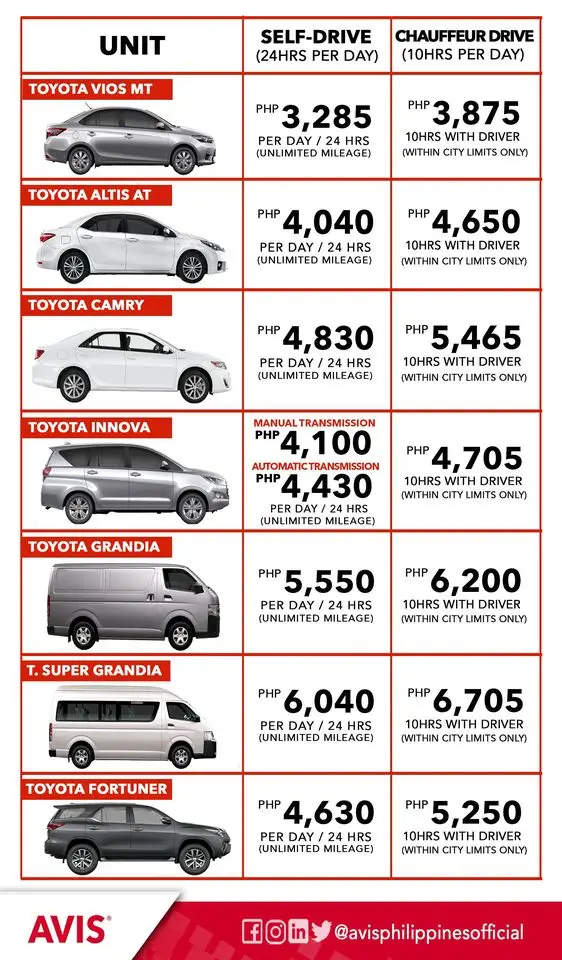 Summary
Starting a car rental business in the Philippines is a great way to tap into the rapidly growing tourism market. With some careful planning and execution, you can be well on your way to success! Just remember to choose your niche carefully, invest in marketing, and set competitive prices, and you'll be off to a great start. Thanks for reading!
frequently asked questions
Is a rental car business profitable?
The profit margin of a car rental business is approximately 6%. However, margins can be higher depending on location effects as well as negotiation with car insurance companies. Moreover, you could cut deals with credit card companies to secure some margin from card processing fees.
What is the Car rental law like in the Philippines?
The following requirements need to be fulfilled to rent a car in the Philippines:
A valid passport or form of identification;
A driver's license;
A credit card; and
If you are a foreigner, your driver's license should be in English.
---
More Business Growth & Info Guides
---