Cebuano

English

Filipino
How To Sell On Etsy In The Philippines: Have you ever wondered how to sell on Esty in the Philippines? If so, you have come to the right place because, throughout this article, we will cover how to ship Esty orders from the Philippines, what items to sell, and go over many popular questions about selling on Esty in the Philippines.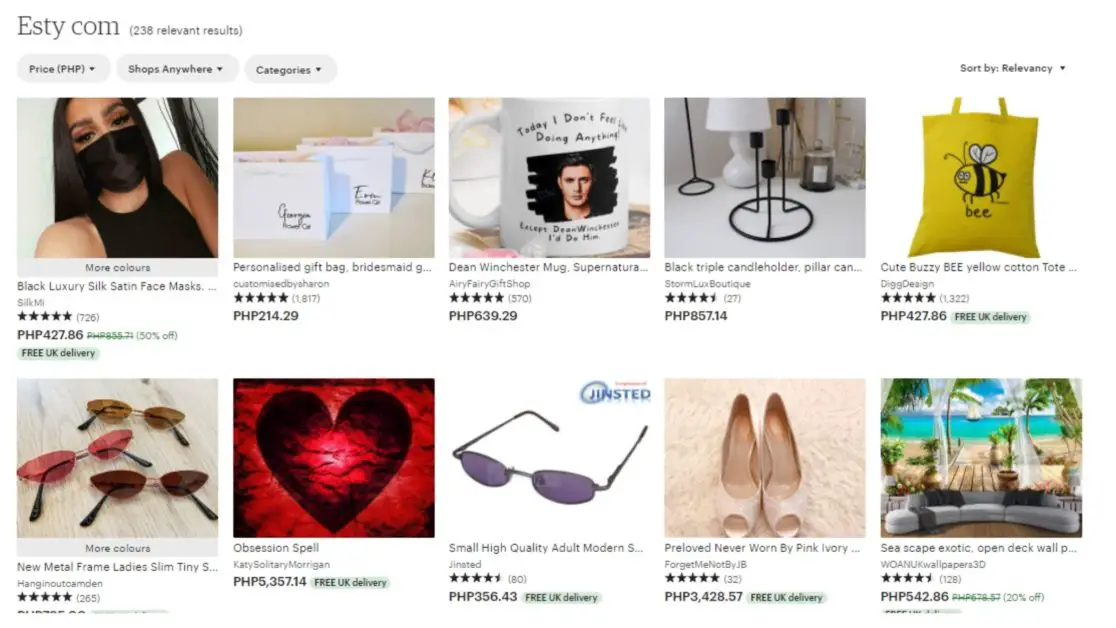 What Is Esty Philippines
Esty is well known to be a global marketplace that specializes in unique homemade and creative products. Many different types of products can be purchased, including traditional beer mugs from Ireland or Tibet, singing bowls.
Esty is a marketplace that allows Filipino business owners to sell their products locally or internationally through their platform. Initially, there is no signing up or membership fees for business owners; however, specific fees are applicable once you have started selling.
Today, we will discuss how to sell on Esty In the Philippines and go over how to ship Esty orders from the Philippines; however, if you're looking for an Etsy shop for beginners Philippines guide, I will link to a few relevant sources throughout the article.
How To Sell On Etsy In The Philippines
When looking at how to sell on Esty in the Philippines, you will discover that there are many different steps in order to be a successful business owner. First, however, we will be covering some basic steps in detail.
During reading, if you find you have a question not answered in today's article, then head over to our YouTube channel and submit your question in the comments.
1.  Before Selling On Esty In The Philippines, Research The Costs.
One of the first stages in how to sell on Esty in the Philippines is the initial research of the costs involved. We all know just how important money is in terms of business. If your business cannot generate profit, then the business will soon cease to exist, so making profit is a priority in all businesses.
At this stage, it's essential to find out that the product you are selling can be made or produced and profitably sent to the customer. To do this, we need to determine the cost involved at every stage of the product journey, from the initial creation of the product to delivery to the customer's address.
At this stage, costs do not have to be 100% spot-on, and this is important to know if you're looking at an Etsy shop for beginners Philippines guide. However, a rough guideline should be created. For more information on costs, visit our free downloadable business plan at the top of this page.
2. Determine Your Product
The next stage on selling on Esty in the Philippines is determining precisely what you're selling. To help you determine your product, you may wish to ask the following questions.
What Is The Shape, Color, And Size Of The Product
Where Is The Product Being Manufactured
What Is The Weight Of My Product, And How Will That Affect Delivery
Is It Possible To include "Add Ons" To Increase The Profit Of The Business
How Is My Product Different From Other Products On Esty
What Features Am I Going To Promote
When selling on Esty in the Philippines, determining your product is essential because platforms such as Esty are snowballing. As a result, more and more products are added to the platform making it more difficult for business owners.
In other words, your product needs to be different or the best. If your product cannot be different or cannot be the best in its field, you may have a hard time selling it.
It is recommended to visit the platform and any other platforms such as Amazon, Lazada, etc., that sell your product.
Lastly, if you are selling to an international audience, it is essential to research the online purchasing culture of the country thoroughly. Many country-specific factors could increase or decrease the demand for a type of product.
3. Confirm How To Ship Esty Orders From The Philippines
We have covered how to ship Esty orders from the Philippines at the bottom of this page, which goes into full detail to summarise the critical areas.
But, for those looking for a short answer…
Essentially there are three different ways to ship Esty orders from the Philippines. The first option is to send products directly from the Philippines to the customer. The second option is to use a fulfillment center (or something similar) overseas. The third option is to sell digital products because this is in shipless delivery.
The product you are selling and the country you are selling to will impact your delivery options. Please see the complete information below for more data on how to ship Esty orders from the Philippines.
4. Create The Important Information (Description, Photos, Etc.)
Once you have the beginning stages set up, the next stage on how to sell on Esty in the Philippines is to cover the basics of the product's face. This means the pictures, the description, and critical information needed for customers to purchase your item.
This is perhaps one of the most critical areas when creating a business online. You could have a fantastic description, but products are unlikely to sell if the pictures are low quality. At the same time, if your pictures are very high quality, including labeling, and showcase everything the customer needs to know, but with a poor description, it is more likely that that item will sell.
My first online business 16 years ago was a supplement store. This was when fitness and supplements first started to become popular across the Internet. I upgraded pictures on my top-performing products, and my sales doubled in less than two weeks. Of course, high-quality photos are essential when selling any products online.
Additionally, Esty has an algorithm built in which shows the most relevant product to the customer. To stand out on the Esty platform, it's essential to label your product correctly, including any extra features, color sizes, etc.
5. Sign Up, Choose Your Policies And Launch Your Store
As an Etsy seller, you can design and set up for storage in a way that is welcoming to your potential customers. One essential task when setting up your store is to choose your store's policy.
Esty has a great guide on how to choose different types of policies. Still, if your store is registered in the Philippines, it's also important to follow local and international law regarding exchanges, refunds, cancellations, etc.
When you have all the information completed, It's time to move on to the final stage of selling on Esty In the Philippines, which is to market, promote and share your products.
Marketing is an optional step for selling on Esty in the Philippines, but if you start to see your orders increase and profit increase, it may be worth spending money on your business's marketing.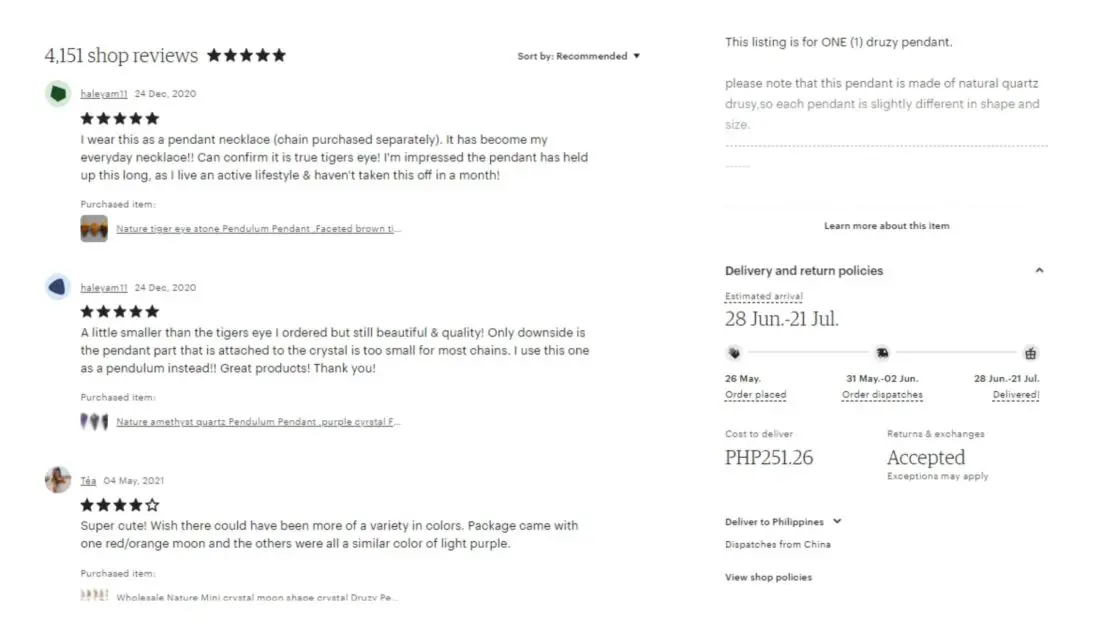 How To Ship Etsy Orders From The Philippines 
When looking at how to ship Esty orders from the Philippines to your customers, you essentially have two different options (plus one extra option… kind of)
The first option is the most obvious: sending your orders from your home, office, or warehouse to the customer's address. The second option is to send your items in bulk to a warehouse/delivery company (fulfillment center) to stock and ship your orders to the customer. The country you are selling to and the item you are selling will impact your options available.
Option 1: if you are shipping items from the Philippines and your product profit is very low, you will need to do non-express delivery, which can take anywhere from 30 to 60 days (or more) but is often much cheaper than express delivery.
The type of item you are delivering, and the country significantly impact shipping Esty orders from the Philippines. For example, if you are selling an item that is expensive and large, you may find the services of FedEx to be more appropriate; however, if your item is small and is not time-sensitive, then you may find the services of Dwarkacourier to be a better fit.
We have included some delivery companies below that may be beneficial to international sellers. Without knowing the exact location and the order size, it is difficult to highlight the cheapest delivery services for Esty in the Philippines; however, quotes can be easily obtained from the following companies.
Dwarkacourier
FedEx
Manilaforwarder
MyShipping Box
Parcelmonkey
Pobox.PH
Shipping Cart
TNT
Unbox.Me
One thing to take into account when sending Esty orders internationally from the Philippines is that import tax may be required. Still, in most cases, this is covered in the quote by the delivery company.
Lastly, there are often a few different options when it comes to delivering international packages. The first is by air. Air Mail is of course much quicker (usually a week or two) in its delivery time but costs more money. The second option is by sea, which is a cheaper option; however, delivery times are longer, and there may be a minimum delivery to qualify for sea delivery.
Option 2: This option is slightly more complex but can speed up waiting times and improve efficiency to your online business but may not be appropriate for new store owners. In summary, option 2 is where you hand over your items to a fulfillment center that stores and ships your items directly to the customer.
There are many different benefits to this option. Still, costs can be reasonably high. Also, some companies (depending on the country and legislation) will require you to have a legal business in the country you are selling in.
In some countries (such as the UK), setting up a business is very quick and easy and can be completed online in less than 15 minutes! Furthermore, if you know somebody willing to act as a director, you could collaborate, making option two much more manageable.
Bonus – Option 3: As we know, when looking at how to sell on Esty in the Philippines, there are only two primary options available; however, depending on your product, there may be a 3rd option.
The third option is to sell digital downloads and non-physical products on the platform, which is an excellent way to an income without delivery hassle. Esty allows you to upload digital files, which can be accessed once payment has been submitted.
I tried and tested this option a few months ago when I created a book about the health benefits of tea and listed it on my Esty store. Unfortunately, Digital products are often very low in value, but I have so far made a few sales from this book without any advertising.
If you are still unsure how to ship Esty orders from the Philippines or are looking for more information, take a look at products that are being sold by Filipino store owners to research how they ship items, the cost they are charging and the time scale.

Bonus Tip
Can I Use Esty If I'm From The Philippines
Absolutely! Esty is a platform that is accessible globally, and there are store owners from many countries around the world, including the Philippines. Thus whether you are a store owner or are looking to purchase an item, you will not have a problem.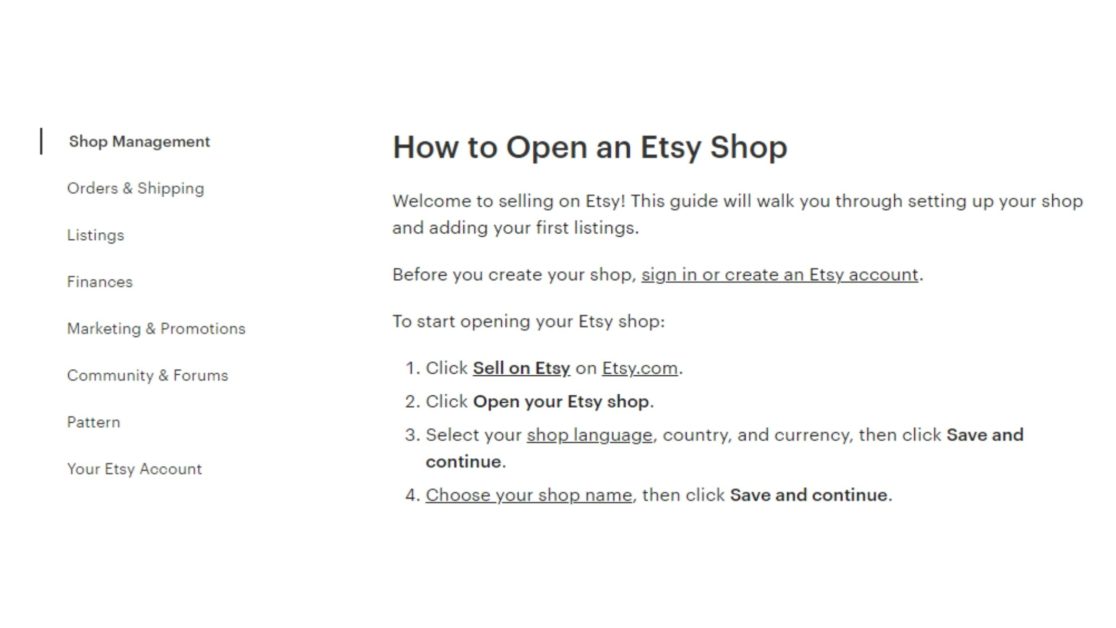 My Esty Review
I have been using Esty for the last six months, and I've had some positive experiences on the platform. Unfortunately, due to COVID-19 at this moment in time, I am living in South East Asia but not in the Philippines; however, I've continued my online business as usual.
When selling on Esty in the Philippines, the most challenging parts are how to ship your Esty orders to the customers. However, Esty gives business owners some flexibility in delivery times, and this helps especially during the beginning stages of a business.
The fees are slightly confusing at times as they are broken down, so if you are selling many orders, it can be challenging to keep track of exactly how much profit you're making and how much tax you are paying.
From my experience so far, I have found that some items are top-rated and others are not so much, and I found that this is mainly due to the supply and the demand. My most popular items were rare, and typing in the keyword (even though the keyword was not that popular) always brought up my listings.
Overall I think Esty is an excellent marketplace for Filipinos. If you are looking to sell on Esty in the Philippines, then it is a great way to reach a new audience, but there are some restrictions and difficulties which we have spoken about in today's article.
---
More Making Money Guides
---