Cebuano

English

Filipino
High profit business ideas in the Philippines? Starting a business in the Philippines is no easy task. With exemplary leadership and innovation, you can create a lucrative business idea in the Philippines into a money-making machine.
But before you build your income-generating asset, you may wonder what are the best high profit business ideas in the Philippines? In today's article, we're going to be going over several high profit business ideas that can be started in the Philippines today.
High Profit Business Ideas Philippines
1. Cryptocurrency Mining Pools
Every few months, there is a big news story in the investment world. When we turn our attention to cryptocurrency, there is a big news story that happens every day. In reality, it makes sense as cryptocurrency is in its infancy stages.
Many investors who are looking to start a lucrative business idea in the Philippines may have come across Bitcoin and other cryptocurrencies previously; however, many business owners are now turning to operating cryptocurrency mining pools.
There are many different ways to set up a mining pool, and there are even courses that can be purchased for a few 100 pesos online that I can show you just how it's done.
Cryptocurrency is not the most straightforward business to start, and there will be a level of understanding of blocked chain technology that will be required from any business owner; however, some mining pools increase rapidly, and businesses often take a small percentage of what has been mind which can add up over time.
2. Online English Teaching
Post COVID-19 businesses have become more widely well known, and one of these business opportunities is an online English school. 51 talk is a classic example of an English school that has been built and turned into a successful teaching platform.
Many teaching platforms target areas such as China or Taiwan for their customers; however, an untapped market is in rural parts of Europe.
This is one example out of many different examples. Still, if this high profit business idea in the Philippines is to be successful then, a business owner needs to innovate the industry by being different from its competition.
An example of this is Palfish. This company targets the Asian regions; however, its platform is slightly different. Students are on a pay-as-you-go rate with their teachers, meaning that the longer the student is talking, the more money the teacher will make and the more money the company will make.
This is a unique opportunity and can be very desirable to certain types of clients. Whatever lucrative business idea in the Philippines you create, it's always essential to have innovation.  
3. Lead Generating Services
Lead generation businesses are one of the most highly profiled businesses in the world. A lead generation service or a lead generation business, in its simplest terms, is a business model that matches a business to a customer.
This business is so lucrative because the customers are the fuel of any business, and businesses are willing to pay top dollar to acquire customers.
Where this is seen every day through a real estate referral agent. Referral agents match buyers to sellers, and they are slightly different from a broker, but they receive a commission for their services which is often hundreds of thousands of pesos. Some become professional agents, and this is where their workload increases.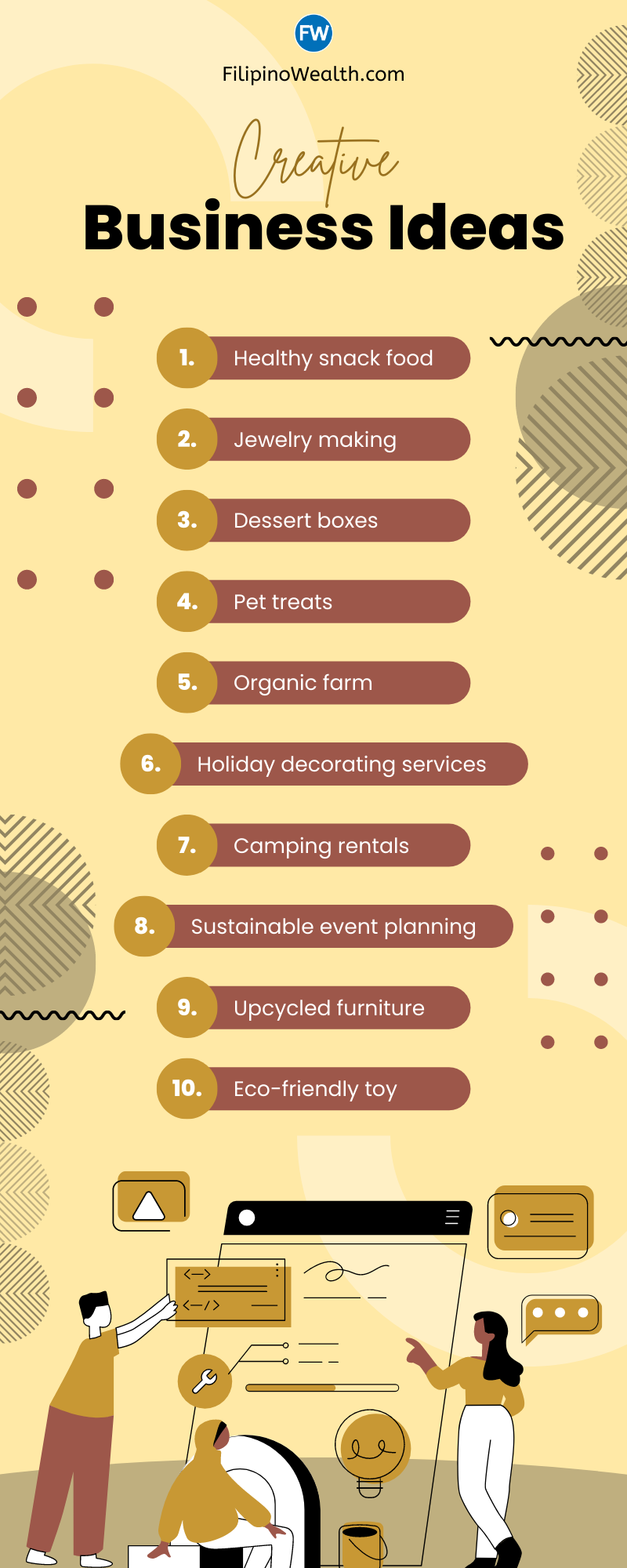 4. Tax & Accounting Businesses
Taxation and accounting are difficult tasks for any business. Certain situations make business slightly more challenging. For instance, if a business is making its income overseas or holds stock and liquidity, this could become a challenging task for any business owner.
This is why accounting and taxation businesses can be so possible. People are often willing to pay for a few different reasons, but one of the most common reasons is to solve a problem / prevent pain. This is where an accounting business comes in.
Additionally, a good accountant and bookkeeping business can save the business more money than it's costing. This is often an excellent incentive for businesses to pay a higher price for an accounting service.
Outsourcing is also a very popular method for businesses overseas. This is why many outsourcing call centers in the Philippines target overseas clientele.
5. Subscription Businesses
A subscription business is a straightforward and fun business model. I say this because I had two of these businesses myself previously. It is an enjoyable business and gives the business owner some benefits; it can also be highly profitable.
With a subscription business, you can roughly estimate your monthly income, and these steps towards growth can be much more manageable. This is especially true if you are looking at growth through leverage.
Additionally, one of the reasons why a subscription business is a lucrative business idea in the Philippines is that you can buy the relevant stock or services you will need, which can often be purchased at a much lower price.
6. Software Service Business
Software service businesses have many parks. One of the first benefits is that there are often very low overheads and startup capital. This is because a software business often does not need any physical items in the very early days.
However, business owners will need to take some expenses into account, especially in the lines of coding.
Software service businesses are very lucrative business ideas in the Philippines as they allow the business to sell a single product multiple times in the most cost-effectively.
A few weeks ago, when I started to write these lucrative business ideas in the Philippines article, I noticed that I purchased an affiliation program that was a piece of software added to one of my websites to create, promote my products, and return receive a small commission…
… the product itself was built many years ago, and apart from a few minor adjustments, most of the tasks have already been completed. The benefit to their business is that I will continue paying each month for their software as it's something I need.
7. Philippines Stock Daytrading
The last high-profit business idea in the Philippines involves day trading. We often speak about the Philippine Stock Exchange here at Filipino Wealth. The Stock Exchange has many different investors' strategies and can be a lucrative business idea if you can choose the correct strategy.
Day trading is very different from medium to long-term trading. Day traders often aim to capitalize on the day-to-day volatile market. Many day traders only make a small percentage on each trade; however, profit can soon increase with so many trades per day.
Like all of today's lucrative business ideas in the Philippines, it's important to note that day trading carries an element of risk and is not wise to day trade unless you are an experienced investor.
Nonetheless, many entrepreneurs, including several YouTubers, have turned this investment into a full-time business.
Similar to investing in the Philippine Stock Exchange, business owners can also turn to day trading in cryptocurrency. The cryptocurrency market is much more volatile than the Philippines Stock Exchange; however, the rewards could be remarkable.
Lucrative Business Ideas Philippines & Profit Business Ideas Philippines
Thanks to the advancement in technology and the post-COVID-19 world, many business owners are turning to online businesses compared to more traditional businesses. One of the reasons for this is scalability.
Scalability is often much more manageable when a business is online, mainly if it does not sell any physical product.
Due to the scalability factor and hundreds of other factors, online businesses are one of the most lucrative business ideas in the Philippines. They can become a profitable businesses in a much shorter time than traditional businesses.
You will notice every successful business owner in the Philippines that they have done a profitable business by utilizing leverage and systems. These are the hidden tricks of the rich.
If you are looking to start a lucrative business idea in the Philippines, I would advise anybody to understand leverage in its entirety. This includes leveraging physical money as well as your time and other people's time.
Finally, aside from documenting high profit business ideas in the Philippines, we have also released a complete list of 300 businesses that can be started today in our most recent post!
---
More Philippines Business Ideas Guides
---