Cebuano

English

Filipino
Self employed business Philippines: Being self-employed is a unique opportunity in our modern world as there are some fantastic options For Filipinos to earn money from just about anywhere, including at home.
But if you are looking to be a freelancer or self-employed, one of the biggest questions you may ask yourself is what are the best self-employed businesses in the Philippines?
Self Employed Business Philippines
1. NFT Programming & Designing
In 2021 & 2022, nonfungible tokens exploded. Due to popular games such as Axie Infinity, more and more investors and players came across the concept of earning money from playing games and investing in nonfungible tokens. In addition, due to the metaverse development, NFT programming and designing has become a profitable self-employed business in the Philippines.
Not only is this one of the hottest self-employed businesses in the Philippines right now, but it's also one of the most profitable. If you are a programmer or wish to learn how to program, you can create thousands of NFTs and sell these on popular platforms such as Fiverr. 10,000 NFTs are currently being sold for $1000's.
2. Financial Advising
Unlike nonfungible tokens, financial advising has a history in the Philippines and is a common self-employed business. But why is this one of the best self-employed businesses in the Philippines right now? First, because there is a great deal of change in the economy, the service is highly demanded. Additionally, it is also a very profitable self-employment business in the Philippines.
Financial advisors are paid several ways, but some take a small commission that may seem very low. However, depending on the investment and the number of clients, this small commission can be worth a small fortune. Additional options include starting a small website or YouTube channel for financial advice in the Philippines.
3. Contend Creating Auditing Business
So what is content creating, and what is a content creating auditing business? Content creation is a podcast, YouTube video, or even an article. In today's modern world, there are many Filipino content creators. Some of which are full-time and others are part-time. Auditing is the process of analyzing their performance and giving feedback and guidance.
One of the biggest challenges content creators face is that they are not always aware of their mistakes. Currently, auditing is not as popular as financial advising or other options on our list; however, it is becoming in demand. Therefore, it is predicted that this will be a fantastic self-employed business opportunity in the Philippines in the near future.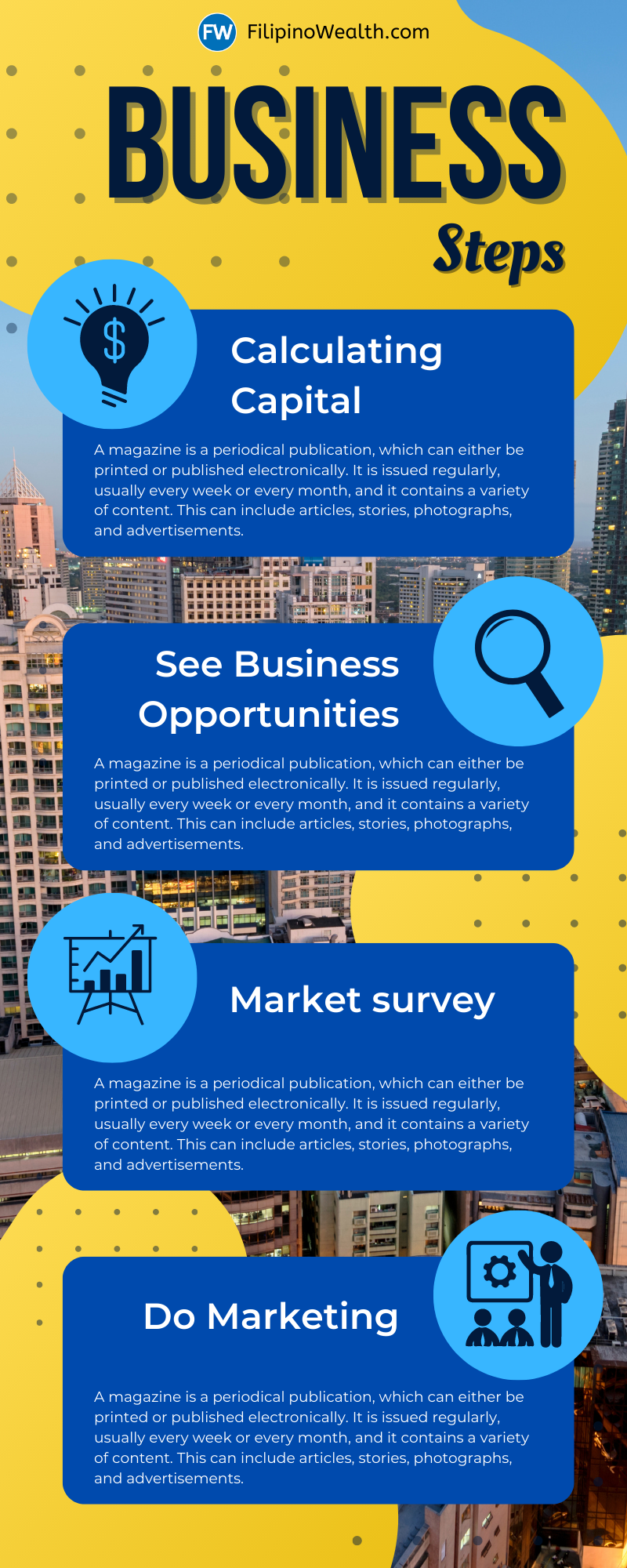 4. Market Researching Business
Market research is a fantastic self-employment business in the Philippines, but it is also a great side business for some extra income in the Philippines. Market research aims to research the market, including the customer base, the competition analysis, current supplies, demands, etc.
Suppose you are starting a self-employment business in the Philippines from scratch. In that case, a good idea is to set up a profile on freelancing platforms such as Fiverr or Upwork. On these platforms, you will be able to offer your services and get your very first customers.
5. Life Coaching & Motivational Speaking
Previously we have spoken about how to be a life coach and a motivational speaker in previous articles. If this is something you are interested in, it's recommended that you take a look at our full guide, which includes how you can begin and how much you can expect to make being self-employed in the Philippines.
Depending on your popularity and niche, starting a business life coaching or motivational speaking can be very profitable. Of course, some speakers work with other businesses and agencies, and others start this business independently. However, life coaching offers many unique opportunities if you prefer a one-to-one business.
6. Self-Employed Author
One common question that we often get asked is how to be a freelance writer in the Philippines. But why is this one of the best self-employed business opportunities in the Philippines? There are several reasons, but one of the main reasons is the high demand for freelance writers, which continues to grow as we look into the near future.
Self-employed authors can create their books and stories, write guides and online content or work with publishers project-by-project. Naturally, how much your self-employment business will earn will depend on several factors, but the negotiation and reputation are key.
7. Self-Employed Store Owner  
Another fantastic option for those wishing to become self-employed in the Philippines is to start their own store. This can be a small kiosk in a prime area, or it could be something larger such as a small grocery store. When opening a store business in the Philippines, the location is key. So entrepreneurs will need to find a location that is accessible but also cost-effective.
Market research is always important when becoming self-employed in the Philippines and looking at self-employment ideas in the Philippines. The demand on the supply is the golden rule for selling. Therefore, effective market research will allow you to carefully plan your employment options and make the right decisions.
---
More Philippines Business Ideas Guides
---