Cebuano

English

Filipino
Online Business Ideas 2022 Philippines: Have you ever wondered what are the best online business ideas in the Philippines? If so, then you have most definitely come to the right place because, in today's article, we will be covering several examples of the latest and greatest online business ideas in the Philippines for 2022.
In addition to these online business examples for the Philippines, we will also be including some special tips to help you succeed in starting an online business in the Philippines and finally covering some need-to-know information about online business.
Best Online Business Ideas 2022 Philippines
Arts And Craft Reseller Philippines
We have recently spoken about selling on Etsy in the Philippines and why many Filipinos are turning to these platforms because online platforms have skyrocketed in popularity due to the recent pandemic.
But this is not the only reason we have mentioned Esty. Esty is well known to be an online platform that specializes in homemade and personal products. Many Filipinos have started an online business idea such as selling candles or starting a sticker business and use platforms such as Esty to grow their online income.
Over the last few years, specific industries have boomed, and personal touch items such as arts and crafts are one of those industries that have seen enormous growth in sales over the last several years.
Suppose arts and craft reselling is not the perfect online business idea in the Philippines for you. In that case, many other homemade and personal products can be made at a very low labor cost in the Philippines.
One of the benefits of living in the Philippines is that starting an online business such as reselling or producing can be started with very little money. Western countries are often willing to pay more money for a personalized item. Some products may seem reasonably expensive in the Philippines, but internationally, these prices may seem standard.
English / Tagalog Teaching Business
Alternatively, if you are looking for different online business ideas in the Philippines in 2022, you may be better suited to starting your own English or Tagalog teaching business.
The great thing about language is that it can be taught online through tutoring. Some of the most popular English-speaking companies that operate in the Philippines (such as 51Talk) are online. And thousands of teachers across the Philippines are earning income from teaching at home.
There are a few different ways to go about this online business in the Philippines. If you are looking to teach Tagalog, for example, your customers are likely foreigners living or soon to be arriving in the Philippines; if you wish to start an online teaching business in the Philippines but instead teach English, your students may be young Chinese children and teenagers.
One piece of advice I always give to those looking to start an online business in the Philippines is the play into the strengths; this could either be your strength as an individual or the country's strength. One of the country's strengths is the high level of English which can be used to your advantage when starting an online business in the Philippines.
Alternatively, apart from using language by becoming an online teacher, you may decide to use your voice and talents in other online business ideas in the Philippines. For example, our next option is blogging and YouTubing.
Blogging & YouTubing
Currently, YouTube is the world's second-biggest search engine behind Google itself. Of course, Google owns both YouTube and Google and many other companies, but the great thing about the two largest search engines is that you can utilize these platforms to build an online business Philippines.
So the big question is should you start blogging, or should you start YouTubing? In terms of online business in the Philippines, it depends on your character and, ultimately, your goal.
I'm very passionate about writing, and I'm very good at it… ( I hope Ha-Ha), but some Filipinos prefer to watch rather than read, and as a result, we have recently started a YouTube channel. I'm not the best at speaking publicly, but I've found that YouTube has many opportunities to increase extra income in the Philippines.
Many successful Filipino YouTubers have turned to building an online business in the Philippines on this platform.
Blogging is a little bit different as it is something that you own and manage yourself. When starting an online business, it's always essential to have several income streams, which are made more accessible when operations are controlled directly on your website; however, YouTube can also be utilized to increase your income streams.
It may surprise some people, but those who have the most subscribers and the most views do not earn the most money. Those who monetize their YouTube channel the best are the ones that are paid the most. This is also the same for blogging in the Philippines.
Online Freelance Writing Businesses
In previous articles, we covered freelancing writing businesses. We explained why this is one of the hottest businesses presently. In the article, we summarise a few significant points, such as the growing trend of outsourcing. In previous years, outsourcing customers were mainly in countries such as the USA, but now many other countries are starting to outsource to the Philippines.
As a result, this has driven up demand for certain types of projects, and one of these is writing tasks. This could be a simple article about the latest news or a detailed product or service review.
Looking through different online business examples in the Philippines, you will find that some businesses will be more applicable to you than others. This example is one of those that Filipinos either love or hate, as unfortunately, not everybody is a natural writer who also loves the task of writing.
To start this unique online business idea in the Philippines, you can either approach businesses directly, build an online website or channel, start advertising, or become a member of popular freelancing platforms such as Fiverr, TaskRabbit, and others.
There is also a unique Facebook group for writers in the Philippines, which allows you to connect with fellow business owners. Additionally, it's always essential that payment has an arrangement. Unfortunately, some writers have been scammed. Thus, we recommend extra caution, especially during the early days of starting an online freelancing business in the Philippines.
Affiliate Marketing Business
If you are interested in the affiliate market in the Philippines, it is strongly advisable to take a look at Involve Asia. They are the biggest and most trustworthy affiliate marketing companies for the Asian marketplace, and they operate in several countries, including the Philippines.
Affiliate marketing is a well-known online business in the Philippines in 2022 and is getting hotter and hotter as the years pass for various reasons.
Many online business entrepreneurs use affiliate marketing as an extra income stream to grow their businesses. Unfortunately, one mistake I see many YouTubers, bloggers, and content creators making when starting an online business in the Philippines is … relying only on advertisements.
Advertisement income can be very lucrative, but you should never rely on it as your only source of income, especially if you are starting an online business in the Philippines in 2022.
Most affiliate marketing campaigns work on a percentage commission per sale. Still, there are also some opportunities where you can receive income based on the number of clicks your link gets. For more information about this, feel free to check out Involve Asia website.
Online Real Estate
So the first question you may have is, what is an online real estate business in the Philippines? Online real estate is the name some entrepreneurs use to talk about domains, websites, blogs, and any other asset online.
If there is a demand for a particular online asset, then there is a price, and this is how many online businesses earn money in the Philippines.
Selling domains is a fun and lucrative business. You can find more about this by going over to the GoDaddy marketplace. If you are interested in buying domains in the Philippines, you can checkout dot.PH. However, there are also many other types of online real estate. Some of these online real estate assets include a whole online business such as an e-commerce store or a blog.
Flippa.com is perhaps one of the most recognized names in online assets. This website allows entrepreneurs to buy and sell domain websites and hold businesses online. Some websites can be very lucrative, and in some cases, investors purchase online businesses only to sell them at a later date.
There are always risks in flipping online real estate. There are also some genuine risks to all online business ideas we are speaking about today, so it's always recommended to thoroughly research and speak to an independent professional before embarking on your own online business in the Philippines.
Bot Distribution Business
Are you comfortable with coding, or do you have some experience with computer mechanics? If the answer is yes, then bot distribution may be a very lucrative business for you.
Bots can take many different forms in today's modern world. One trend that is growing in popularity is bots used for investment and, more specifically, bots used for cryptocurrency. Bots often have the task of buying or selling cryptocurrency at a specific price, and many buyers see bots as a worthwhile investment.
Some bots can range from a few $100 up to several thousand, but it depends on what level of engineering the bot has.
I find cryptocurrency and coding a fascinating topic, and even though I've done extensive research on both areas over the last few years, I am by no means an expert. However, if you are like me and want to know some more information about how you can begin coding, I've attached some great articles in the hyperlinks for your reference.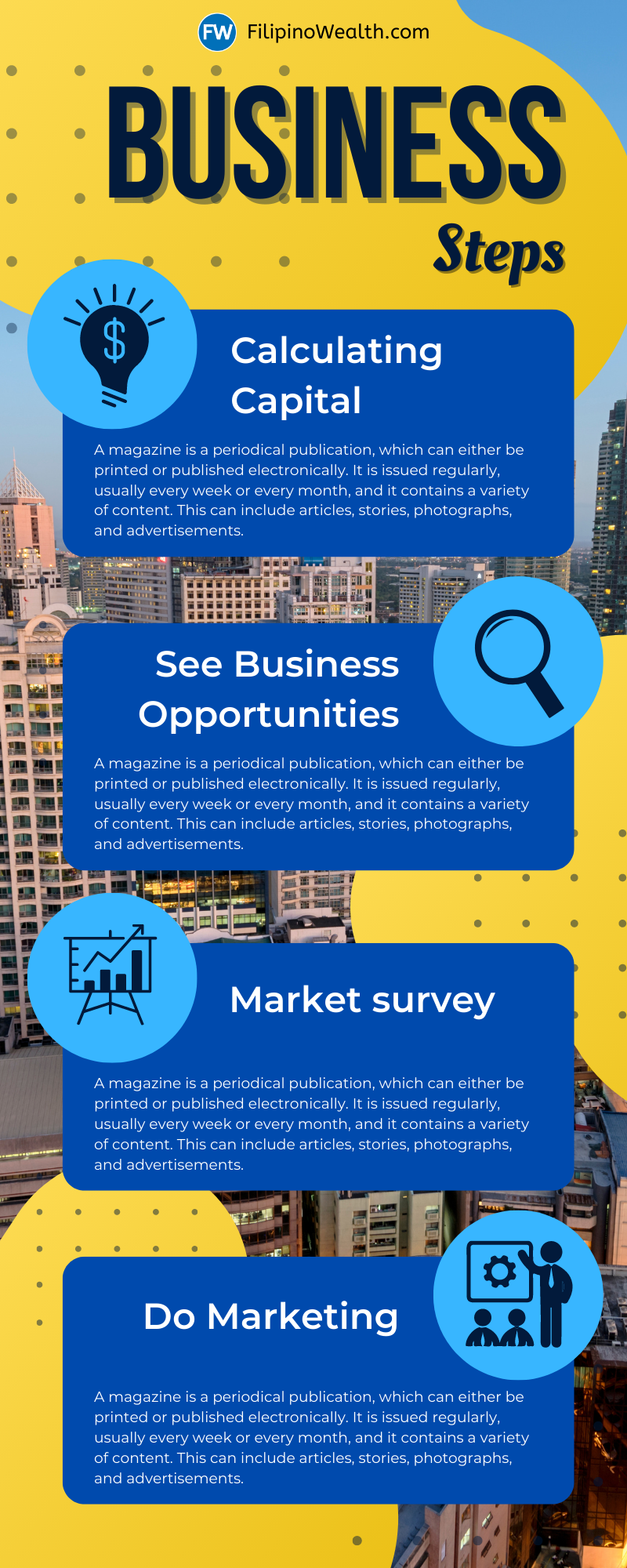 Remote Outsourcing Center Philippines
Starting a remote outsourcing center may not come to mind when looking at online business ideas Philippines. Still, it can be a very lucrative business running remotely.
I was in the process of starting an outsourcing center several years ago back in Davao. I chose this location as it was perhaps one of the cheapest locations for the infrastructure I wanted for the business. One thing that interested me is how many individuals have a small team of call center workers who work from their homes.
Most often, they started offering services on websites such as Upwork. The entrepreneurs offered services such as customer service and bookkeeping. Still, as demand grew, they hired friends and staff to cope with this demand and eventually grew into an online business in the Philippines that acts as a remote call center.
As mentioned towards the beginning of this article, more and more businesses worldwide are outsourcing to the Philippines, which has produced a high demand for services. When we think about call centers, we often think about 20 staff working in an office, but this is not always the case. Some businesses are small and only need one or two extra staff to help with their business demand.
We have previously covered starting a call center in the Philippines and covered some additional tips in finding clients for an outsourcing center, which may serve as a great reference if this online business in the Philippines is attractive.
Online Day Trading Business
One of the last online business ideas for the Philippines in 2022 is the form of an investment trading business. Day trading is a very high-risk business and requires a lot of skills and research every single day.
There are many well-known investors in the Philippines, and there is also a sea of entrepreneurs on YouTube talking about day trading in the Philippines. They give some excellent advice, but most honest day traders will tell you that income can fluctuate. It can be very unwise as many entrepreneurs are not suitable for this kind of high-demand roller coaster business.
Having said this, it can be a very profitable business idea. Interestingly, there are many different markets to day trade. The Philippines stock market is one of the most well-known day trading platforms; however, there are also different marketplaces such as cryptocurrency.
One of the benefits of trading specific cryptocurrencies is that it is a highly volatile market, and even though this may not be good for long-term investment, it can be good for short-term business.
Tips For Online Business Ideas Philippines 2022
1. Starting Small Is Normal
Sometimes in the world of online business, starting something new when it's small is useless, but in fact, many big businesses started small. Whatever online business idea in the Philippines you decide to do, remember that it's completely normal and advisable to start small.
Through my travels across Asia, where I had the great pleasure of helping small to medium-sized businesses, I found one of the reasons why many businesses struggled was because they scaled too quickly without building appropriate foundations.
Starting small is a great time in the life of a business. It's the time to get your priorities straight and your destination fixed, leading us onto the next online business tip for the Philippines regarding those precious Filipino pesos.
2. Online Businesses Can Sometimes Be Started For Free
Yes, some online businesses in the Philippines can be started completely free! One thing to note is that once you have started to grow your online business, it is much better to move over to paid services and products, as this often gives you more ability to grow.
For example, we have spoken previously about starting a blog for free in the Philippines. One drawback is that sometimes advertisement is shown on the platform where you choose to host your website. This can give an unprofessional appearance; thus, it is recommended to migrate over to a paid hosting service when possible.
The last note about expenses in terms of online businesses in the Philippines is that if it is free, it may be a business with a large amount of competition. At the beginning of the article, we spoke about selling on Esty. Over the years, Esty has become more popular as it's free (apart from the seller's commission when an item sells). So, as a result, more and more people have joined the platform.
And because of this growth, some products have an oversupply which drives prices down, so it's something to be aware of when looking at different types of online businesses in the Philippines.
3. Be Honest And Straightforward With Your Audience
The last tip is essential if you are creating content of any kind. To be honest and straightforward with your audience, this is one of the biggest tips because many entrepreneurs in the Philippines are now looking to start online businesses such as YouTube channels and podcasts.
People are very wise regarding body language, facial expressions, and overall tone of voice. If you are misleading, the audience will likely feel that something doesn't feel right. This will decrease the opportunity for the growth of your online business.
Throughout this article and across the YouTube channel of Filipino wealth, we always aim to be honest and straightforward. If we fail to do this, our business will start to suffer, and this is why honesty and straightforwardness are paramount in online content-creating businesses in the Philippines.
What You Need To Know About Online Business Ideas In The Philippines
1. Businesses Can Sometimes Take Years To Be Profitable
Yesterday we published a fascinating article speaking about motivational business tips for the Philippines, and one of the first tips we mentioned is that profitability can take many years.
In other words, depending on the industry, it can take anywhere from two to three years for a business to be profitable; this can be very disheartening for online business owners. Many entrepreneurs commonly start an online business as a side business and eventually migrate over from their full-time job into their online businesses. But as mentioned, this can take some time.
2. Following The Crowd (Almost Always) Does Not Work
It may surprise you, but the large majority of entrepreneurs who have started an online business in the Philippines or any other country fail. This will differ depending on the specific country and the online business in question.
Several years ago, before Filipino wealth was created, I looked at the stats for bloggers and was astonished that 83% of bloggers from one survey earn less than $100 a month! Looking at other industries, I found similar results, give or take, and what this taught me very early on is if I followed the crowd and advice from those in the 83%, I would not have a successful online business.
There is a lot of advice and information out there. We here at Filipino wealth are one of these websites that give educational content to its viewers, but we always mention that innovation is critical. In essence, being different (in a good way) is one method used to create attention for your online business.
3. Income From Online Businesses In The Philippines Is Taxable
Taxation such as income tax and capital gains tax can be a delicate subject as there are many grey areas, and it is not a subject that everybody is familiar with. However, if you are starting an online business in the Philippines that is profitable, you will need to pay tax.
We have covered taxation in the Philippines several times, but for your reference, here is some beneficial information regarding taxation rates for businesses and online estate in the Philippines. Online business ideas 2022 Philippines.
---
More Philippines Business Ideas Guides
---