Cebuano

English

Filipino
Easy business ideas in the Philippines with small: Starting a small business in the Philippines is not always the easiest task; however, some businesses are simpler than others.
So today, we will be looking at the easiest businesses to start in the Philippines right now. These examples include online business ideas in the Philippines and easy food business ideas in the Philippines you can start today.
Easiest Business To Start In The Philippines
1. Start Content Creating
Is content creating an easy business idea in the Philippines? Content creation is a lot easier than other types of businesses.
Thanks to technological advancements, just about anyone can earn money from producing content, which is why we recently spoke about how to earn money from TikTok and Facebook.
One of the reasons it is an easy business idea in the Philippines with a small capital is because creating content can be started with only a cell phone and an idea. Content creators do not need any qualifications, licenses, or special permission to start creating content and earning money online in the Philippines.
One key to being successful in creating content is to be different. As a full-time content creator, I promise you – thousands of content gaps are still available in the Philippines. I have found a few common content gaps during my research over the last few months…
Coffee Niche
Filipinos Moving Abroad Niche
LGBTI Dating Niche
Growing Plants & Vegetables Locally Niche
Short Form Entertainment Content
It's always a good idea to fully research the niche. Of course, some niches are not as large as others, but you will find many topics in the smaller niches that will allow you to produce 50 – 100 videos.
For example, in the coffee niche, data shows Filipinos are searching for information on how to grow coffee beans, the best coffee to drink, slimming coffee, coffee addiction, and much more.
2. Become An Affiliate Marketer
One of the easiest businesses to start in the Philippines is affiliate marketing. Affiliate marketing is sometimes referred to as referrals, but it essentially means the same thing – you will receive a small commission for referrals and leads.
Affiliate marketing in the Philippines works best with an audience. This is why you will find that many YouTubers, bloggers, and influencers often recommend products.
However, like other easy business ideas to start in the Philippines, you must be open and honest with your customers/viewers.
It can take some time to build a loyal audience from affiliate marketing, but only moments to break the trust of your audience. This is why affiliate marketers are encouraged only to use the good products they have used in the past or that are essential to the viewers.
If you decide to start another easy business idea in the Philippines, affiliate marketing can still be a great source of passive income. This is why we released our full guide on the best affiliate marketing programs available right now in the Philippines!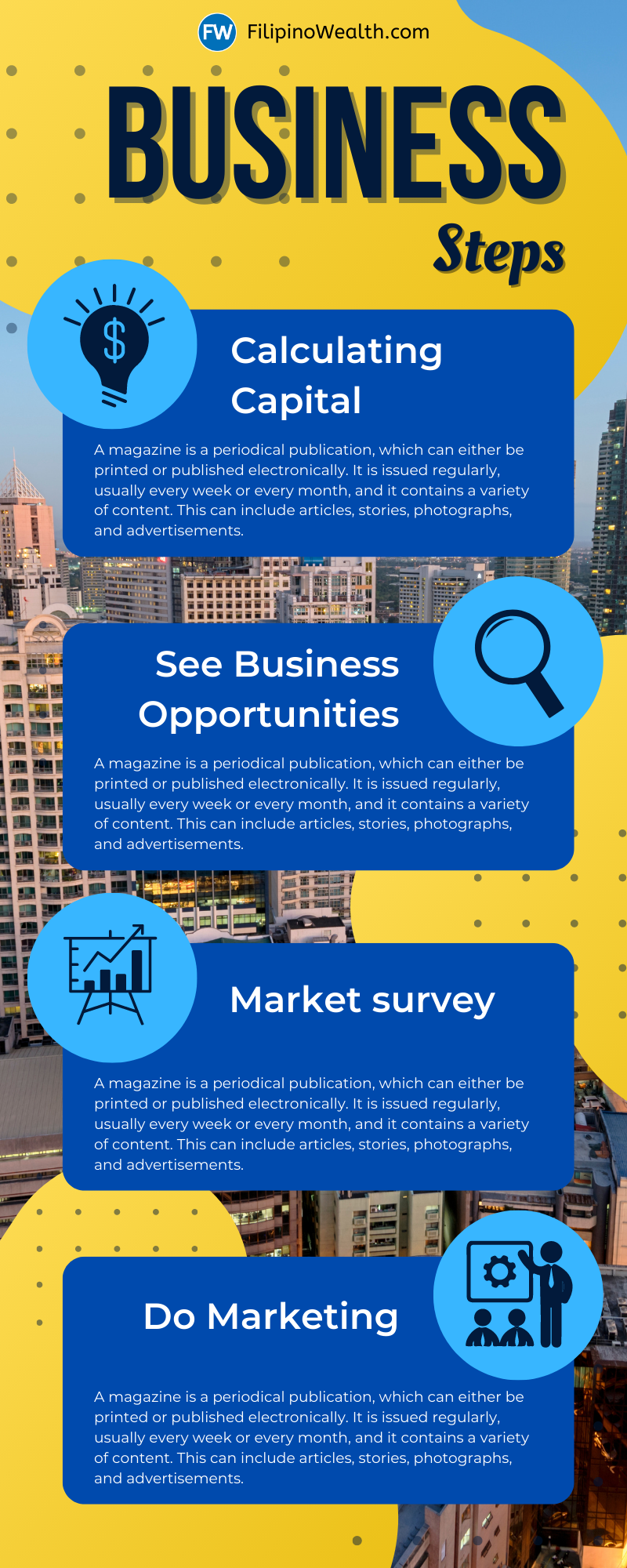 3. Coaching Business In The Philippines
There are many different types of coaching business models stretched across the industries. For example, if you are in the entrepreneurship and personal development industry, you will find many coaches in this industry. The same is true for the nutrition and fitness industry.
Coaching businesses are relatively flexible, unlike other business ideas in the Philippines that are slightly more difficult, and there are no specific guidelines to follow.
Here are the most common business coaching ideas in the Philippines…
Business Coach
Career Coach
Dancing Coach
Dating Coach
Fitness Coach
Investment Coach
Life Coach
Productivity Coach
Sports Coach
Voice/ Speaking Coach
The difficulty of opening and maintaining this type of business depends on several factors, including your location, business direction, and demand.
When searching for less difficult business ideas to start in the Philippines, it is always a good idea to look at the opportunities broadly.
In other words, is there a target market that is not being served but needs the assistance of a coach?
An example of this is Tagalog. Many foreigners are learning the language of the Philippines and require coaching and support with their learning.
This is only used as an example but shows that there are opportunities within the markets for coaching services.
4. Sari-Sari Store
Did you know that opening a Sari-Sari business is one of the cheapest traditional businesses to start in the Philippines?
Entrepreneurs can benefit greatly from research when investigating small business opportunities in the Philippines. This is certainly true when starting a business such as a Sari-Sari store.
Sari-Sari stores work best in low-competitive but highly demanded areas. This can either be in the province areas or around the main cities.
It is often said that entrepreneurs experience the world differently and see opportunities within their daily lives.
For example, have you seen opportunities to start a small store in your location? Perhaps you notice a lot of demand, but the supply for products and services is low? In that case, you see the opportunities as an entrepreneur.
The disadvantage with many traditional business ideas in the Philippines is the cost. For example, renting a physical location, purchasing the stock, and leasing equipment all cost money.
Compare these traditional business costs to other business ideas in the Philippines. You will find that small business idea such as blogging is much cheaper on average compared to traditional businesses.
Therefore, if you are looking to start an easy business in the Philippines with low capital, it's often recommended to focus on online options and away from traditional business models. But naturally, the decisions, profitability, and success is always determined by you.
5. Vending Machine Business
One of the most popular passive businesses to start in the Philippines comes in the form of a vending machine business. Therefore, there is a mixture of reviews regarding starting and growing a vending machine business in the Philippines.
With every type of business in the Philippines, there are always plenty of advantages and disadvantages that entrepreneurs will need to consider carefully.
For instance, a vending machine business is fairly passive compared to other small business ideas in the Philippines. However, the startup costs can soon add up when we factor in the machine costs, the supplies, and location fees.
Yet, one of the biggest benefits is that starting a vending machine business is fairly straightforward. Like starting a YouTube channel or a blog, you do not need any qualifications or degrees to start a small vending machine business.
But if you are looking for easy business ideas in the Philippines with a small amount of capital, let's look at our next option.
6. Open A Dropshipping Business
The dropshipping world has changed considerably over the years and continues to grow. We recently explored how you can make money from dropshipping, which includes some very important information that most are unaware of.
If you have the capital available, the dropshipping process can be streamlined into an automatic process. This automatic process allows business owners to focus on the most important business areas, such as marketing and generating sales.
One of the challenges in the dropshipping industry in the Philippines is competition. There is also a large growth for dropshipping businesses in countries such as India that sell internationally, including the Philippines.
This is not to say that drop shipping is not a good business idea, as it does offer some unique opportunities. However, it's recommended that entrepreneurs consider all the relevant data and information.
In most cases, you will find that the easiest and cheapest business ideas in the Philippines are often filled with competition.
We, as humans, like to do things easily. Of course, there are plenty of successful and highly skilled entrepreneurs, but even those entrepreneurs can sometimes take the path of less resistance and instead choose the easy option… But the easy option is not always the best in the business and financial world.
7. Open A Food Kiosk Business
Another fantastic business idea comes in the form of food. But are there any easy food business ideas in the Philippines? Many entrepreneurs find opening a food kiosk business a straightforward business model.
You could decide to open up your own food cart business or franchise a small food cart business in the Philippines. Both of these options have their advantages and disadvantages.
In terms of easiness, a franchising food cart business is considerably easier as much of the work has already been completed. In addition, the franchising company will likely have gathered valuable data to help franchisees succeed quicker.
On the other side of the coin, the advantage of starting your own food business is that you do not need to pay any royalty fees and have more flexibility in the direction of your business.
But on the other hand, some experts suggest starting and maintaining an independent food cart business will be slightly more challenging and, of course, less easy.
So if you believe a food cart business is the best direction for you, the first decision you will need to make is whether you start this business alone or team up with a franchising company.
Easy Food Business Ideas Philippines
The great thing about starting a food business in the Philippines is that there is a high demand for a wide selection of cuisine in the Philippines. Of course, international travelers have increased the demand for western cuisine, but Filipinos are also known to explore different types of cuisines.
Recently, the "Egg Drop" business has become very popular in Manila. Therefore when starting a food business, it is always important to consider the location and local demand.
Some time ago, I spoke to an entrepreneur who grew their business selling western foods to travelers in El Nido. This entrepreneur is a perfect example of a business owner who matched the products to their customer's needs.
Nevertheless, here are some common food business ideas in the Philippines.
Exporting Local Foods On Esty (Such As Honey And Coconut)
Selling Protein Meals
Small Coffee Kiosk
Street Food Vendor
Water Delivery Business
The big question to always ask yourself when starting an easy food business in the Philippines (or any business) is what value am I bringing to the customers?
If your business is the same as every other type of business, there is little to no value for the customer. This can have very damaging effects long term to your business. This is why in the long run, the most valuable and innovational businesses succeed in the Philippines.
The good news is that even an easy business idea with small capital can provide value to customers and innovation to the market. These are two important points to reflect upon if you want to grow a successful business in the Philippines long term.
---
More Philippines Business Ideas Guides
---