Cebuano

English

Filipino
If you are a mom living in the Philippines, you have most likely wondered how to start a home based business in the Philippines. This question is excellent as there is a wealth of opportunities in the Philippines! Today we will be going through 10 business ideas for moms in the Philippines, but that's not all!
As a special bonus to help you on your way to success, we shall be going over five business tips for moms in the Philippines, asking important questions such as; what are the cheapest business ideas for moms? And finally, what business ideas work best in the Philippines? First, here are our top 10 business ideas for moms in the Philippines.
10 Business Idea For Moms In The Philippines
Become An Online Seller Or Reseller In The Philippines
Online selling is currently blowing up across the Philippines, and this lucrative business does not seem to be slowing down anytime soon. Online selling or reselling is a great home based business ideas for mums in the Philippines as it has a lot of flexibility, which is often an important factor.
Another reason why this is a fantastic homebase business idea for the Philippines is that it has a huge amount of diversity and opportunity. The key here is to find a profitable product. Some business owners decide to start using sites such as Facebook to promote their products, while others prefer to use Lazada.
Getting started on this business is very simple. First, you would need to find a product that is suitable for selling. You can find this by contacting suppliers or even speaking to suppliers overseas in China. (check out Alibaba for more details) Next, the process of selling will begin.
Many online sellers in the Philippines have seen fantastic reach by performing live videos on Facebook. The great thing about Facebook is that payments can be made through Facebook, and orders can even be made through a Facebook page which makes online selling one of the best home based business ideas for moms in the Philippines.
Start A Mom Blogging
Some believe that blogging is dead and that you cannot earn any money from a blog in today's modern world. Please trust me when I say that this is 100% wrong. Not only can you earn money on a blog, but you can also earn a full-time salary. Many successful bloggers earn over $2000 (just under 100K pesos) per month from their blog. Some leaders bloggers can even make $10,000+ a month.
Even though this is a very lucrative business, some are not as successful. This is because they haven't given their blog had enough time to grow. In some cases, it can take many years for a blog to become a full-time income.
In 2005 if you decided to start a blog, your article could rank number one on Google for many popular keywords and phrases. This could even rank as high in as little as a few weeks. However, fast forward to today, and an article reaches its peak within 8 to 12 months. Meaning that if you write an article today, you may not start to see that article rank high on google until next year.
BlogSchool.PH Is a website dedicated to helping Filipino bloggers earn a full-time income online. I would recommend a visit if you wish to earn money from a blog in the Philippines. Alternatively, we have put together a beginner's guide on blogging and gone through the entire process of earning money from a blog!
Become A Mommy YouTuber
YouTube is officially the world's 2nd largest search engine. YouTube is also a part of Google and has allowed millions of people around the globe to upload videos to its platform and make money in the process. Many years ago, being a YouTuber or a Blogger would often be looked down upon; however, times have changed.
YouTube is a legitimate way to make money from the comfort of your own home. The great thing about this home base business idea for moms in the Philippines is that a YouTuber does not even have to show their face or even use their voice thanks to technology.
One big concern for many new YouTubers is that they feel they do not have anything to offer. But there is a lot of areas you could tap into. For example, if you like to travel, you could set up a travel channel for the Philippines. Alternatively, if you have a passion for Filipino food, You could start a food channel.
Once you have built your audience, you can then start to monetize your content through Google ads. However, making money from YouTube can be made from the very first video. So, if you have a product or a service, then using YouTube as your marketing channel is a great way to grow your business.
Launch A Freelance Writing Business
Freelance writing Is another amazing home base business idea for moms in the Philippines. This is because, as a freelancer, you will have a lot of flexibility. However, at times, you may have to work under the terms of your client.
We also run a second blog (howdoiplayit.com), which specializes in how to play certain games. Many of the articles on this website have been outsourced to Filipino freelance writers. Therefore, as someone who hires writers, I can confirm that a few things help your business grow.
The first thing you will need is a profile. This can be a social media page with testimonies or previous experience, but if you have a website, this will give you that professional edge; however, this is not mandatory. Secondly, it's important to always be open and honest with the client. This should be a two-way street meaning that the client should also be open and honest to you as a writer.
It's always important to be cautious when starting a freelancing business of any kind. It may be more suitable to offer your services through sites such as Fiverr.com at the beginning.
Start A Virtual Assistant Business In The Philippines
A virtual assistant business is one of the cheapest businesses in the Philippines. However, basic equipment will be needed, such as a cell phone and a laptop. Virtual assistants are often hired from western countries and can be paid anywhere from $3-$10+ per hour (depending on the task and client).
A virtual assistant business can be one of the best home based business ideas for moms in the Philippines. The tasks you will be doing often depend on the industry and the client. Most clients will offer training or guidance to the virtual assistant after being successfully approved.
Similar to freelance writing, if you are concerned about payment or disagreement with a client, you can sign up to websites such as fiverr.com, which is often less risky than freelancing.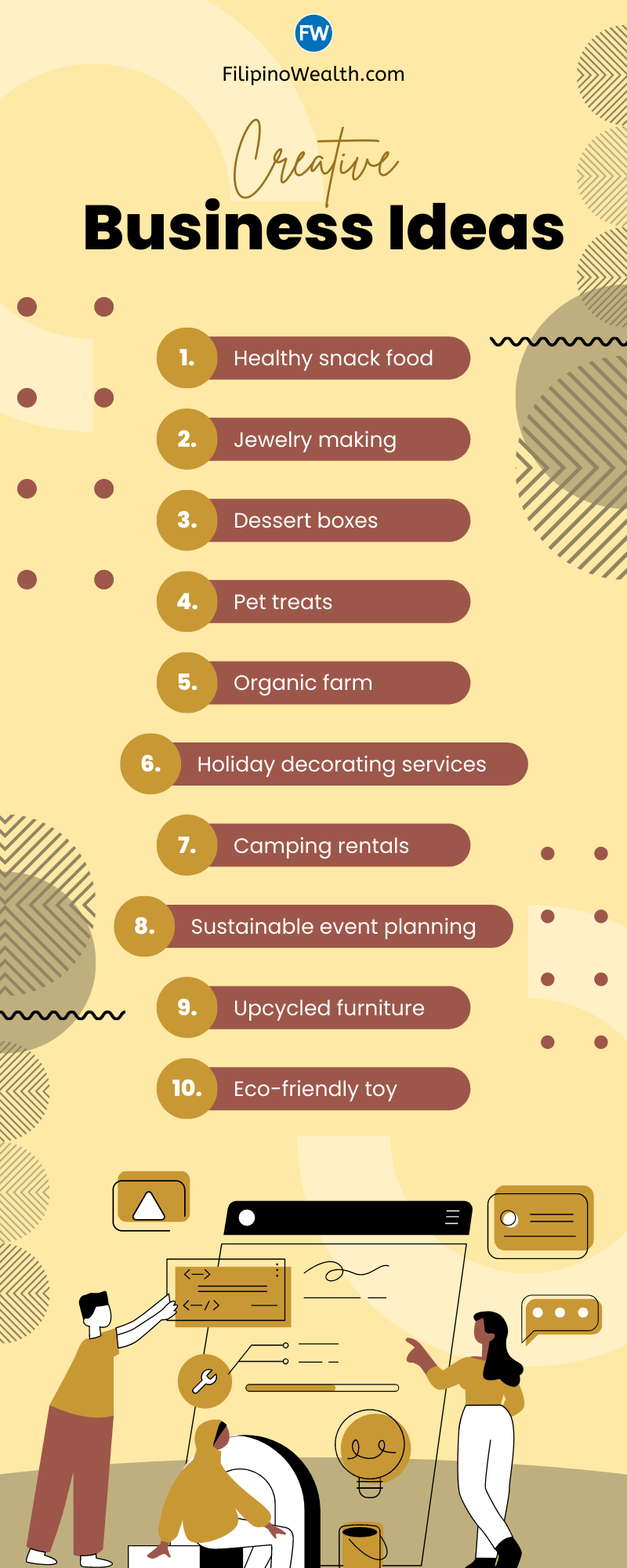 Marketing & Designing Business
Marketing and designing are two large industries that have seen an explosion in popularity over the last ten years. If you are a creative individual, there are many free apps and software that can be used to practice and gain skills in designing. Due to the flexibility of Photoshop, if you can purchase this software, you open the doors up to many new types of clients.
Marketing (as well as designing) is an industry that is being outsourced more and more. The projections show that the outsourcing of marketing will increase rapidly over the next ten years.
So how do you get started with marketing or designing in the Philippines? It is recommended you seek work experience first; however, if you have the experience, you can offer your services on Fiverr, 99designs, People Per Hour, Upwork, etc.
Alternatively, building a website is a great way to highlight your designing skills and/or marketing experience. If your budget is low, you can start a free website; however, this can often include third-party advertisements, which may give your site an unprofessional appearance.
Open A Social Media Management Business
The Philippine Social media usage became mini viral a few years back as Filipinos used social media, on average, over 7+ hours a day! (The Philippines were number 1 in the world!)
Therefore if you wanted to outsource a social media manager job, It would be a great idea to outsource to a Filipino!
From speaking to social media managers and people who have run a successful social media managing company, the work itself is not too difficult compared to other tasks. However, the job can be quite time-consuming. For example, the basic tasks include commenting, replying to messages, etc.
Social media such as Instagram have built-in algorithms that measure the likes, comments, saves, and shares that a post receives. When a picture is posted, the first few hours are critical, meaning that the engagement helps a post go viral. As a result, there is often constant work involved when being a social media manager.
Due it the level of entry and skills needed, this business is one of the best home based business ideas for moms in the Philippines!
Start An English (or Tagalog)Teaching Business
The level of English spoken and written in the Philippines is the highest than any other Asian country in the world. Therefore, Chinese, Japanese, and Korean students have been coming to the Philippines to learn English over the years.
This is another excellent home-based business idea for mums in the Philippines because this business has a large potential to reach students from across the world, meaning that you can start to increase your revenue in many ways through this business model.
For example, you may decide to set up a one-to-one tutoring service but then decide later to sell an online course. This is an excellent return on time. If starting your own English teaching business is not for you, you can still apply in this industry with 51talk, a Filipino online English teaching company.
open A Small Pet Care Business
Pet care is big business, and this industry has the prospects to continue its growth as we look into the next 5 to 10 years. The great thing about pet care is that this business has a significant diversification due to its animals and the type of care, making it one of the best great business ideas for moms at home in the Philippines.
Some business owners could even branch out by starting their blog or a YouTube channel on a similar subject. These avenues are also great marketing avenues for your business.
This enterprise can also touch upon the online selling or reselling business as you are dealing directly with pet owners. Additionally, you will have an opportunity to upsell and cross-sale!
Start Your Own Laundry Business
For many reasons, a laundry business is the next one on our list of great business ideas for moms at home in the Philippines. Many small business owners started their laundry business from the comfort of their own homes, and as the business grew, they grew their empire.
Another reason this is on our list of business ideas for moms at home in the Philippines is that maintenance costs are often on the low end compared to other home base businesses in the Philippines.
However, startup costs can be slightly more than other home based business ideas for mom in the Philippines, so it's recommended the financial maths be looked into if you are looking at how to set up a laundry business in the Philippines, head over to our full guide, which shows how to set up a laundry business in the Philippines and goes over the expected earnings of this business!
What's The Cheapest Business Ideas For Moms At Home In The Philippines
If your budget is tight, you may be wondering what is the cheapest business to start in the Philippines. This is a great question and one that should be thoroughly investigated.
If you are looking for a cheap business, it will often have a lot of competition. Additionally, cheaper businesses also require more time during the beginning stages. That being said, a cheap business idea in the Philippines is still a good idea if you can make it work.
The cheapest business idea for the Philippines is a business that can be started online. This is because the startup costs and maintenance costs are very low. For example, Filipino Wealth costs only $20 for a domain and a website when we first launched. Once traffic was built, we were able to upgrade and reinvest profits into improving our website.
Many bloggers and YouTubers start this way. Many successful Filipino YouTubers began with just their cell phones. Therefore naturally, content creating is one of the cheapest businesses to start in the Philippines and the rest of the world.
What Business Ideas Work Best In The Philippines For Stay At Home Moms
Finding the best kind of business in the Philippines often relies on pairing the best products/services to the best customers. For example, Jollibee is very successful as they could tap into Filipino culture and beat rivals such as McDonald's and Burger King. Jollibee paired its products, price, and overall business to the people of the Philippines.  
What do Filipinos need help with? Are you in a tourist area that has a lot of foreigners? What can be made more convenient for people? Asking these questions will allow you to answer this question fully.
As an example, I am a vegan; therefore, I do not eat meat or any animal products. I've noticed a rise of vegans across the Philippines over recent years (more in some areas than others). Because of this and the low quantity of restaurants, I see a huge gap in the market. Unfortunately, I am not a chef and am not a food expert; therefore, it would not be suitable for me, but still, there is a lot of potential for this business in the right areas.
Business Tips For Moms In The Philippines
Now that we have looked at some of the home based business ideas for moms in the Philippines, it's time to go over some business tips to help you succeed in your new home based business.
Start A Business In The Philippines Small
Starting a business small is a crucial step in any successful business. Unfortunately, in the modern business world, many startups fail because they scale too quickly. Therefore, it's recommended you start your business small. There will always be room for growth in a successful business, but building the framework, also known as the foundations of a business, is arguably one of the most critical steps in building a successful business in the Philippines.
Networking Is Key In The Philippines
One thing I understood very quickly about the business world in the Philippines is that networking is everything! It's not what you know; it is who you know. I'm not a fan of cliches, but that statement is true.
A classic example of this is the real estate world. It doesn't matter what you know as an agent, or even as a customer. What matters most is who you know. If your network, you can often find the cheapest products, the quickest service, and many other perks, which can lead to a successful home based business in the Philippines.
Test The Market
When we look through business ideas for moms at home in the Philippines, we encounter many different opportunities. Some of these opportunities can be scaled very quickly, and success and profit can come in quickly while others take longer, but what is always essential is that whatever business you choose, you test the market.
This is to avoid any unnecessary spending, either unnecessary spending of pesos or unnecessary spending of time. How is your business going to make money? Is there a demand for this service?
Once you have these questions, it's time to test the market and see the verdict. At this stage, if you bring in results that are not as you expected, you can tweak your business or its operations to bring in satisfactory results.
For example, if you are using a supplier that is charging you too much and you are not making enough money, then perhaps choosing a different supplier or buying in bulk can help with your profits.
Design A Plan
When looking at home based business ideas for moms in the Philippines, the last critical factor involves adding business plans. Filipino wealth has put together a free business plan specifically designed for the Philippines! This template can be downloaded and includes everything you will need to plan your business effectively.
Final Words On Home Based Business Ideas For Moms In The Philippines
Being a mum and starting a business is not the easiest task, but Luckily, success can be found all across the Philippines. The Philippines is still in its development stages compared to other countries around the globe. Therefore there are always business opportunities to be had, even ones for stay at home moms.
With business, a decision will often be made between time and money. Starting a home based business in the Philippines will require a deposit of pesos or a deposit of time. What is true about home based businesses is that it is always about consistency and not intensity.
---
More Philippines Business Ideas Guides
---