Cebuano

English

Filipino
Top 10 Business Ideas In The Philippines: If you are looking for the top 10 business ideas in the Philippines, you will not be disappointed. Today, we will be looking at the latest statistics and data to create a list of the best business ideas in the Philippines.
The domestic market in the Philippines is continuously changing, and certain industries have exploded, resulting in booming business ideas in the Philippines. So let's look at the top 10 business ideas for entrepreneurs in the Philippines right now.
Top 10 Business Ideas In The Philippines
1. Open A Small Coffee Shop Or Kiosk
Over the years, the coffee demand in the Philippines has increased, and the latest statistics suggest that coffee consumption will increase over the next five years. But the positive indicators of statistics are not the only reason this is one of the top 10 business ideas in the Philippines. There are also many other benefits of this business model.
One of these benefits is the numerous ways to make money in the coffee industry. Some business owners focus on a small coffee business in the Philippines, such as opening up a kiosk. However, there are other options, such as opening a dropshipping coffee supplying business, creating your own coffee beans, and selling coffee products such as mugs and flasks.
One of the most important factors to consider when looking at the top-rated business ideas in the Philippines is the location. The location is also essential in starting a coffee shop or coffee kiosk in the Philippines. Therefore market research is always important so that entrepreneurs can make a more informed business decisions.
2. Create A Youtube Channel
Recently, the YouTube platform reached over 45 million viewers in the Philippines. This statistic is only for adult viewers and does not consider younger viewers. As the statistics for this year have not been released, we can assume that viewership will be over 50 million. This is a fantastic opportunity for Filipino entrepreneurs to create content, a business, or a brand.
As we know, subscribers are not the main factor affecting how much YouTube businesses in the Philippines can earn. Even a channel with more views does not necessarily mean more money. This is because Adsense earnings differ from niche to niche and traffic to traffic. Therefore small channels could earn more than larger channels based on advertisement.
Naturally, advertisement on YouTube is only one form of income stream, and it is unwise to rely on one form of income that is volatile. Therefore when creating a booming business in the Philippines on a platform such as YouTube, it is best to look at other ways to earn money, such as selling a product or a service.
Entrepreneurs and businesses that use YouTube as a marketing platform can often capitalize on the opportunities. With a business channel, you can get across your personality and brand much easier than writing a blog post. Therefore, many affiliate marketers and independent businesses turn to YouTube to increase their income.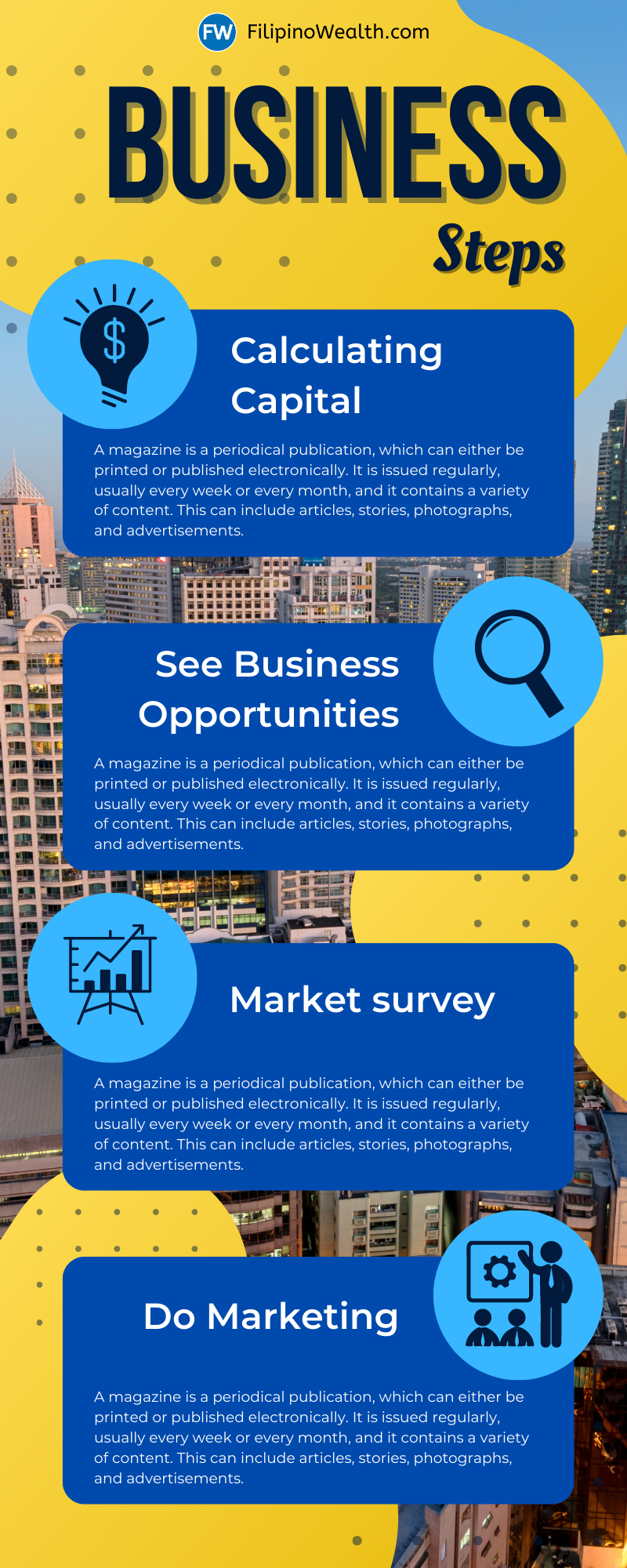 3. Open An Outsourcing Centre In The Philippines
To date, outsourcing is the fastest growing industry in the Philippines. As a result, businesses worldwide are now looking to countries like the Philippines and India for outsourcing solutions. But is it too late to start an outsourcing business in the Philippines, and is it one of the top 10 businesses to start in the Philippines right now?
Outsourcing covers many industries, and additionally, each country operates slightly differently, so there are definitely opportunities to find a niche within this industry. For example, offering bookkeeping and tax services will be very different in the UK compared to Canada. Therefore, focusing on a niche is often a wise idea when starting a business in the Philippines.
Business owners are now turning to online and remote outsourcing businesses in the modern world. This has many benefits, especially when it comes to hiring staff. You may find talented staff are cheaper and more cost-effective in different parts of the country compared to recruiting local talent in your city.
In other words, to get ahead of the competition when starting a business in the Philippines, don't be afraid to be different and do things differently. Often, innovation is a fantastic way to set yourself apart from the crowd, but there are also several other ways to get noticed when starting a small business in the Philippines.
4. Start A Tax Service Business
Over the last few months, I have been continuously studying the domestic market, and I have discovered that one of the biggest pain points for businesses in the Philippines is tax. However, due to the complexities of tax and the lack of information, there are opportunities to streamline this process and create a profitable business in the Philippines.
Naturally, entrepreneurs will be working with other businesses. Therefore, the overall business model will be B2B, which has benefits that entrepreneurs can take advantage of. Additionally, scalability and remote operations are possible with this type of business model, which is essential if you want to grow a small business in the Philippines as a beginner.
Even though the topic of tax is in the top 10 businesses in the Philippines (and even in the top 5 businesses in the Philippines), there are still several businesses similar to this in high demand. Bookkeeping and accounting are examples of this.
5. Launch An Exporting Business
Without a doubt, the Philippines is one of the best countries in the world to start a business. Of course, this is not to say that starting a business in this country is easy because it's definitely not! But starting a business in the Philippines has many advantages, including its unique geographical location.
The Philippines has become a somewhat giant in the exporting world. For example, in recent times, electronics have become one of the most exported products nationally; however, the Philippines also has an abundance of certain products, such as nutrition (coconuts, bananas, coffee, etc.) which can be grown locally and exported.
But this is not the only reason an exporting business is in the top 10 business ideas in the Philippines. The other reason is that the Philippines is located in the center of southeast Asia. As a result, imports and exports can be completed in minimum time, and the process is much simpler in the Philippines compared to other countries around the world.
In other words, there are many strengths and opportunities in the exporting market across the Philippines. But, naturally, many hurdles and risks are also involved, so building a robust business and financial plan is always recommended, especially when starting a business in the Philippines as a beginner.
6. Create Your Own White Label Business
The term white label may be confusing if you've never come across this term. Fundamentally, a white label business is when another business creates a product for you and adds your logo and design so that you can resell the product for a profit. This is an extremely popular and common business model across the Philippines and globally.
One of the most challenging parts of creating a white label business is finding trustworthy and reliable suppliers. Recently we spoke about dropshipping suppliers, and in that article, we added 15 of the best suppliers for new businesses in the Philippines. So if you are thinking about starting your own white label business, you may wish to head over to this article for more information.
Even though white labeling businesses can be very profitable, there is a diverse range of success with businesses in the Philippines. Some businesses can succeed very easily, and others struggle. The product, the demand, industrial changes, the competition, the profit margins, and the government regulations are just a few factors that can impact a white label business in the Philippines.
7. Start An Affiliate Marketing Business
Affiliate marketing is in the top 5 business ideas. It is also a good source of additional income for those looking to start a part-time business in the Philippines for beginners. Fundamentally affiliate marketing is a way to become a referral agent and earn money without starting a business in the Philippines.
Affiliate marketers often use their website, such as a blog or a YouTube channel, to increase affiliate marketing sales; however, several other options are available, such as direct emails and social media. Each affiliate marketing campaign will have its own rules and regulations, which differ from business to business.
We recently explored how to make money from affiliate marketing, and a guest post was released that covered an affiliate marketing guide for dummies. These jam-packed articles have been added in the links above for your reference.
8. Open A Business Service Business
At the time of writing, there are around 1,000,000 registered businesses in the Philippines. Some suggest this figure will double within the next 10 years. Whether this will happen or not is an open discussion but what is factual is that more and more businesses in the Philippines require the services of other businesses to grow and expand.
For example, this blog uses the services of Grammarly to check the spelling and grammar, the services of Bluehost to host the site, and SecurityWeb to safeguard the whole website from hacks and attacks. As businesses grow, the use of services also increases, which offers a unique opportunity for entrepreneurs looking to start a new business in the Philippines.
The profitability of your business is not determined by the effort, the marketing, or even your skill. Instead, the market determines profitability, which consists of the supply and the demand. A business service needs to have a high demand to grow. This can include demand for a web hosting service, a delivery service, a consultancy service, and so on.
9. Start A Food Cart Business
Out of all of the products that we buy every single day, the most essential to us is food and water. Filipinos have a diverse food palate, and there are many opportunities for Filipino entrepreneurs to start a new business in the Philippines in the food industry. However, the food industry is highly competitive, so innovation and uniqueness are key.
If you are interested in starting a food cart business in the Philippines, the same rules apply. There are many types of food cart businesses (and restaurants) locally, but why do some succeed while others fail? Innovation and uniqueness. Additionally, providing food services in a low-competitive but the high-demand area is also extremely important.
For example, I was reading a story of a food cart business that made thousands of pesos every day by selling protein meals very close to popular gyms. Business owners can even work with local businesses to provide a win-win situation to help both businesses.
Thinking differently and being innovative can work wonders when building a new business in the Philippines.
10. Open A Small Grocery Store
The last top 10 business idea in the Philippines comes in the form of a small grocery store. It may surprise some entrepreneurs, but starting a business such as this does not have to be expensive. However, if you are looking for investors, you may be interested in our full guide, where we spoke about how to find investors for a small business in the Philippines.
Nevertheless, market research is important as opening a small grocery store is a big commitment. Online businesses are often less risky as costs are lower on average, but startup costs can be higher than a more traditional business. Therefore there are more financial risks in general. Nevertheless, there are also many benefits to traditional businesses that outweigh the potential risks.
Location is an important factor when looking at the top business ideas in the Philippines, which is true for a small grocery store. Finding reliable suppliers and calculating the financial commitments are areas that entrepreneurs will need to focus on when opening a store. Also, franchising a grocery store might be more appropriate if you are a complete business beginner.
---
More Philippines Business Ideas Guides
---