Cebuano

English

Filipino
Starting a business in the Philippines can be a great plan, but all great companies begin with an initial idea. Today we will be exploring 39 of the best start up business ideas in the Philippines. We will also be discovering some handy tips on starting a business in the Philippines.
Small Start Up Business Ideas Philippines
Small Coffee / Café Business
We have recently spoken about starting a small coffee business in the Philippines previously, and throughout that article, we covered different options, risks, and opportunities for a business owner. But, overall, when starting a startup business in the Philippines, a coffee business may be a great idea if you can find a suitable location with the ideal product for the market.
When looking at start up business ideas in the Philippines, it's always wise to differentiate yourself and have something different about your brand that encourages customers to come back again and again. This is because most of your business and profits (in most businesses) will come from repeat customers.
Starting A Co-working Space
Many of those living in the Philippines, both locals and foreigners, work remotely in our modern era. Online jobs have been the trend over the last few years, and from the latest data, it seems that more and more individuals are looking for independent and online work, which leads to a demand for services such as a co-working environment.
The location for a start up business idea in the Philippines, such as co-working space, matters. For example, many freelancers and online workers live in the city but less outside the major cities. Thus location is a crucial decision when launching a startup business in the Philippines.
Protein Meal Delivery Business
Over the last few years, protein-based meals have gained a significant following with the fitness community and those looking to eat healthier, so the question is, is this the best start of business idea in the Philippines?
Potentially yes, as on average, the prices for the ingredients, food trays, and ever maintenance costs are relatively low compared to the selling price, and thus there is profit to be had principally if you can package this up with other products such as a protein shake or protein cookies, etc.
Dropshipping In The Philippines
We recently spoke about how to start a small dropshipping business in the Philippines, and I have attached the link in the reference above for your convenience. But to summarise, a dropshipping business can be a great start up business idea in the Philippines. Still, many considerations will need to be made, such as marketing costs, profit margins, etc.
Dropshipping is perhaps one of the most flexible start up business ideas for the Philippines, and it's a popular trend for many business owners as it can be run reasonably flexibly due to the developments with artificial intelligence. It is possible to create a completely automated store that requires very little maintenance, but just like with every business, it's always important to do some additional research.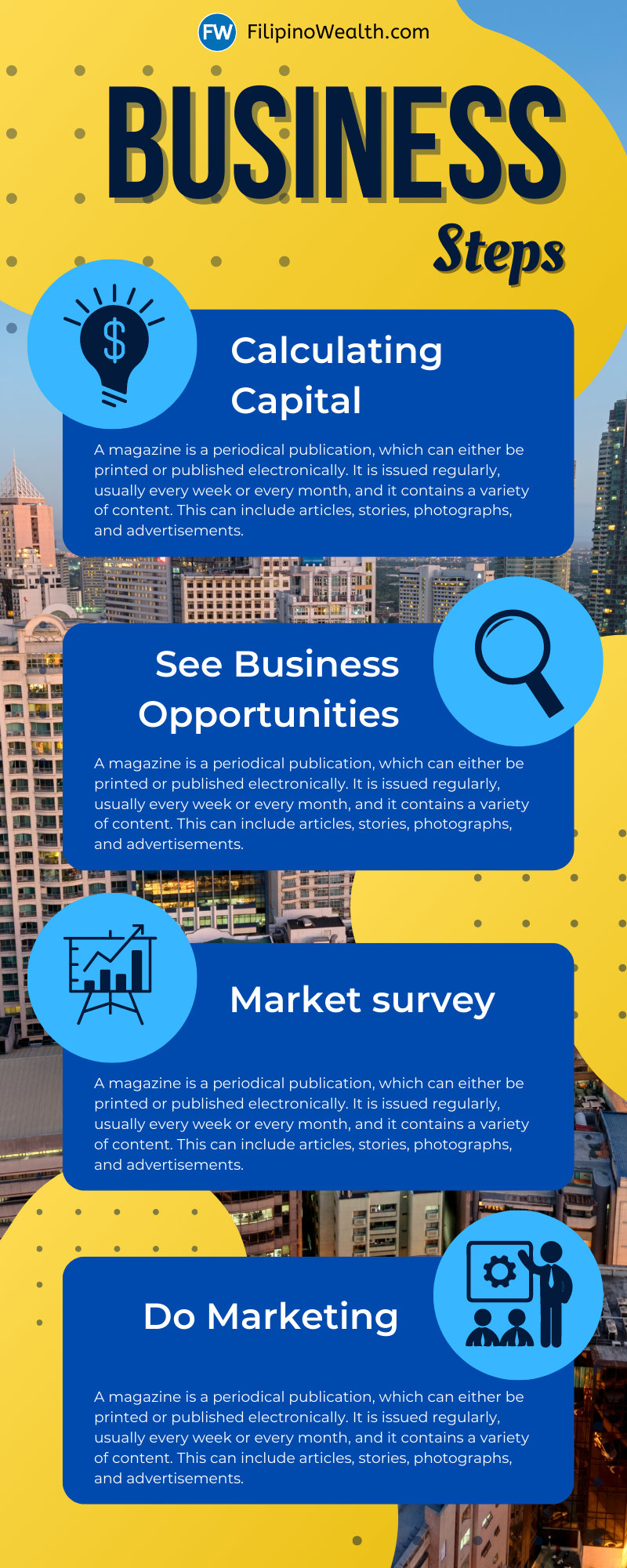 Pet Accessories Business
If you're looking for a small business idea and are unsure what to do, then starting a small business in the Philippines, such as pet accessories, maybe an exciting option. This business idea can take many different forms and cover many products.
One popular example is a startup I was recently reading about where a gifted entrepreneur created glow-in-the-dark collars for cats and dogs to help owners find their pets. It also came with some added Bluetooth features and overall was a great success. One of the keys to starting a small business in the Philippines is having an innovation element.
Affiliate Marketing In The Philippines
Affiliate marketing is a very, very, very big business. One of the reasons many start a blog or a YouTube channel is to earn money from affiliate marketing. The opportunity is there, and you could earn a good amount of commission from affiliate marketing, but the most important part is building a loyal and trustworthy audience.
In addition, as a YouTuber, Blogger or influencer, you will need to be open and honest to your audience as sometimes affiliate marketers fail because they try to sell garbage even though they know it's garbage! Therefore, it is recommended only to advertise a product if you believe you will use it yourself.
Niche Dating Website Or App
Dating is a tricky business to get into, but niche dating is slightly different as there are many potential opportunities in today's market. When we are single, we all have preferences, and most of us would like to find somebody with similar interests, so how can this be turned into a dating niche?
Let's take religion, for example. When starting a dating business in the Philippines, you may find success by targeting religions or other niches such as sports, jobs, etc.
Start Up Food Cart Business
How to start a small business in the Philippines, such as a food cart business? The good news is we have covered this very subject in great detail and depending on the location. It can be a great start up business for the Philippines.
Location is one of the essential parts as your business is built on foot traffic. If you are not in a good location or are inconvenient for customers, then it is likely that any potential customers will go somewhere else. This is why businesses worldwide have focused on making their business and process as convenient and straightforward as possible.
Launch A Small Video Editing Business
Suppose you are looking at how to start a business with small capital in the Philippines. In that case, video editing may be the perfect start up business for you as it is a relatively straightforward process. All a business owner needs is a marketing budget and access to professional video editing software.
Of course, naturally, there will be some other elements of a business that you will need apart from these two factors. Still, video editing and marketing are two of the most significant aspects of this business. Therefore, a great opportunity is to offer your services on Fiverr or an alternative platform as this is currently a high-demand service.
Sell Skin Whiting Products In The Philippines
Suppose you're planning to launch a startup business in the Philippines, and it revolves around skin whitening and beauty in general. In that case, you will need to abide by specific laws which revolve around skincare. In most skincare products, there are chemicals mostly; these are natural but sometimes unnatural chemicals. And an imbalance of these chemicals can be dangerous to the public, which is one reason why it's essential to investigate this type of business thoroughly.
Nonetheless, selling any skin whitening products has been shown in the Philippines to be a great start up business. You may create your products in the Philippines or negotiate with factories in other parts of Asia.
Property Management Business
A property management business is an exciting business opportunity, especially if you have previous experience in real estate. Moreover, with many overseas Filipino workers and foreigners who own property in the Philippines, a property management business is highly demanded.
Many different services can be offered, which is why property management is an exciting business at this current moment. However, there are many areas to consider when starting a property management business. Thus we recommend visiting our business plan at the top of this page for the latest information on how to start a business in the Philippines.
Small Build A Bear Store Business
Starting a small store like build a bear is a dream for many entrepreneurs. If you have not come across this business idea before, essentially, it's the process of allowing the customers to build their toy. This is often a trendy type of business, but it doesn't just have to be the product of bears.
The items that you will need are often the most significant expense apart from the store itself. So, for example, if you decide to start a build a bear store or something similar considering prices and material, machines and maintenance will all need to be studied closely.
English Teaching Start Up
At this current time, English speaking is still in a high demand service all across Asia. So how can you start an English teaching business in the Philippines? It's often recommended to gain some experience, and we have previously covered a few common teaching opportunities in the Philippines. I've attached the link above for your reference.
But once you have gained some experience, you will need to decide how you will find your customers and how your overall business will work. There are many potential customers, and each of these will affect your business. For example, if you target Chinese parents, your business will be structured slightly differently from Japanese business people.
Open A Small Gym In The Philippines
If you want to start a small business in the Philippines with low capital, then sadly, starting a gym is not the best option as fitness equipment is often a high expense. However, you can look to reduce the costs by opening up a small gym in the Philippines.
It's often recommended to have some additional qualifications such as personal training so that you can add these services to your small gym for it to become profitable. When I was younger, I was a high in-demand personal trainer, which I focused on for some time. There is a great deal of profitability, but there are also many considerations to make
Flipping Websites As A Start Up Business
If you're looking for a cheap business to start in the Philippines, then a flipping business may be an excellent start up the business idea. Flipping is the concept of buying and reselling something of value; often, we refer to this in terms of real estate, but it can also be applied to online real estate such as domains, websites, apps, etc.
There are several places to find new and old websites and blogs, and other types of online real estate, but one of the leading sources is Flippa.com.
Art School Philippines
Do you have a passion for art, and are you also an entrepreneur in your heart? Starting a small business in the Philippines, such as an art school, may be interesting. But what happens in an art school?
Art schools can take many different forms. For example, you can host and advertise your school on Airbnb as an "experience" in which you will often attract those who would like to meet new people and have some fun, or an art school can focus on more serious students looking to improve their overall art skills.
Acne Reducing Products
Acne, unfortunately, is a big problem, especially with teenagers and young adults. I suffered massively from acne, and it only disappeared in my late 20s. If you have a similar experience, you will know just how in-demand a product like this can be.
Similar to other beauty products, it's always important to look at the local laws, mainly if your product contains ingredients that may be harmful in high quantities. However, factories across Asia also already have a product and are looking for white label customers, which may be a better option.
Launch A BPO Centre
When looking at how to start a business in the Philippines, you may have initially come across many ideas, but have you considered launching a small call center? Over the years, the Philippines outsourcing industry has grown exponentially. This growth looks to continue as we look into 2025, 2030, and beyond.
If you are looking to start a small business in the Philippines but like the idea of a call center, then you have the option of starting a remote call center which can often be started with two or three staff members. This is because not all customers are looking for a big team of people, and on some occasions, businesses only need the services of two or three individuals.
Start An Online Course Provider
Online learning is also a highly demanded service that grows over the next 5 to 10 years. Education, in general, is vital, especially if you are looking to gain wealth in the Philippines; therefore, it makes logical sense to start a business delivering the information by helping others learn the skills that they need to be successful.
There are many different types of business models that this can revolve around. For example, you could operate a subscription-based business, create your courses or be the course provider only. In other words, many decisions will need to be made in the early stages that can affect the overall growth of your business.
Opening A Bookkeeping Start Up Philippines
Bookkeeping is also a beneficial skill in today's modern world. Therefore, many businesses all across the Philippines require the assistance of a bookkeeping service. Still, if you are looking to start your business in the Philippines, you may consider starting a bookkeeping service specifically for foreign companies.
This is slightly more challenging as you will need to find out the rules and regulations of your chosen country; nonetheless, looking at the overall data of outsourcing and my personal experience with call centers in the Philippines, the evidence suggests that bookkeeping is one of the highest In-demand services.
Product Image Design Business
If you have ever sold anything online, you will know just how vital a product's image can be. So often, when I speak to young entrepreneurs who mention they wish to start an online business such as an E-commerce store, I always tell them the truth about product images and online psychology.
And the truth is that a high-quality image with a poor description will always beat a high-quality description with a poor image. We are visionary beings and what we see often represents how we feel. So if a product looks terrible in the picture, our perception of that product will also be negative, and we as customers would be less likely to purchase that item.
Stock Photo Business
One of the great things about living in the Philippines is that the Philippines is home to some of the most beautiful places on earth. A small beach in your hometown that is untouched may not seem like anything special. Still, to a tour operator in America, that image could be the difference between gaining a customer or losing a customer.
As mentioned above, imagery is critical in our modern world, especially online. Starting a low capital business in the Philippines, such as selling stock photos, is relatively low-risk. As the growth of the Internet is continuously growing, more companies are looking for photographers to keep up with the high demand from their customers.
Start Selling Homemade Soap Philippines
Have you ever thought about starting a soapmaking business in the Philippines? Soapmaking often has a great deal of competition. To stand out from the crowd, a business owner will need to ensure that they can differentiate themselves above everybody else.
So how do you differentiate your soap? There are many niche ideas for soapmaking in the Philippines. Often so owners create gift baskets and focus on the quantity niche while others focus on natural soaps. Whatever you decide, there must be a high demand for your service. So what kind of soap do you think Filipinos want or need, and what would make them buy your soap?
A Start Up Essential Oils Business
Essential oils are another popular start business idea in the Philippines. Essential oils often work well if you have a massage business as they can be used as part of your treatment and be sold to customers after the massage, but there are also other avenues with this kind of business.
Opening a business in the Philippines, such as essential oils, can be slightly more accessible than other businesses. This is because many factories across Asia are looking for white-label customers.
Designer Sneakers In The Philippines
Designing sneakers can be turned into different types of business models depending on what you're goal is. For example, over the years, on platforms such as TikTok and Facebook, designing sneakers has become a trendy video idea, and some have gained popularity by showing their design skills.
Instead of this type of business model, you can also choose a more traditional model. So, for example, instead of turning your business into video creation, you can sell the sneakers as a more traditional business. But, of course, you can also do both; social media is also an excellent place for free marketing.
Whiting Toothpaste Business
Most of us want to look and feel great, and having beautiful white teeth is one method to achieve a nice-looking smile; therefore, whitening toothpaste is very in demand across the Philippines.
Similar to soapmaking, one of the main questions when starting a small business in the Philippines is how can you make your product different from others, and why would they choose you instead of a much larger company that they can find in the supermarket? In other words, what can you do differently as a small business that those big companies can't do?
Environmentally Friendly Products Start Up
The environment in the Philippines is an important topic. Over the years, many businesses have changed their product packaging to have less impact on the environment. Still, interestingly around the world, consumers are choosing to opt for environmentally friendly products.
This will depend on your market and your customers if your customers are low-income families, for example. They will likely choose the most cost-effective product rather than one that is environmentally friendly, so prices or also tied closely into your customer base.
Women's Underwear Business
Yes, you heard that right. Women's underwear is big business! Many large clothing manufacturers worldwide target women's underwear due to the high demand and potential profit. But how do you beat those branded giants?
One of the reasons customers buy branded items is for the label. The item will still seem valuable if the product's quality is low, but there is a branded name. Therefore, creating a product that shows more value or style is often the best method. As mentioned above, imagery is everything, and influencing can significantly impact this kind of business.
Modelling Agency Start Up
Opening a modeling agency in the Philippines is not an easy task. Still, there are many potential benefits to this kind of business if the foundations are built correctly. In addition, there are also many directions this business can go into, so it's a good idea to have a rough guide of potential options.
When starting an agency business of any kind, it's often recommended to start small. Having five models on your system is an excellent target to aim for. This is not too much or too little and allows you to build business for these models, and naturally, business growth will develop.
Small Market Research Business
Is starting a small marketing business a good idea in the Philippines? Marketing is one of the most significant expenses in the industry, and as technology is continuously changing, many companies choose to outsource marketing to a marketing business.
There are certain risks involved with this kind of business. One of the most well-known is that smaller businesses are now choosing to do their marketing themselves, but this does not mean that all small companies will do this but implies that your customers will most often be larger businesses.
Start A Website Building Business
If you are looking to start a website-building business, there are a host of options. For example, some customers would like a simple Wix website and require the services of a designer. On the other hand, some customers are looking for the whole process to be built, which can be made on WordPress or other similar platforms.
As someone who has a keen interest in website building myself, one of the benefits of starting a small business in the Philippines such as this …if you truly enjoy creating a website, time goes incredibly quickly, and it's often a delightful business.
Open A Cooking School In The Philippines
Cooking schools work very well in the major cities but are also a great option if you live in a heavy tourist area as it is often a great experience for those traveling around the Philippines. In addition, you can offer your services online.
But an additional option is to sign up to Airbnb and host your experience on their platform. Of course, your business model will depend on what kind of cooking school business you are starting in the Philippines.
Start Up Massage Store Business Philippines 
Many entrepreneurs start by looking at businesses with small capital in the Philippines, which is often a wise idea. But if you have slightly more money, you may wish to look into other options, such as starting a massage business.
In recent years the massage industry has been up and down, and most see massage as a luxury. Still, if you are in a good location and you can network, then a  massage business may not be as challenging as other businesses at this current time.
Create Invoice Software
In certain parts of the world, sending invoices to customers is a legal requirement, and therefore creating invoices is mandatory for many businesses. The downside is that invoicing software in the western world is often more expensive than those in Asia, and many companies are looking for cheaper invoicing software.
To create any software business, you will need a level of coding experience and entrepreneurial skills. Still, the good news is, this kind of business can be started and maintained relatively cheaply, which is attractive for those who are looking for small business ideas for low capital in the Philippines.
Digital Marketing Business 
So how do you get started with a digital marketing business? Many entrepreneurs begin digital marketing by working for somebody else and slowly building their business. You may want to look at  Fiverr and other platforms to develop your client base and experience this kind of business.
Digital marketing can be big business, and as we are visual creatures, there is a level of human psychology that will benefit those who are digital marketing. For example, certain types of people are drawn to certain shades and shapes, and additionally, specific patterns and colors can make a person feel different emotions.
Start Up Social Media Management Business
Social media management is a growing business all across the world and indeed in the Philippines. One of the most critical businesses around the globe is the social media business. With this, it's clear why so many companies focus on improving their social media management.
The challenging part for many businesses is managing social media; therefore, companies often outsource this work to specialized social media management businesses. Again as a business owner, you have several options, and you may wish to advertise your services on Fiverr or Upwork in the initial stages.
Internet Café Business
We previously looked at starting a café business, but an Internet cafe is slightly different as it is less food and more computers. Even though starting an Internet Café business in the Philippines has many benefits, it is certainly not the cheapest. A small investment will need to be made at the beginning stages of starting this business.
In addition to the equipment, the location is the next important area to focus on. There is often a reason why customers go to Internet Café, and one of the reasons is convenience. Therefore, you must make your business as convenient as possible and remember other significant factors such as security.
Grocery Store Start Up
We have recently spoken about how to start a grocery store business in the Philippines as it's are a unique and exciting business model. Still, as you can imagine, it is not the best business for those looking for business ideas with small capital.
Suppose you are looking for start up business ideas in the Philippines, and capital is not a problem. In that case, a grocery store business may be right for you. However, like a grocery store, you have a great deal of competition, so the question is, how can you be different from them, and why were your customers come to your grocery store and not your competitor?
School Bag Manufacturer Business
The last start up business idea in the Philippines revolves around the subject of school supplies. School is a necessary time for every student and parents know how important education is for children thus this industry is big business.
Opening a school bag manufacturing business is one idea out of potentially hundreds that can be included in the industry of school supplies. Looking at the costs and prices is clear to see that there is a great deal of profit to be made, but extra consideration should always be made when starting a business in the Philippines.
---
More Philippines Business Ideas Guides
---