Cebuano

English

Filipino
What Business To Start With 30K In The Philippines: Is it possible to start a business in the Philippines with 30K? Absolutely! Starting a business in the Philippines is very achievable with this amount. Still, the question is, what businesses start with 30K in the Philippines? In today's jam-packed article, we will be going through several business ideas and opportunities for entrepreneurs.
Best Business To Start With 30K In The Philippines
1. Open A Small Coffee Kiosk
The National Statistics for coffee in the Philippines look very promising for entrepreneurs thinking about starting a small coffee kiosk. On the positive side, coffee is grown locally and is abundant, which is good news for those looking to start a business with 30K in the Philippines. In other words, a small coffee kiosk is affordable. However, if you don't want to go into this business alone, you also have the option of a franchise.
Many franchise companies are now offering credit and affordable options with a downpayment. You may find that many are unfortunately over the price range of 30K, but opening a small kiosk yourself may be more affordable when purchasing the items separately. You can visit Lazada of Aliexpress for cheap coffee-making machines.
2. Launch A Youtube & Podcasting Series
YouTube is one of the most popular websites in the Philippines so starting a business on this platform has several opportunities. However, if you are looking for business opportunities in the Philippines for 30,000 pesos, podcasting also offers unique openings. Depending on the topic, there are several ways to monetize your views.
Some believe that the more subscribers and views = the more money a creator makes. However, the payment from Adsense will depend on where your traffic is from and your niche. Additionally, there are several ways to earn money outside of advertising. Therefore smaller channels can make a lot more than larger channels.
3. Start A Dropshipping Store In The Philippines
Dropshipping is something we have covered several times on this website as it does offer opportunities for entrepreneurs if you can find the right product with the right market. Due to the advancements in technology, dropshipping has become much easier, and some business owners can automate their business fully.
Being in the Philippines has some strategic advantages. For example, many products can be purchased locally and delivered globally. However, other countries, such as China, open up opportunities for entrepreneurs looking to start a business for 30,000 pesos in the Philippines.
4. Build A White Label E-Commerce Store
White labeling is the process of placing your logo on the product and reselling it to your audience. similar to dropshipping. Although white labeling can be very profitable, there are many areas to investigate when starting a business like this for 30,000 pesos in the Philippines. One of the main areas is market research, which involves the current demand and supply of the products.
A robust business plan is always essential, and you can download a free business plan and financial guide here at Filipino Wealth. Additionally, to save costs on marketing, you may be interested in looking at how to market in the Philippines for free!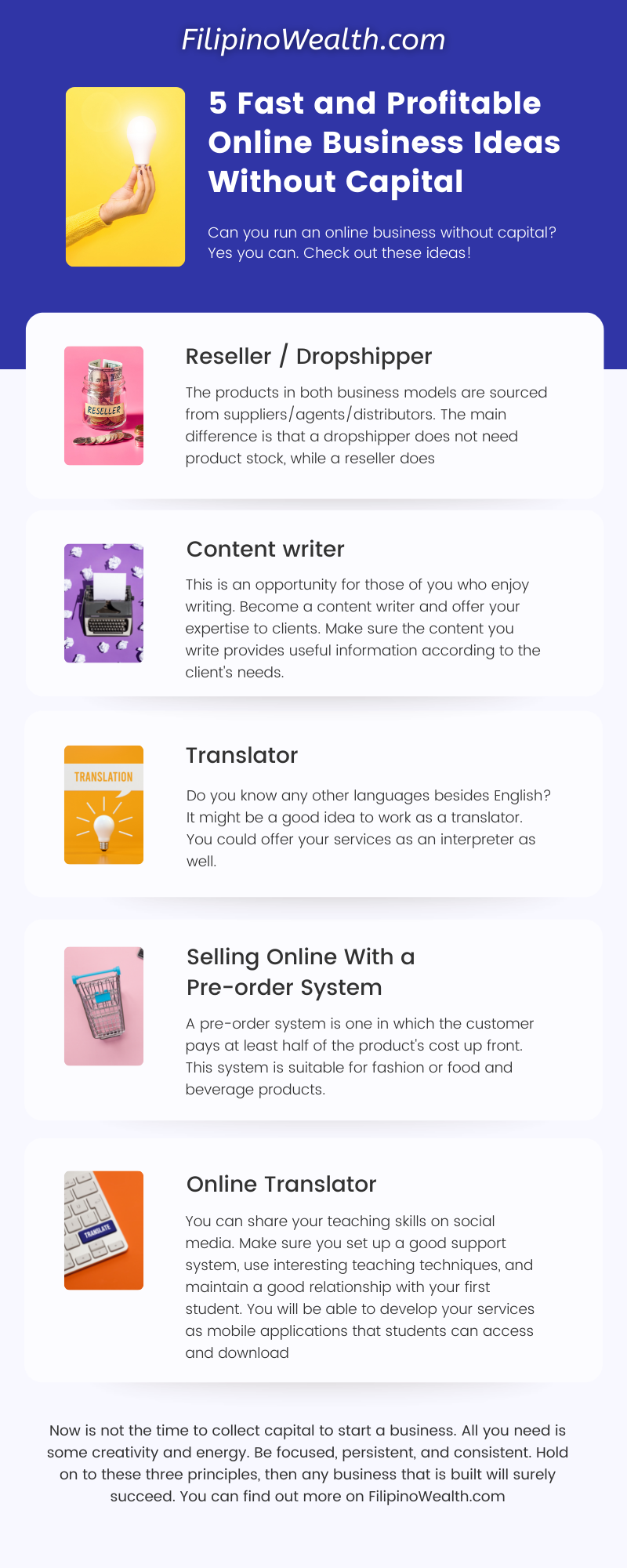 5. Become An English / Tagalog Teacher
Over the years, more and more businesses in Europe and China have turned their attention to Filpino teachers. Palfish (App), Cambly, iTutor, and 51Talk are a few that are popular with Filipino teachers. However, other options are available such as becoming a freelance teacher in the Philippines and teaching the local native language of Tagalog.
Previously we have spoken about how to start an English teaching business which I have linked above for your reference. However, for those interested in starting a Tagalog business in the Philippines, a good place to start is your audience which will likely be foreign business owners and travelers to the Philippines.
6. Start A Tshirt Printing Business
When looking at what business to start with 30K in the Philippines, a T-shirt business may not be your first thought, but it offers entrepreneurs a unique opportunity. Entrepreneurs will need to offer something unique and innovative to succeed in this industry as this business is in demand. Sometimes shaking up the market is the best way to succeed.
Similar to other businesses, when you start a business for 30K in the Philippines, finding a niche will allow you to build your business quicker and help business growth in the early days. Expansion is essential later on, but starting small is often best. Many who start a business with 30K pesos focus on a niche.
7. Start Affiliate Marketing
Without a doubt, affiliate marketing in the Philippines is one of the best businesses in the Philippines for 30,000 pesos. This business is highly accessible, but it is also one of the least expensive businesses to start. Affiliate marketing is commonly called a referral agent. You can earn a commission from selling a product or service.
This works especially well when you can grow a loyal audience. Growing an audience can be done through a podcast, social media channel, a YouTube channel, or even a blog. So even if this is not a business you wish to start full time, it's a fantastic business opportunity that can be run part-time for some extra income.
8. Become A Fulltime Freelancer
30,000 pesos is a fantastic pot of money to start a small business in the Philippines. One unique opportunity is to become a freelancer in the Philippines by offering your skills and services. Thanks to platforms such as Fiverr, the process of becoming a full-time freelancer is easier than ever. But what about if you are stuck on ideas?
Previously we have explored hundreds of different freelancing opportunities in the Philippines. Freelances can then grow their success into a physical business or hire more team members as the demand grows. Tax services, design, and marketing are all very popular services for the domestic market.
9. Open A Dessert Food Cart
How to start a food business in the Philippines is a common question that we can ask, and our full guide explains the process. But to summarise, you will need a business model, cart, products, location, a market, etc., to grow a successful food cart business in the Philippines. Many food carts can be started for around 100K pesos, but other options exist.
Similar to opening a small coffee kiosk, entrepreneurs could start the business in a remote location by offering desserts that are often cheap to buy but have a high market price. Many dessert products do not require machinery, and there are many ways to lower the costs for this startup business in the Philippines for only 30,000 pesos.
10. Start Selling Second Hand Clothing
If you are looking at how to make money from starting a second-hand clothing company in the Philippines, then head over to our recent YouTube video, where we explore the process! Nevertheless, starting a second-hand clothing business is possible with 30,000 pesos, and it also offers fantastic scalability for those looking to grow a business in the Philippines.
However, it may not be the most profitable as, unfortunately, second-hand items do not possess the most profit (on average). However, if you decide to sell second-hand furniture or non-clothing items, this can be a more profitable business. In this business, you make your money when you buy and not when you sell.
Tips for 30K businesses In The Philippines
1. Research The Costs To Ensure They Do Not Go Over 30,000 Pesos
30K pesos in the Philippines is a good amount of money to start a small business in the Philippines. However, this may not be enough to cover larger expenses such as the business registration, an office, staff, etc. (However, we will be speaking about how you can get around this later). But at this stage, financial research can save you a great deal of time and save you a lot of money.
Depending on your business idea, you may find that some businesses will cost you more than others. Additionally, the location you are living in will impact start costs. For example, entrepreneurs starting a business in Davao city will find it much cheaper than starting a business in Metro Manila.
2. Create A Financial Plan During The Planning Stages
Filipino wealth has a free business and financial template that can be downloaded by clicking on the hyperlink by visiting the business plan tab at the top of this page. The first tip (above) suggests research, but this stage is where you put your research together and look at the bigger picture. When looking at what business to start in the Philippines for 30K pesos, it's very common to go over the budget, so planning is essential.
3. Offload Expenses And Startup Costs If Possible
So how can you start a business in the Philippines with only 30,000 pesos? One option is to offload those early expenses and startup costs. For example, suppose you are opening a small coffee kiosk. In that case, a franchise company sometimes allows owners to put down a down payment and pay off the remaining amount within a certain limit. Of course, negotiation is key, but offloading expenses is critical.
4. Start Small And Grow In Stages
One common reason businesses fail in the Philippines is that they try to grow their business too quickly without first building strong foundations. Successful businesses in the Philippines grow in stages, and many of those started as a small idea and continued to grow and adapt to the market. Never be afraid to start a small business and grow slowly in stages.
5. Use Leverage To Encourage Growth
Leverage is essential in the modern world. Every day, we use leverage in one form or another. Still, at some point, the business needs to grow, and leverage can help you go from one level to another. Financial leverage is the most common type, but there is also leverage of skills, leverage of time, and much more. Many of these types of leverage can be used to encourage a small business to grow in the Philippines.
---
More Philippines Business Ideas Guides
---