Cebuano

English

Filipino
What Is The Best Small Business To Start In The Philippines: Recently we explored what is the easiest business to start in the Philippines. Due to the ease of access and potential visibility, we concluded that content creating is one of the easiest businesses to start in the Philippines in the modern world. But what is the best small business to start in the Philippines?
Today we will be closely exploring several business opportunities in the Philippines and answering the ultimate question of what is the best small business to start in the Philippines for beginners.
Best Small Business To Start In The Philippines
1. Content Creating
Content creating is one of the easiest and best small businesses to start in the Philippines. However, growing a successful business takes time, effort, and strategy. Nevertheless, when trying to be successful and grow a business in the Philippines, entrepreneurs need to look at the opportunities and strengths.
Due to high social media usage in the Philippines, there are several unique opportunities in today's modern world to grow a successful small business as a content creator in the Philippines. However, as competition is always increasing, it is often best to have a unique brand image or choose a niche so that you can stand out from the crowd.
2. Coffee Kiosk
This small business idea in the Philippines is such a fantastic idea that I wish I had more free time so that I could start a small kiosk of my own! The demand for coffee & the supply of coffee beans is unique in the Philippines and opens up many opportunities for coffee farmers, coffee suppliers, and coffee kiosks.
Unfortunately, there is an increasing demand for coffee-related businesses in the Philippines. Therefore, carefully researching the market and focusing on how you can be different and innovative is often the best way to succeed in this highly competitive industry.
3. Cybersecurity Businesses
If you are looking for future business ideas in the Philippines, cyber security is definitely a business that ticks many boxes. Moreover, cyber security is increasingly in demand across the world. Still, as more businesses are focusing their efforts online, the demand for cyber security for smaller and medium-sized businesses is also increasing.
We recently spoke about how to learn to code in the Philippines. In this article, we spoke about different options available for complete beginners. Thus, if you are interested in cyber security and this industry, you may find heading over to our beginners guide incredibly valuable.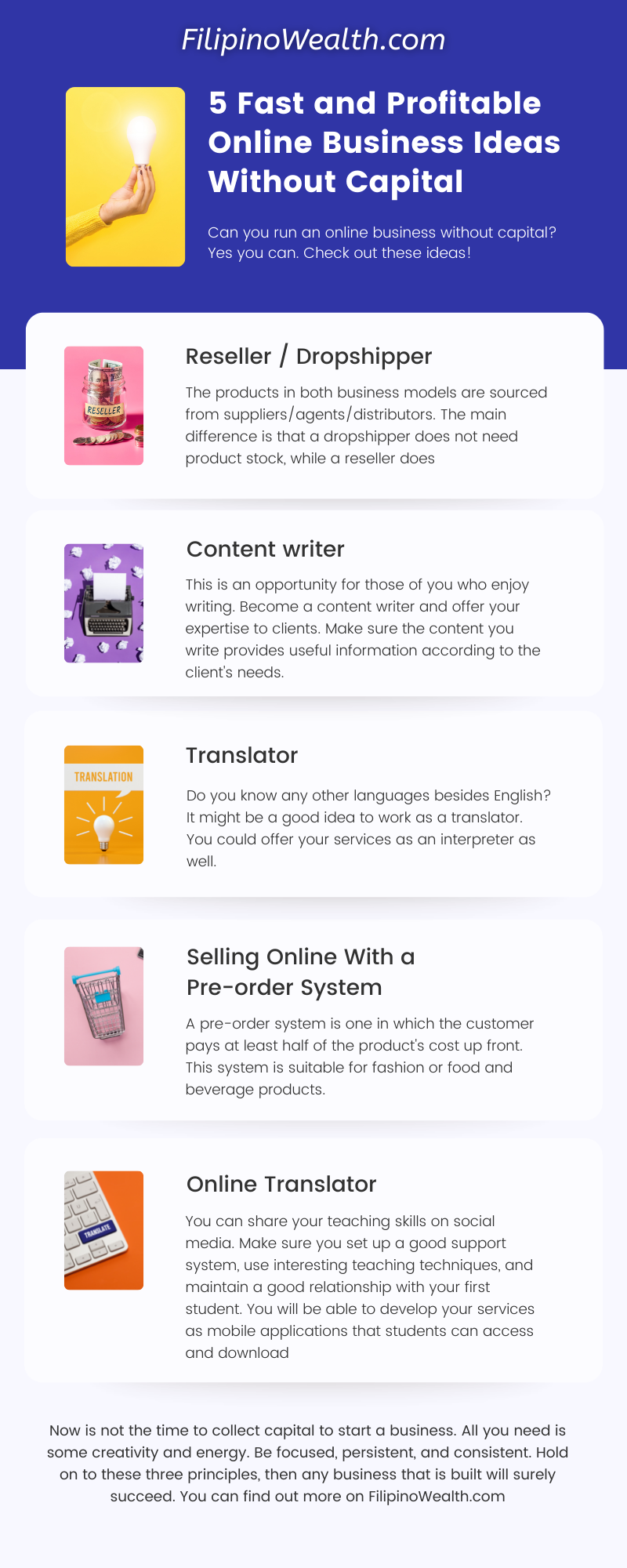 4. Flipping
So what is flipping, and is this a good small business to start in the Philippines? Flipping can be the best small business to start in the Philippines for beginners, as the process is fairly simple. Entrepreneurs buy items to later sell for a higher price. These items may be as big as a sofa or as small as a mobile phone.
Additionally, flipping does not always have to be a product. Flipping websites and domain names are very common. Some entrepreneurs even create small online businesses to flip these in the future for a profit.
5. Bookkeeping & Accounting
Several services are highly in demand in the Philippines and overseas. One of these highly demanded services is bookkeeping and accounting. As a bookkeeping and accounting business, you could work with local businesses or become an outsourcing business that works with companies from overseas.
Several businesses follow a similar business model that can work very well in the Philippines. In addition, some entrepreneurs can bridge the gap between businesses and customers – creating this kind of value can be very profitable in the right industries.
6. Vending Machine Businesses
Is starting a vending machine business a good business in the Philippines? Some entrepreneurs say it is one of the best small businesses to start in the Philippines, while others suggest that vending machine businesses should only be used as passive income.
However, the great thing about vending machines is the extraordinary diversification. This could be a robotic coffee machine in an office, a protein bar vending machine outside of a gym, or even school suppliers near a school! But as always, when starting a small business for beginners in the Philippines, it's always best to conduct full market research.
7. Real Estate Businesses
Over the years, real estate in the Philippines has been a growing subject. Due to the high prices and profitability, there is certainly money to be had in real estate businesses in the Philippines, but what are your options if you are looking to start a small business in the real estate industry?
Entrepreneurs looking for the best small businesses in the Philippines may decide to focus on being a real estate agents. However, after gaining experience, becoming a real estate broker or opening up your own real estate firm is a fantastic option in this increasing market.
8. Innovational Businesses
So what makes the best business in the Philippines for beginners? Owning a successful business involves an element of innovation. Innovation gives value to the consumer and is a fantastic way for businesses to grow. Most successful businesses in the Philippines all have elements of innovation.
Unfortunately, copying other businesses and strategies often does not work well long term. Therefore when looking at the best small businesses, it is often wise to instead focus on innovation. How can you make people's lives easier? What can you create that will bring more convenience to consumers? And how can the public get more of what they need? Innovation is the key.
---
More Philippines Business Ideas Guides
---